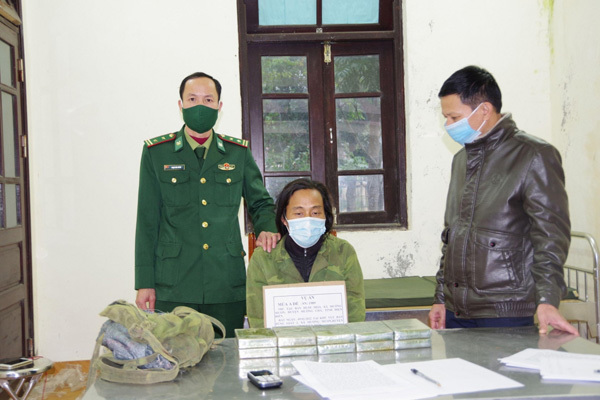 Mua A De and his 10 cakes of heroin at the investigation office. (Photo: thanhnien.vn)
The operation was conducted by the border guard force of Dien Bien Province in collaboration with relevant agencies, the Border Guard Command said on January 9.  
Tipped off by colleagues, local border guards and relevant agencies on January 8 stopped a running motorbike for search. The motorbike was controlled by Tan Sao and Tan Dau of Lai Chau Province. Both were in their 40s
Relevant agencies found the two men were carrying two backpacks with 144,000 pills of synthetic drugs and 2 cakes of heroin inside weighing a total of 700 grams.
Both Sao and Dau confessed that they had received 480,000 Chinese yuan from a man in Lai Chau to go to landmark No. 2 along the Vietnam - Laos border and get the drugs from two Lao nationals to deliver them to a Chinese person.
Hours later, relevant agencies arrested Mua A De, a 33-year-old local of Dien Bien, seizing 10 cakes of heroin weighing about 3.5 kilos.
Source: VOV

The People's Court of Ho Chi Minh City on December 17 sentenced two Taiwanese men to death for illegally trafficking up to 606kg of drugs.

Ho Chi Minh City police have coordinated with the Ministry of Public Security to raid three major drug trafficking networks between Cambodia and Vietnam, seizing 217 kg of drugs of all kinds.