Large whale with 90 wounds strands on Hue coast
On May 11, fishermen of Thua Thien-Hue province discovered a whale had floated to Binh An sea near the port of Chan May, about 1 km from the coast.
VietNamNet Bridge - On the morning of May 11, fishermen of Loc Vinh commune, Phu Loc district in the central province of Thua Thien-Hue, discovered a whale had floated to Binh An sea near the port of Chan May, about 1 km from the coast.
The first who saw the giant fish - Mr. Le Anh Tam, a fisherman of Phu Hai 1 village, Vinh Loc commune, said that he discovered the fish at about 6.30am on May 11, while checking his nets.
He said at that time the whale seemed to be exhausted and was trying to swim to shore. He called other fishermen to together pull the fish to the shore. The fish was still alive and it could swim lightly. After taking care of the fish for half an hour, the fishermen pulled it back to sea. But due to weakness, exhaustion and severe wounds, the fish died. The whale is about 6 meters long, weighing 700kg
The fish was reported to have nearly 90 wounds on its tail and body, both old and new. According to the fishermen, someone hunted the whale and made the injuries.
The locals buried the fish at the fish cemetery of Phu Hai village after holding a funeral with traditional rituals for it. They also prayed for the whale's support for the village.
According to Mr. Bui Ngoc Ga, Chairman of Vinh Loc commune, said: "It is about 1 to 2 years to have a whale floating to the shore of our commune. Since 2005, we have buried a total of 10 whales. The biggest fish is 1.8 tons. Others weighed from 700 to 800kg."
Fishermen in central Vietnam annually organize the "Nghinh Ong Festival" to worship the whale to seek good luck at sea.
Fishermen believe that whales rescue people in danger and accompany them to the safety of the shore. Over time they began to celebrate an annual festival to cherish the giant creatures between the 14th and 17th of the eighth lunar month. It also provides them the time to pray for peace, prosperity, and happiness for the whole community. The festival has come to epitomize traditional cultural values, reflect the local spirit, and celebrate life.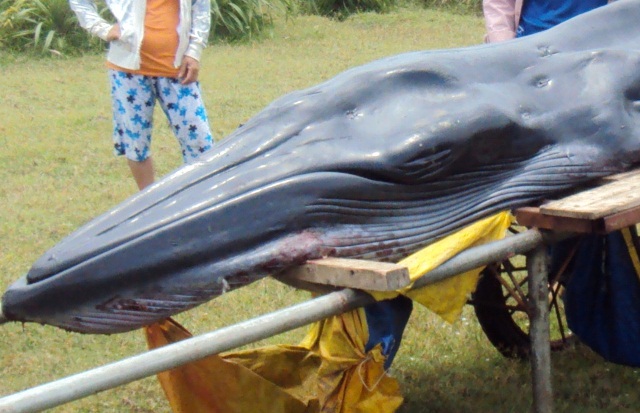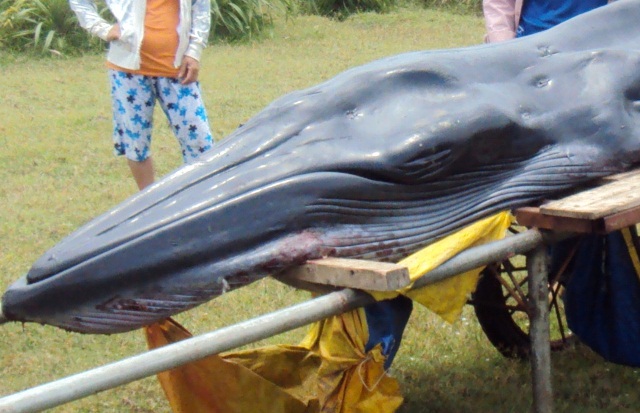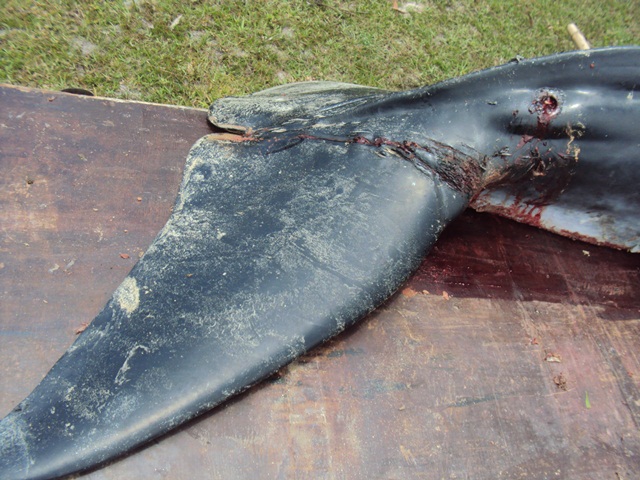 The wounds on the fish's tail.
Linh Hai