Vietnam detected no new COVID-19 cases in the past 12 hours, resulting in an unchanged tally of 1,063 as of 6 am on September 16, according to the National Steering Committee for COVID-19 Prevention and Control.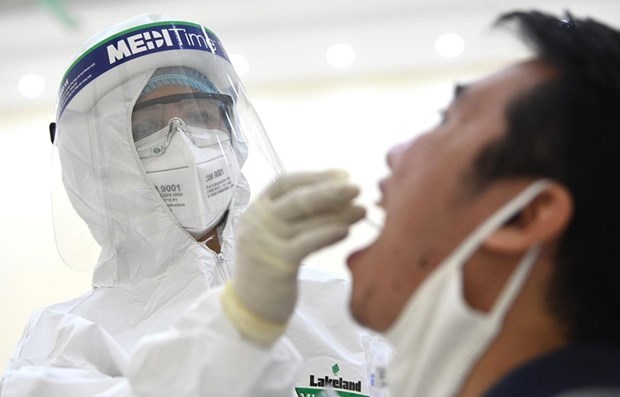 Collecting COVID-19 sample for RT-PCR test (Photo: VNA)
Vietnam detected no new COVID-19 cases in the past 12 hours, resulting in an unchanged tally of 1,063 as of 6 am on September 16, according to the National Steering Committee for COVID-19 Prevention and Control.
Of the total, 691 were locally-transmitted cases, including 551 recorded since July 25.
The number of fully recovered patients amounted to 931, while 35 died from complications related to the disease.
Among those still under treatment, 16 have tested negative for SARS-CoV-2 once, 12 others twice and 18 thrice. Three patients are in critical conditions.
There are 32,417 people having close contact with confirmed cases or coming from pandemic-hit regions under quarantine at present.
With the Prime Minister approving in policy the reopening of commercial air routes between Vietnam and a number of partners, the Ministry of Health has built a draft guide on SARS-CoV-2 quarantine and testing for people entering Vietnam. The draft is under review by the National Steering Committee for COVID-19 Prevention and Control before being submitted to the PM.
The ministry is also building a plan for sample collection and testing at border gates and airports in line with COVID-19 prevention and control in the "new normal" situation.
HCM City prepares 27 hotels as paid quarantine facilities
Twenty-seven hotels will be used as paid quarantine facilities for people required to be quarantined after arriving in HCM City, along with other existing quarantine facilities, according to the city Department of Health.
Nguyễn Tấn Bỉnh, head of the department, said that Việt Nam would resume flights to China, Japan, South Korea, Taiwan, Cambodia and Laos, among others.
Nearly 20,000 people will be expected to enter Việt Nam this month, he said.
The department is co-operating with the Department of Tourism to use the 27 hotels for these people. The hotels expect to admit quarantined people and will be assessed to ensure safe criteria in COVID-19 prevention and control by the city's Centre for Diseases Control and Prevention (CDC) and district health centres.
The hotels will charge fees based on their room vacancies. Quarantined people can choose rooms with suitable fees.
The city is waiting for guidance from the Ministry of Finance on fees for its quarantine areas and those managed by the military.  
The vice chairman of the city People's Committee, Lê Thanh Liêm, has instructed the Department of Health and Department of Tourism to check the paid quarantine process at hotels. They should use more hotels if necessary, he said.
Bỉnh said that the city's quarantine areas and 27 hotels could admit about 3,000 people. On September 12, the CDC said that the two latest COVID-19 patients in the city have been discharged from hospitals. The city has had 77 COVID-19 patients since the beginning of the pandemic. All of them have recovered.
The city currently has 875 people in its quarantine areas and 246 quarantined at home.
On September 11, the testing of samples taken from people arriving from Đà Nẵng at Tân Sơn Nhất Airport in HCM City was stopped. Anyone who has returned to HCM City from Đà Nẵng since September 5 should fill out a health declaration form and visit their health centres in city districts to be tested. 
More Vietnamese citizens brought home
More than 370 Vietnamese citizens were flown home from the Republic of Korea on Tuesday on a Bamboo Airways flight.
The flight was arranged by the Vietnamese authorities, the Vietnamese Embassy in the RoK, the carrier and authorities of the RoK.
The Vietnamese Embassy sent its staff to the airport to assist the passengers with boarding procedures.
To prevent the spread of COVID-19, disease prevention measures were carried out during the flight. Upon landing at Cam Ranh airport in the south-central province of Khánh Hoà, the flight crew and all passengers were given heath check-ups and quarantined.
On Monday, more than 240 Vietnamese citizens from Malaysia were flown home on a flight of Bamboo Airlines. The flight was arranged by the Vietnamese authorities, the Vietnamese Embassy in Malaysia, the carrier and authorities of Malaysia.
The same day, more than 360 Vietnamese citizens were brought home from Singapore on a flight of Pacific Airlines. The flight was arranged by Vietnamese authorities, the Embassy of Việt Nam in Singapore and the carrier, together with competent agencies in Singapore.
More repatriation flights are set to be conducted to bring Vietnamese citizens home, depending on their needs and quarantine capacity in Việt Nam. 
Next Media, Hanoi FC launch auction to support COVID-19 fight
Hanoi FC has teamed up with Next Media to launch a campaign to help raise money to support the fight against the COVID-19 pandemic.
A number of items of football memorabilia, including a signed Bayern Munich jersey and medals won by Hanoi FC will go under the hammer.
Bidding for a number of items has already opened and can be seen by clicking on Hanoi FC's Facebook page.
The lucky winning bidders will be announced on September 16 and all proceeds will be given to the fund for COVID-19 prevention and control managed by the Vietnam Fatherland Front (VFF) Central Committee.
Next Media will be broadcasting a number of Bundesliga matches over the next five years after they signed a deal with Germany's top division./.
Argentine parliament receives gift from Vietnamese counterpart
The National Congress of Argentina held a ceremony on September 14 to receive 20,000 medical masks presented by the National Assembly of Vietnam to help the country battle COVID-19.
Speaking at the hand-over ceremony, Vietnamese Ambassador to Argentina Dang Xuan Dung described the gift as support from Vietnam to Argentina's fight against COVID-19.
He spoke highly of measures applied by the Argentine government to curb the spread of the coronavirus in the community, while expressing his belief that with determination and efforts made by the government and parliament, Argentina will soon overcome the pandemic and bring people's life back to normal.
Vietnam will continue to closely cooperate and share information and experience with Argentina in a joint effort to promptly bring COVID-19 under control, and minimise negative impacts caused by the pandemic.
In reply, Administrative Secretary of the Argentine Senate Maria Luz Alonso expressed her gratitude to the Vietnamese Government, NA and people for their gift to Argentina amid the pandemic.
She underlined that it is a vivid manifestation for traditional friendship and cooperation of the two countries, while pledging to further promote the bilateral relations for the sake of the two peoples./.
Da Nang removes COVID-19 checkpoints at gateways
The central city of Da Nang, the epicentre of the country's coronavirus outbreak, has removed all checkpoints set up at its gateways after the COVID-19 outbreak was put under control.
The decision came into effect as of 12.00hrs September 14, according to an urgent telegram released by the Da Nang Municipal Department of Public Security.
Life has returned to normal in Da Nang following the containment of the SARS-CoV-2 virus. No new cases of community transmission have been detected in the city over the past days.
The removal of the checkpoints aims to facilitate economic development and human movement in Da Nang, as well as between Da Nang and other neighbouring localities.
Despite the disease being under control, the Da Nang administration has asked local police units to work closely with relevant forces to strictly manage all foreigners and Vietnamese citizens residing in the locality, promptly discover and quarantine those coming from epidemic hit areas.
The Da Nang administration had decided to establish eight checkpoints at gateways to the city since July 31 when the virus resurged in the locality. The checkpoints were designed to control, detect and prevent any people and vehicles entering or coming out of the city.
Hai Duong lifts restrictions on COVID-19 hotspots
The majority of restrictions placed on novel coronavirus (COVID-19) hotspots in Hai Duong province have finally been lifted, with measures being removed from September 15.
At present, as many as 169 local people have been placed into quarantined in order to undergo a period of observation, including 135 who have been placed into concentrated quarantine camps, in addition to 34 in their respective places of residence.
There has been no new infections recorded recently, whilst 13 COVID-19 patients related to an outbreak occurring on 36 Ngo Quyen street have since tested negative for the SARS-CoV-2 virus. They were subsequently discharged from hospitals and are now in a stable health condition, with no individual displaying any abnormal symptoms
Dang Thu Ha, deputy chairwoman of the Hai Duong provincial People's Committee, said the city will continue to implement a range of measures aimed at preventing and controlling the potential spread of the pandemic.
Local people have therefore been asked to wear face masks when venturing out in public, along with other provisions such as keeping safe distance from others, using hand sanitizer, as well as avoiding large gatherings.