Lee Chang-kun re-appointed as Vietnam tourism ambassador in Korea
The Ministry of Culture, Sports and Tourism on Thursday officially re-appointed Lee Chang-kun, a descendant of the Vietnamese Lý Royal family, as the ambassador for Vietnamese tourism in South Korea between 2021 and 2024.
This is his second term in this role.
Lee Chang-kun (Lý Xương Căn in Vietnamese) in this term will develop the Vietnam Tourism Promoting Office in Seoul, update the Korean-language website of the agency; further promote Vietnam's image in South Korea; and connect localities between the two countries to attract investments.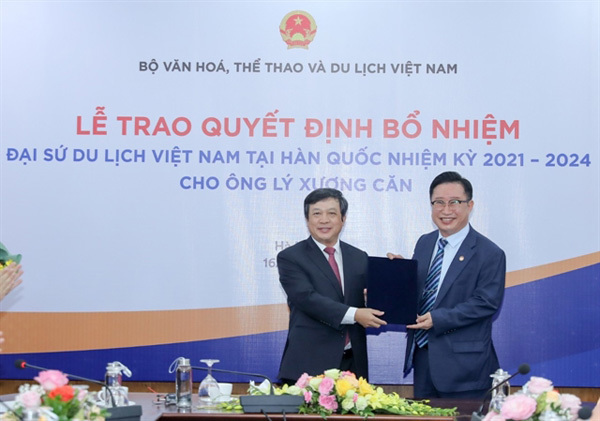 Lee Chang-kun (right) receives the re-appoinment decision from culture deputy minister Doan Van Viet on Thursday. — VNS Photo Nguyen Nam
"The re-appointment marks our acknowledgment for Mr Lee's effective contributions in PR-ing and co-operating in the tourism field between the two countries in his first term between 2017 and 2020," said culture deputy minister Doan Van Viet at the re-appointment ceremony.
"The act will encourage Mr Lee and his colleagues to make further efforts to fulfill their missions in the upcoming challenging years." 
Viet noted that the event was very meaningful.
"In terms of history, this is a link between Vietnam and Korea, which started from nearly 900 years ago when royal members of the Ly family emigrated from Vietnam to the Korean peninsula.
"We are happy to witness their descendants like Mr Lee continue to dedicate for Vietnamese people, and for the friendship and co-operation between the two countries."
Lee said though his Vietnamese capability was poor; his Korean language was good so he understood Korea.
"I was born and raised up in South Korean while Vietnam is the homeland of my ancestors," he stressed. "The two countries are of the same importance to me, like my father and mother."
Lee said his plan in 2020 was gathering five million visitors from South Korea to Vietnam, which was halted by the pandemic.
"I hope the pandemic will be soon controlled, life becomes normal again soon and a better future will be opened up," he said.
"The year 2022 is remarkable as it marked the 30 anniversary of relationship between the two countries.
"I feel moved as the combination between Vietnam and South Korea is a kind of relationship that is holier than a predestined affinity, which is irreplaceable."
Lee said his term is not only an honour but also a chance for him to express his sincereness and determination to contribute to Vietnamese tourism.  
In his first term, Lee established a website about Vietnamese tourism in the Korean language, supported connection between ministries, localities in the two countries to host Vietnam activities in festivals in Yong San, Jongno, Guro and Qwanggjin.
The 31st-generation descendant of the Lý Dynasty founding father, King Lý Thái Tổ (974-1028), Lee has volunteered to serve as the Tourism Promotion Representative of the Vietnam National Administration of Tourism in Korea during the term 2019-2020.
Lee was born in 1958 in Seoul. He was granted Vietnamese citizenship in 2010. There are about 800 Vietnamese people who are descendants of the Lý Dynasty living in Korea. Lee is the direct lineage descendant of the family and is a major influence on the Vietnamese community in Korea. 
According to Nguyen Phu Binh, former foreign minister and former Vietnamese ambassador to South Korean, Lee has expressed his sincereness and willingness to sacrifice for Vietnam.
"I know that not only him but also his family members have sacrificed for Vietnam," Binh noted. "I hope the State has some favourable policies for him to fulfill his duties better."
Source: Vietnam News

The tourism institutes of both sides will tighten cooperation to promote travel between the two countries.