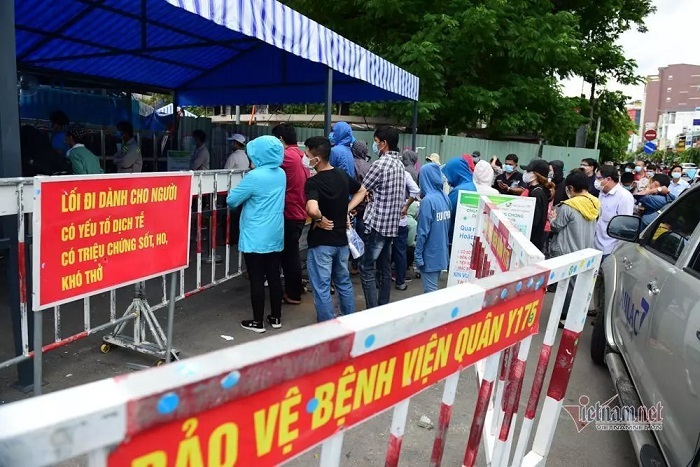 People gather in front of a hospital in Ho Chi Minh City waiting for a rapid test. Photo: Thanh Tung/VietNamNet
Quarantine at home
Vietnam's anti-epidemic motto has long been "early detection, tracing, isolation, zoning and effective treatment", recently added with "5K + vaccine" (5k = Khau trang (facemask)- Khu khuan (disinfection) - Khoang cach (distance) - Khong tu tap (no gathering) – Khai bao y te (health declaration).
Accordingly, F0 cases (Covid-19 patients) and F1 cases (those who have contacts with F0) will be screened and be sent to concentrated quarantine centers to prevent the disease from spreading to the community.
However, this strategy has been inappropriate to the new situation when the number of cases has rocketed along with the appearance of the Delta variant.
The local media recently reported that Nha Be district, Ho Chi Minh City was the first place that allowed four F1 cases of a family in Nhon Duc commune to quarantine themselves at home.
Ms. Le Thi Anh Thu, Vice Chair of Nha Be District, was quoted as saying that at that time the local authorities did not have a policy to allow F1 to be under home quarantine. However, one of the F1 cases, an old man who suffered a stroke, was weak and he needed someone to take care of him, so Nha Be district made the decision. After 21 days of self-quarantine at home, the four F1 cases tested negative to nCoV and the family recently returned to a normal life.
Concentrated quarantine centers in HCM City have been overloaded in recent days. Doctors, nurses and logistics staff have been very tired because of the increasing number of F0 and F1 cases. Cross-infection inside these sites has occurred.
On July 17, HCM City Chairman Nguyen Thanh Phong said that in just one day, the Center for Disease Control of Ho Chi Minh City recorded more than 2,800 infection cases, most of them inside quarantine centers and locked down areas, accounting for more than 81.34% of the total new cases on the day.
HCM City proposed piloting home quarantine for F0 and F1 cases and it was cautiously given the green light by the Ministry of Health.
On July 21, Chairman Phong signed a document allowing newly detected cases who show no clinical symptoms, with RT-PCR test results showing a low viral load, and who meet other conditions should be considered for home quarantine, in parallel with maintaining concentrated isolation sites for F0s.
Deputy Health Minister Nguyen Truong Son explained the new move: "This model (early detection, tracing, isolation, zoning and effective treatment) has been very successful in the previous waves of epidemic, and in some provinces when the number of cases was relatively small. But now when the epidemic is exploding like fireflies everywhere, for example Ho Chi Minh City with 21,000 cases of F0 cases but only 42,000 F1 cases, it is not completely suitable."
Son hopes that with new changes in strategy such as reducing the quarantine time for F0 and F1 cases and allowing home quarantine, the pressure on the healthcare system and quarantine centers will be relieved.
To date, allowing F0 and F1 cases to be quarantined at home is still controversial. It is hoped that experience will be learned soon from Ho Chi Minh City.
Supply chain disruption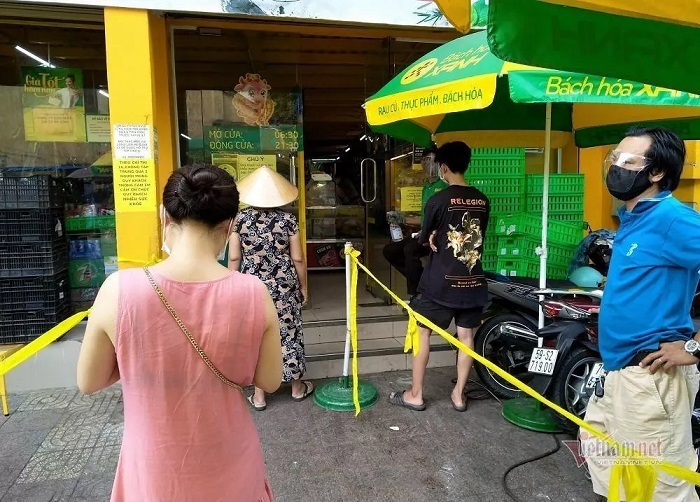 People queue in front of a supermarket in Ho Chi Minh City. Photo: VietNamNet
When Ho Chi Minh City imposed strict social distancing rules to fight the epidemic, wholesale markets and two-thirds of wet markets were closed. Most grocery stores were also shut down because there was little or no supply of goods and they were not selling essential goods.
The supply chain through wholesale markets, wet markets, and family stores, which played a particularly important role in Ho Chi Minh City has been broken.
The burden of food supply rests on supermarkets and convenience stores.
Meanwhile, supermarkets can only serve 30% of food needs. Some supermarkets have set up mobile stalls to sell food on the sidewalk. In this situation, Saigonese had to buy food at closed supermarkets, where the risk of infection is high. The city authorities, meanwhile, could not explain why supermarkets were allowed to sell goods on the sidewalk while the people could not.
People started to buy and hoard food, causing shortages, which led to an increase in prices, which urged people to hoard more goods.
Thus, the internal supply chain has broken.
It is similar outside.
A truck driver who transported food from a southwest province to Ho Chi Minh City said that after he delivered the food to employees of the People's Committee of a ward in HCM City, he returned home and was required to be quarantined for 21 days in accordance with the Ministry of Health's regulations. He had to choose an alternative option: asking his family to deliver food to him and eating on the truck so that he could do several more trips without being interrupted for 21 days after each trip. In that situation, who dares to drive to transport goods to the city?
The regulations that Ho Chi Minh City residents traveling to other provinces must be quarantined has contributed to a serious shortage of goods, especially food, although the surrounding resources of goods and food are abundant.
Moreover, Ho Chi Minh City is both a place of goods consumption and a place to supply goods to many regions in the country. If the city is isolated, the supply chain between the city and other locations is disrupted, affecting the lives of residents.
More importantly, a large number of workers have to stay at home. Associated with them are their relatives, including the elderly and children.
This situation, if prolonged, will seriously affect people's lives, disrupt social security, and may lead to social instability and seriously threaten the foundation of economic development.
Ho Chi Minh City has the lowest percentage of people living on the state budget, perhaps the lowest in the country. Ho Chi Minh City is also a city of over 10 million people, including migrants, which is the size of a large city by world standards – so it is impossible to apply the same measures as with a small city.
It is hoped that the inadequacies in anti-epidemic measures in Ho Chi Minh City will be solved.
Tu Giang – Vu Minh

In the new situation, social distancing may cover almost the whole country, affecting tens of millions of people and hundreds of thousands of businesses, and the supply chain of the whole country or at least a large economic area will be broken.

There is a food supply shortage in HCM City, despite the high production capacity in the Mekong Delta.