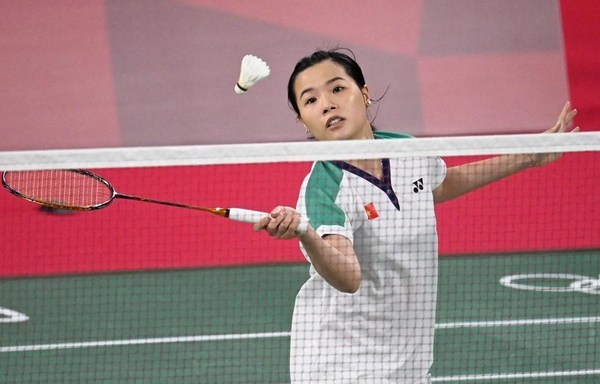 Vietnamese badminton player Nguyen Thuy Linh (Photo: VNA)
With the 2-0 (21-11, 21-11) triumph, Linh's chance to advance to the next round has become higher. She will face world No.1 player Tai Tzu Ying from Taiwan (China) and Sabrina Jaquet of Switzerland, the world's 46th player, on July 26 and 27.
Linh, who is joining the Olympics for the first time, showed stable performance without any anxiety.
The Vietnam Badminton Federation decided to reward Linh with 20 million VND in cash right after her successful game.
Minutes after Linh, Truong Thi Kim Tuyen also scored her first Olympics win in the women's 49kg taekwondo.
The Asian champion had no difficulty thrashing Canadian Yong Yvette 19-5 in the first round.
In the quarter-finals, she will compete against a powerful Panipak Wongpattanakit of Thailand. Wongpattanakit is the No 1 title holder and is the favourite. She won gold at the World Championships in 2015, silver at the World Championships in 2017 and bronze at the previous Olympics. Wongpattanakit is also the Asian Games and SEA Games defending champion.
On July 24, Vietnamese athletes will also compete in shooting, gymnastics, taekwondo, rowing and boxing.
Particularly, veteran gunman Hoang Xuan Vinh will open the Olympics with the 10-m air pistol event that helped him win a gold medal at the Rio 2016 Olympics.
Earlier on July 23, Vietnam's quest for Olympic glory began before the opening ceremony with archers Do Thi Anh Nguyet and Nguyen Hoang Phi Vu in action.
Nguyet finished 49th among a total of 64 competitors with 628 points in the qualifying round of the Women's Recurve event.
Nguyet, however, will progress to the next round to compete against the host nation's Hayakawa Ren.
This year marks the first time that the 20-year-old archer has competed in the Olympics.
On the men's side, Nguyen Hoang Phi Vu gained 647 points and ranked 53rd out of 64 athletes. Kim Je Deok of the Republic of Korea led this category with 688 points, followed by Ellison Brady of the US with 682 points and Oh Jinhyek with 681 points.
With this result, Vu will face Tang Chih Chung of Chinese Taipei who ranked 12th in the qualifying round with 668 points.
With a total score of 647 for Vu and 628 points for Nguyet, the two Vietnamese archers have a total score of 1,275, and are ranked 23 out of 29 in the mixed doubles. This means they can't win the right to compete in the next round, taking place on July 24.
Vietnam sent a 43-strong delegation, including 18 athletes competing in 11 sports to the Tokyo 2020 Olympics, led by Deputy General Director of the Vietnam Sports Administration Tran Duc Phan./.
Source: VNA/VNS