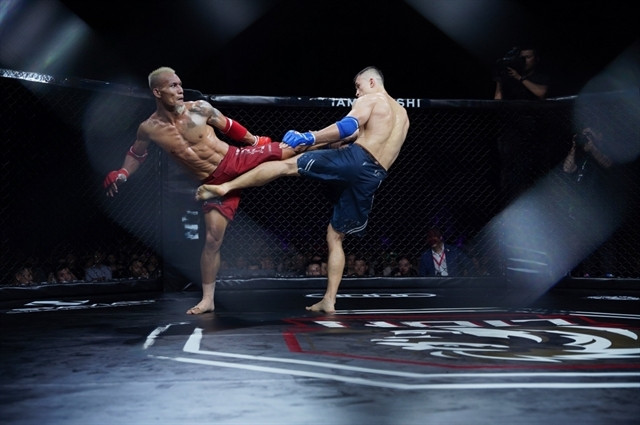 Trần Quang Lộc (left) beat Nguyễn Văn Kamil to win the Lion Championship 70kg belt in 2022. Lộc will begin his title defence on April 1 in Tây Hồ, Hà Nội. — Photo courtesy of VMMAF
The Lion Championship, Việt Nam's premier mixed martial arts tournament, is back for its second year and promises to be bigger and better than ever before.
Organisers have announced that a number of the nation's biggest stars, including Nguyễn Trần Duy Nhất, Nguyễn Thị Thanh Trúc, Dương Thị Thanh Bình, and Nghiêm Văn Ý, will be taking part in this year's tournament, which has been called 'History Makers'.
After the success of last year's inaugural season, a host of foreign fighters from China, South Korea, and Japan, renowned hubs of martial arts, have also signed up to compete.
The eight-event season will feature a brand-new format designed to showcase each athlete's skills and make the fights even more aggressive. Fans can expect to see some truly spectacular match-ups as the best of the best battle it out in the ring.
The events will take place in various locations throughout Việt Nam, including Hà Nội, HCM City, and Phú Quốc.
The bell will sound for the first event on April 1 in Hà Nội, with the following events in the capital taking place on June 30 and August 12.
Fight fans in HCM City can catch the action on April 22, July 8, and September 9.
The finals will be held in Hà Nội on November 18.
Athletes will compete in nine weight categories, six for men (56kg, 60kg, 65kg, 70kg, 77kg and 84kg) and three for women (52kg, 56kg and 60kg).
Each fight will consist of three five-minute rounds, while the championship fights will be five five-minute.
This year's match-ups will be based on fighter's records and performance in last year's event. Each fighter will have a maximum of five fights to collect points, with the best advancing to the championship fights.
To boost the development of the sport in the country, the Việt Nam MMA Federation has opened up a tournament for B-class competitors to support and nurture local talent.
"There will have six to eight matches in each event," said Võ Thành Trung, a member of the organising board. "The main cards would be matches between top fighters or Vietnamese fighters and foreign challengers."
"Bonuses for fighters will be allocated based on the ranking of matches. The more quality and high-ranking matches, the bigger bonuses are delivered."
The big bonuses are sure to be a strong motivation for fighters to train and compete to the best of their ability while taking the sport to the next level of professionalism within the country.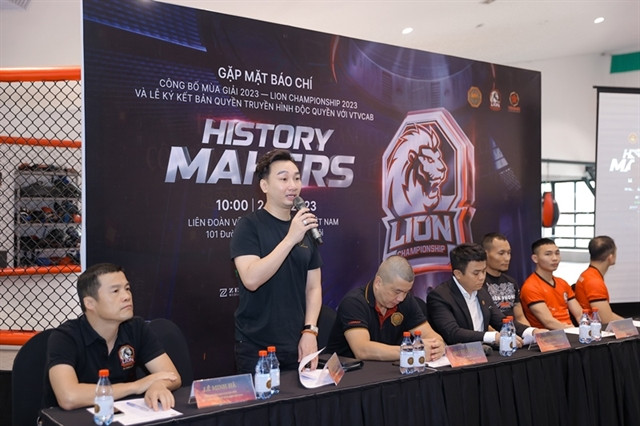 Organisers introducing the 2023 Lion Championship, entitled 'History Makers' at a press briefing on March 24 in Hà Nội.
Vietnamese 'Brown Beast' Trần Quang Lộc will take on rising Chinese star Li Xiao Long in a highly anticipated fight on April 1 at the Tây Hồ District Gymnasium in Hà Nội.
Lộc, the reigning champion of the men's 70kg, is widely regarded as one of the best MMA fighters in Việt Nam, having dominated the sport for years.
Li, 22, hailing from Jiangsu Province and nicknamed the 'Chinese Dragon', boasts an impressive record of 16 wins from 22 fights and has won numerous titles from local and international competitions, including the recent Soviet War Fighting in 2022.
"I have researched Li and know that he is a talented boxer with impressive kickboxing technique and quick movements," said Lộc. "Facing an athlete from a country with such a long tradition of martial arts is nerve-wracking, but I am determined to bring out my best for the sake of national pride."
Those looking to witness the action in person can purchase tickets ranging from VNĐ300,000-1 million.
The Lion Championship promises to be an electrifying event, with high-ranking officials from China's martial arts federation, the Asian MMA Federation, and Ultimate Fighting Championship (UFC) expected to attend.
The live stream will be available on various platforms through VTVcab, the executive broadcasting distributor in Việt Nam. — VNS