Livelihood and cultural preservation of Ha Long floating villages

Floating villages have existed for hundreds of years on Ha Long Bay, in Quang Ninh province.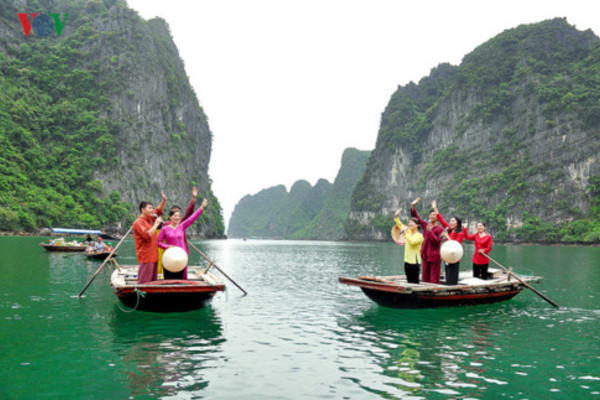 Members of the Cultural Center of Cua Van Fishing Village, who are real fishermen, perform for tourists.
Preserving the culture of these floating villages has been given equal importance with ensuring a stable livelihood for their inhabitants.
Visitors to Ha Long Bay witness recreations of life on a house boat surrounded by emerald water amid a cluster of magical isles. The performers of these recreations are real fishermen, who are participating in a provincial project enhance their livelihood.
Nguyen Thi Hang, a curator at the Cultural Center of Cua Van Fishing Village, said, "I was born and grew up in Cua Van fishing village. Now I introduce the life of local fishermen and my family to tourists. There were a lot of new things at first because I had never had contact with tourists before. We were trained and since then have gained work experience. I enjoy telling tourists about our life."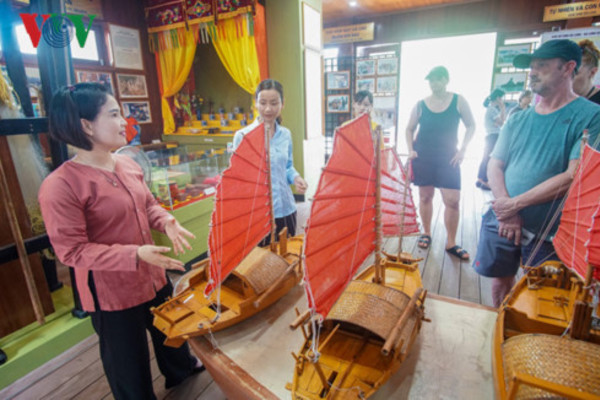 Nguyen Thi Hang introduces tourists to the fishing activities in Cua Van.
One of 7 fishing villages in Ha Long Bay, Cua Van receives 200 to 400 visitors a day. Hang, and others sing, dance, and demonstrate the fishing life for visitors.
Lifelong fishermen now combine their fishing activities with tourist services. At Vung Vieng fishing village, the fishermen use an environment-friendly fish-cage model and provide tourist services.
They receive technical and financial support from the government. Some households earn more than 3,000 USD per year.
Vung Vieng village has 50 people raising fish in cages and 70 people rowing day-tour boats. Pham Van Nang of Vung Vieng village said that although they can't speak a foreign language, they are eager to show visitors how they conduct their life.
"I used to live on the Bay. Then we moved to the mainland for a period. Now we have returned to live on a boat, raise fish in cages and introduce Ha Long Bay to tourists. I'm very happy," Nang said.
Fishermen Vu Van Hong said, "We offer a boat tour. I can earn about 150 USD per month, a good extra income for my family."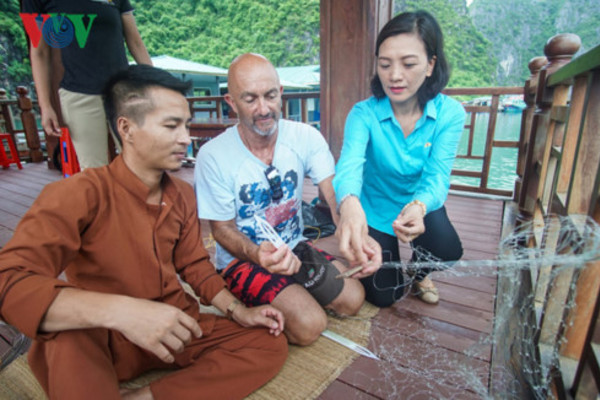 A tourist tries to make a fish net.
The Ha Long Management Board has worked with Vietnamese and foreign organizations to preserve and promote the tangible and intangible cultural heritage of Ha Long Bay and its fishing life.
Tourist sites have been upgraded and traditional festivals have been revived, such as the Water Procession, Cau Vang Temple and the Madam Men Festival.
Nguyen Huyen Anh, Deputy Head of the Ha Long Bay Management Board, said, "Tourists are interested in cultural activities and want to experience fishing life. We have diversified performances and improved classrooms and libraries on the boats. These are unique features of the local life which need to be preserved for future generations." VOV5

Visitors to Quang Ninh can enjoy the stunning, world-renowned vistas of the UNESCO-recognized Ha Long Bay, and take in unique works of architecture like those found on Yen Tu Mountain, or the Tra Co Communal House in Mong Cai.

Many tourists and tour agencies are complaining about the regulations that ban tourists from bathing at small beaches in Ha Long Bay.  

Disposable plastic products will be replaced by products made of environmentally-friendly materials by business facilities in Ha Long Bay in the northern province of Quang Ninh from September 1.