Livestream game platforms in fierce competition
Game livestream platforms backed by the world's technology giants appear to be undefeated in the competitive battle in Vietnam.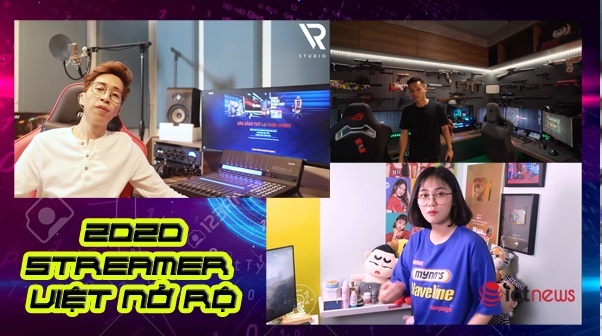 Vietnamese famous game livestreamers.
In 2014, in Vietnam, only TalkTV appeared, but in 2017 the competition between livestream platforms and social networks became become more exciting with the presence of global names like Facebook, YouTube, Garena (SEA Group), or regional brands like Nimo TV, Booyah (belonging to Garena).
This has reflected the fierce competition for both content creators and users, as well as the development of the game streaming industry in Vietnam.
The most popular platforms today are divided into two segments, including stream gaming with outstanding applications such as Facebook Gaming, YouTube Gaming, Nimo TV, Booyah ... and non-gaming with applications such as Facebook, Instagram, TikTok…
According to Appota, in Vietnam, most platforms do not charge users, and their main source of revenue comes from inserting ads. The ad-containing rate of apps in Vietnam is up to 59%, while the global average is 38%.
The game streaming market in Vietnam can be considered on three core factors, including gaming creators acting as gaming content creators, and KOLs (influencers). The livestream platform acts as a distribution unit, transmitting content from content creators to the audience. The gaming community includes audiences, general game players and esports players, acting as viewers, content creators' target audiences, and livestreaming platforms.
Most of these game streaming platforms are backed by big technology corporations. For example, Nimo TV inherits and develops resources exclusively supported by Tencent Games, which are very popular around the world. Meanwhile, PUBG Mobile and Arena of Valor Nimo TV are the most popular games in Southeast Asia.
These platforms also have famous and influential streamers. However, in order to develop a unique content strategy and successfully reach the target audience in the livestream community, platforms must have an innovative streamer training plan, and constantly update trends and make breakthroughs.
Considered a "million-dollar" industry, the livestream market currently has the presence of big names such as Facebook Live, YouTube Gaming, Twitch, Bigo...
Seeing the metaverse as the future of social networking, leading Chinese technology companies such as Tencent, Alibaba, ByteDance... are pouring billions of dollars into the metaverse to quickly find the key to attract the youngest generation of Internet users. This is important, especially when the smartphone market is saturated.
Pony Ma, CEO of Tencent, said the metaverse is an opportunity to develop and expand existing industries such as games. Tencent has a lot of technology and know-how to explore the metaverse and is currently the largest game company in the world.
Meanwhile, ByteDance is also expanding into the gaming sector alongside short-video social networks TikTok and Douyin. In August 2021, it acquired virtual reality headset maker Pico, starting to lay the groundwork for virtual reality (VR), social networking and games.
Looking at the investment of the Chinese "big players" in the game industry as well as the strategy to dominate the Southeast Asian market, it is understandable why Vietnamese livestreaming platforms often "lose" at home.
When game streaming started in Vietnam, ccTalk (later renamed TalkTV) of VNG was built in 2014 and dominated the market for a relatively long time. TalkTV is the place to create the first online idols in Vietnam, i.e. people who sing and dance to receive bonus from viewers.
But then, this platform could not keep its idols and streamers longer before the strong competition from Bigo Live, Nimo TV, Nonolive...and in late 2018 it quietly closed down.
VNG tried to change and refresh the product with 360Live, but the platform also had to stop working. It is estimated that in its "golden age", TalkTV attracted about 100,000 viewers at the same time.
The foreign game streaming platforms are "rich", so it is difficult for Vietnamese idols and streamers to resist their lucrative offers as they can be paid 20,000 - 30,000 USD/month.
In December 2021, Dung CT officially worked on the leading game livestreaming platform in Vietnam - Nimo TV. He is a well-known streamer, a pioneer in the PS4 game livestream movement. His first livestream on Nimo TV platform on December 1, 2021 reached more than 70,000 viewers and shortly after, the game livestream channel on Nimo TV reached 86,000 followers.
Nimo TV now has famous streamers like Do Mixi, Refund Gaming, Misthy, Ngan Sat Thu, Bo Bim... and members from famous esports teams in Vietnam like SBTC, Cerberus Esports, The Expendables, Dung CT, and Team Dut. This is a gaming livestream platform on both PC and mobile app, owned by HUYA Inc. it was launched in Indonesia at the end of April 2018. It is an exclusive third-party streaming partner platform of Riot Games for League of Legends Korea Champions 2018 in China. In April 2020, Tencent became the largest shareholder of HUYA.
Lack of capital not only affects the scalability of Vietnamese platform, but also directly weakens the ability to maintain and develop internal products.
This analysis shows that even surviving in this industry is a difficult problem for local platforms. There are very few game projects that can have an IPO. Under increasing pressure from big manufacturers like Tencent and ByteDance, small and medium game companies are under huge brain drain pressure. However, this has not stopped the trend of investing in online games. As proof, investment funds such as Wuyuan Capital, Gaorong Capital and others are constantly looking for startups in the digital entertainment industry in the region to invest in.
Dau Tu

Making money on online platforms and social networks is increasingly popular in the labor market, streamer jobs have become popular keywords for many young people.

It is difficult to find success when doing business, and even streamers with good financial backgrounds are no exception.