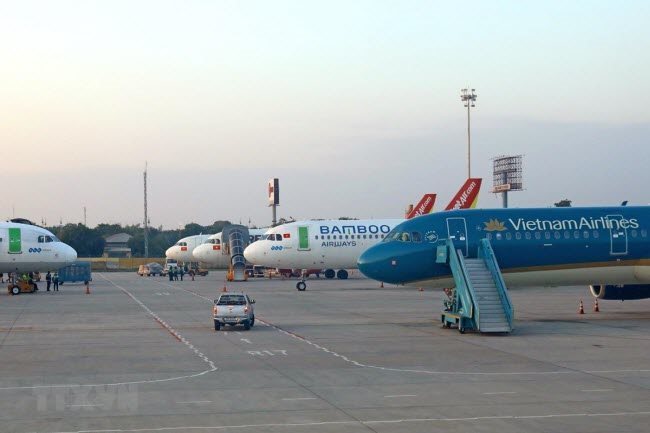 Aircraft operated by local carriers are parked at Noi Bai International Airport in Hanoi. The airlines had suffered total losses of over VND10 trillion as of February 10 due to the coronavirus outbreak
That followed the Vietnamese civil aviation authority's flight ban to keep the threat of the new coronavirus at bay, 
The airlines have been directly affected by Vietnam's move to put the outbreak under control, requiring the suspension of flights to and from China and denial of entry to passengers who have stayed in or transited China in the past 14 days.
Also, they experienced a domino effect from flight changes adopted by foreign aviation markets, especially Hong Kong, Taiwan and Macao, as well as a decline in international visitors in the local market.
The flight ban led the carriers to lose revenue from an average of 400,000 passengers per month, along with a substantial amount typically earned from customers on domestic routes.
Besides this, local airlines lost money due to having to refund and cancel tickets, and cover extra costs for virus prevention procedures.
One week after the ban came into effect on February 1, local carriers transported 1.95 million passengers, down 4.5% over the same period last year. Of this, the number of passengers on all international flights had dropped some 14%.
If the outbreak does not abate until April, the number of passengers traveling through local airports could total 119 million, dipping 2% against the same period last year. Further, the figure is expected to reach 111 million, down 4%, if the disease lasts until June, CAAV forecast. SGT

Vietnam Airlines and Jetstar Pacific have become the latest Vietnamese carriers to change schedules of flights linking the country with China in the face of the acute respiratory disease caused by the novel coronavirus (nCoV).

Flying an empty aircraft for the second time in one week, Hoang, a captain working for a Vietnamese airline, has heard that the airline is incurring big losses because of nCoV.