VietNamNet Bridge - T&T Group is the first domestic investor expressing the ambition to replace the state to hold all shares in Quang Ninh Port - the second largest port in the North.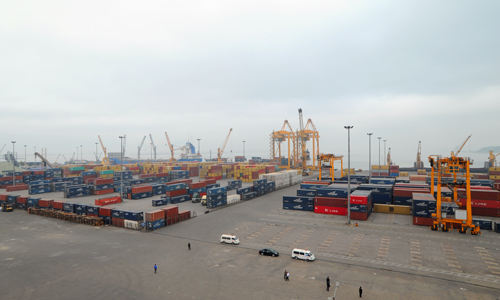 The Vietnam Shipping Lines Corporation (Vinalines) has officially reported to the Ministry of Transport its plan to sell 49 million shares of Quang Ninh Port. The move came just a month after the government agreed to a proposal of the Ministry of Transport on the sale of state capital in the port for domestic investors.
Under the new scheme suggested by Vinalines, the corporation proposed to sell the entire 49 million shares, equivalent to 98% of the charter capital of the State in the port. This is a "bold" move because previously the government approved the plan of selling only 49 percent of state capital in the port.
In the report, Vinalines proposed two scenarios: the first, to hold a public auction at the Stock Exchange and the second, to sell directly to investors.
Whatever the scenario might be, if the entire 49 million shares are sold, Vinalines will collect at least VND490 billion (nearly $15 million),.
For the Hai Phong Port, Vinalines noted that it would be difficult to have a successful auction of shares, so it suggested to sell shares directly to an investor from Oman.
The corporation believed that the auction of shares of the Quang Ninh Port is feasible because many investors would be very interested in this deal.
However, to date, only one domestic investor has shown its interest in purchasing state shares in Quang Ninh Port – the T&T Group.
This group wants to purchase 100 percent of state shares in Quang Ninh Port and has committed to develop the port under the state's guidance.
"The policy of the State to withdraw the entire capital in a major and potential port as Quang Ninh is clearly too attractive, especially in the context of economic recovery. In addition, the amount of capital of around VND500 billion is not a big financial problem for local corporations," an expert said.
In the privatization plan of Quang Ninh Port approved by the Ministry of Trade and Industry in early 2014, the State will hold 75% of the charter capital. The number of shares to be sold for employees is 25%. However, the IPO last May failed and the state still holds more than 98% of the shares.
Despite the failure of IPO, Quang Ninh Port earned revenue of VND316 billion and profits of VND12 billion last year.
$1 = VND21,000
Hai Yen