However, with the harsh impact of the pandemic on the industry and strict rules of origins following transnational trade agreements, the sector's supply of raw materials faces a difficult start into the new year.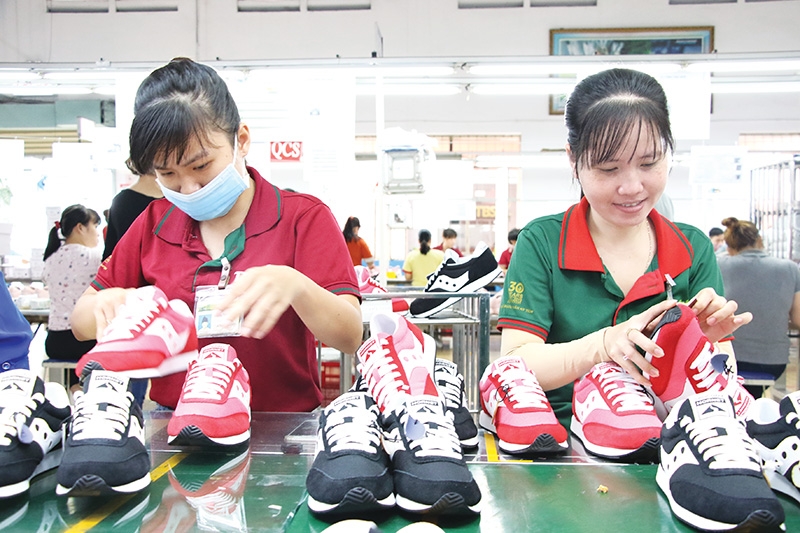 Vietnamese businesses are being urged to take advantage of free trade agreements to help solve raw material issues, photo Le Toan
The shortage of raw materials for the garment and footwear industries could be offset by foreign-invested enterprises (FIEs), but it may not be easy for them to sell their products to domestic manufacturers.
"The year 2021 will be difficult for sure," commented Alessandro di Palma, CEO at DWS Co., Ltd., when talking about exports to Europe. Especially, the German market continues to face difficulties, with the impact on DWS possibly being worse in the new year. "Our sales have dropped more than 20 per cent since the pandemic broke out, continuing to fall in November by around 30 per cent," said Palma.
Despite the current peak season for the yarn industry, orders for 2021 have decreased by about 20 per cent compared to the same period last year. DWS previously expected its output for 2020 to reach 1,000 tonnes, but as the factory is currently not running at full capacity, inventories have exceeded the permitted thresholds.
The company has had to reduce its output, while its cash flow was affected by slow orders and payments.
Weakest link
The Ministry of Industry and Trade has confirmed that in the first 11 months of 2020, production of woven fabrics from natural fibres was estimated at 612.6 million square metres, up 6.3 per cent on-year, while the output of synthetic and artificial fibres was estimated at 855.7 million sq.m, down 9.4 per cent over the same period last year.
Meanwhile, the Vietnam Cotton and Spinning Association forecasts that to meet the growing demand by 2025, the spinning industry must produce at least 17.9 million spindles and 12 billion sq.m of fabric. However, only 2.8 billion sq.m of cloth are produced domestically, while the current demand lies at 8.9 billion sq.m, meaning that Vietnam has to import over six billion sq.m of fabric, accounting for more than 60 per cent.
As the EU-Vietnam Free Trade Agreement (EVFTA) and its associated rules of origin have come into effect, manufacturers have to be more careful about where and how to order raw materials to enjoy the preferential tariffs. The Vietnam Textile and Apparel Association (Vitas) has more than once called for foreign investment in raw materials. However, so far investors were not very interested due to the tightened environmental regulations by localities.
Lam Dan My, sales manager of Taiwanese Sunrise Chemical Supply Co., Ltd. came to Hanoi last week to "expand the company's business to the north" instead of focusing on customers in the southern market. However, the expansion plans of Sunrise are stagnating as Lam "has yet to find a suitable partner."
Pressure on input materials was partly reduced as Vietnam and South Korea signed an agreement in December to implement the accumulation of origin of textiles between the two nations.
The move also promises to redirect large funds to manufacturers using raw materials imported from South Korea to produce textiles for exports to Europe, with the rate of meeting the rules of origin possibly staying at up to 50 per cent.
Quality for export
Hong Sun, vice chairman of the Korea Chamber of Business in Vietnam, realised that the proactive preparation and signing of an agreement between Vietnam and South Korea on origin accumulation for textile and garment materials right after the EVFTA came into effect was vital and well-timed. "Vietnamese businesses can immediately solve the problem of high-quality raw materials and take advantage of the export opportunities to the EU market," Sun said.
Vitas data shows that in the past five years, South Korea was the second-largest exporter of fabrics to Vietnam, only behind China, with an import value of about $2 billion per year, accounting for 17-18 per cent of total fabric imports into Vietnam.
While the exports of textiles and garments amounted to $39 billion in 2019, the local textile industry only sourced 30 per cent of the fabric domestically.
Thus, the EVFTA's "Fabric-Forward" rule of origin does not present a challenge in the short term, as Vietnam even lacks high-quality fabrics to produce for exports to the EU. The import of raw and auxiliary materials from countries with FTAs with the EU, such as South Korea, also has other limitations, as high raw material prices reduce Vietnam's competitiveness, while the benefits of the tariff reductions are not enough to compensate for this and compete against other countries exporting to the EU.
As the EU-Japan FTA took effect from January 2019, Vitas recommends that, following South Korea, the Vietnamese government should continue to negotiate with the Japanese side to implement aggregated rules of origin for textile materials between the two countries.
According to Vitas' calculations, if both sides can agree on exchange terms, each year, Vietnam's garment and textile sector could receive additional fabrics worth nearly $1 billion which are eligible for the tariff exemptions of the EVFTA.
Than Duc Viet, general director of Garment 10 JSC, said that every year, his company needs 30 million metres of fabric to produce about 18 million shirts and 1.5 million suits. However, the high cost is the main reason why the company does not always use domestic fabrics. Strengthening the connection between domestic companies and FIEs to supply raw materials, Viet believed, will contribute to reducing the dependence on imports, thus increasing the competitiveness of Vietnam's garments and textiles.
According to the General Statistics Office, only 16 per cent of factories are currently running at full capacity, which means the remainder operates below capacity. On the bright side, the current situation may be an opportunity to establish networks and step by step develop autonomous sources for raw materials.
Phan Van Chinh - General director, Agency of Foreign Trade, Ministry of Industry and Trade
With the EVFTA, Vietnamese textiles and garments have a competitive advantage over Chinese products, as well as equal chances like Cambodia and Bangladesh which also currently enjoy zero trade tariffs.
Moreover, the textile industry can currently still profit from the Generalised Scheme of Preferences, (GSP) which will continue for another two years.
Footwear products cannot use raw materials that do not originate within the agreement's area, except for combining parts of toe caps and soles.
These rules of origin are stricter than those in some other FTAs but are nothing new for the leather and footwear industry, as enterprises also previously exported to the EU with similar criteria under the GSP.
On the flip side, the EVFTA is expected to create great competitive advantages in the short- and medium-term for Vietnam, especially compared to other ASEAN countries.
Phan Thi Thanh Xuan - General secretary, Vietnam Leather, Footwear, and Handbag Association
Until now, Vietnam has been the second-largest supplier to the EU. But the outlook is not too optimistic. Firstly, most of our key markets have not yet controlled the pandemic, while Vietnam's leather and footwear heavily rely on the purchasing power of these markets.
Secondly, the cost of export activities is increasing. Thirdly, the aggregated demand has decreased by 22 per cent, and brands have cut 40-50 per cent of orders globally, with the remaining orders being restructured in manufacturing countries.
Thus, the new year seems unpredictable. While the pandemic's development is not clear, there is now also the possibility of high tariffs in the US market – a huge challenge for the footwear industry. Therefore, we will continue to support businesses to take advantage of opportunities from Vietnam's many FTAs, organise trade promotion activities, and improve manufacturers' capacity to comply with the agreements and environmental regulations.
Vu Duc Giang - Chairman, Vietnam Textile and Apparel Association
We have come up with possible solutions to tackle current challenges. Firstly, it is necessary to develop a strategy for the 2021-2025 period.
Secondly, tech solutions need to be clearly formulated, which provide a vision for the spinning and dyeing industry with a focus on automation to create a platform for the fast-changing trends of the market.
Thirdly, orientations should be given concerning environmental efforts, such as energy saving, efficient use of water resources, and sustainable development for factories and workers.
Fourthly, supply chains for raw materials should be further established to enable Vietnamese textile and garment brands to reach out to global markets.
Lastly, networks among domestic and international distributors should be fostered to bring Vietnamese textile and apparel brands into global retail chains.
Facing slow orders in 2021, we will update information related to market developments and orders so that businesses can adapt and find solutions. VIR
Hai Anh

More and more investment deals are still being been made despite the Covid-19 pandemic. 

Vietnam had attracted a total of 26.43 billion USD in FDI this year as of November 20, equal to 83.1 percent of the figure in the same period last year, according to a recent report from the Ministry of Planning and Investment.