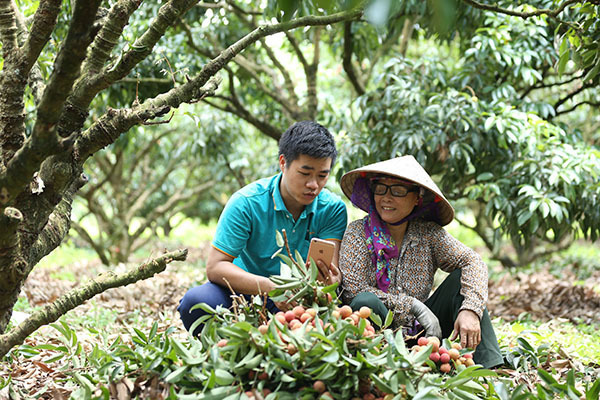 With soil and climate conditions suitable for fruit tree development, Luc Ngan district is known as a key fruit area in the country
Local specialties reach global market on e-commerce sites
Displaying local specialties on e-commerce platforms has proven to be the quickest way to increase the value of Vietnam's farm produce and introduce it to international customers.
With soil and climate conditions suitable for fruit tree development, Luc Ngan district in Bac Giang province is known as a key fruit area in the country. The fruit growing area has been expanding in recent years.
Luc Ngan has 28 hectares of fruit trees of different kinds.
'Bountiful crop, low price' was once a big problem for local farmers. Local agencies and farmers had to think about solutions to the problem.
In 2020, dacsanlucngan.vn, an e-commerce website, was set up, an important step that has helped introduce oranges, pomelos and other local specialties to customers throughout the country.
Businesses, cooperatives and orchard owners take orders via the website and provide products that are clean, and have clear origin, high quality. This has activated selling specialties online, helping improve the prestige of local farm produce.
Prior to that, the Dong Thap Specialty Club opened a booth to sell local specialties on Tiki, an e-commerce platform, introducing nearly 140 specialties of 20 businesses and production workshops in the province. These include lotus leaf tea, dried fruit and fruit jam.
Dong Thap, together with An Giang, Ben Tre and Can Tho have also worked with global e-commerce platforms such as Amazon and Alibaba, and domestic platforms such as Tiki and Shopee to bring local specialties to the world.
OCOP (one commune, one product) Program will be implemented in parallel with the government's digital transformation program. In the immediate time, organic products such as jackfruit, coconut and jiggery will be for sale.
In Ben Tre, the homeland of coconuts, the 'Ngay cua lang dua Ben Tre Online (Day of Ben Tre Village Online) caught special attention from consumers across the country. Businesses took full advantage of the event to advertise products, polish brands and boost sales.
Ben Tre aims to make e-commerce more popular among businesses and the community, thus narrowing the distance between Ben Tre and other localities with strong e-commerce development.
It is expected that 80 percent of businesses in Ben Tre province will have booths on Dac San Ben Tre (Ben Tre's Specialties) e-commerce website, and businesses will promote e-commerce transactions in Vietnam and abroad.
Eighty percent of businesses' e-commerce websites will be integrated with the feature allowing orders online, and 50 percent of businesses will carry out business activities on e-commerce transaction floors.

Vietnam has great advantages for digital transformation, including a population of 100 million, and a high percentage of internet and smart device users, accounting for 70 percent of the population.
Nguyen Thi Bich Phuong, director of Thanh Son Cooperative, said after surveying the market, the cooperative realized that in order to access the majority of consumers, it was necessary to apply traditional advertisements but also introduce products via trading platforms, which allows people to easily access its products.
In 2020, the Covid-19 pandemic seriously affected the consumption and export of farm produce, especially when the border gates to China were temporarily closed.
In such conditions, e-commerce offered an opportunity to local farmers to boost sales. It allowed products to reach out to every corner of domestic and foreign markets, and created favorable conditions for both sellers and consumers.
Cross-border e-commerce is an effective channel for businesses, including small and medium export enterprises, especially in the context of the pandemic.
Pham Thi Ly from the Vietnam Association of Small and Medium Enterprises noted that the sale of most Thanh Ha litchis via tech platforms at the price of VND50,000 per kilogram in 2020 showed the efficiency of using e-commerce.
"With technological platforms, consumers just need to sit at home to watch over the cultivation process and preservation via cameras installed at litchi gardens," she explained.
E-commerce can solve the problem of connections between units in traditional supply chain. It also connects producers and consumers directly, without intermediaries.
According to the E-commerce and Digital Economy Agency under the Ministry of Industry and Trade (MOIT), Vietnam is one of the countries with the highest e-commerce growth rates.
About 53 percent of the population shopped online last year. Despite Covid-19, Vietnam's e-commerce revenue still grew by 18 percent, reaching $11.8 billion and accounting for 5.5 percent of total retail sales of consumer goods and services in Vietnam.
Raz Mohamad from Cisco said that digitization is the way for small and medium enterprises to recover in the post-Covid-19 period. Technology not only helps deal with challenges, but also spurs growth in the long term.
Vietnam has great advantages for digital transformation, including a population of 100 million, and a high percentage of internet and smart device users, accounting for 70 percent of the population. The dynamic business community and strong support from the government are also favorable factors.
The latest report of DBT Center said that 60 percent of businesses would be eliminated in the next five to 10 years if they do not digitize. 
Duy Anh

Vietnam's e-commerce market is forecast to continue growing strongly in the time to come thanks to a big population with high rates of young people and internet users.

Flexible warehousing models that can help businesses optimise their storage are required amid the development of e-commerce, experts have suggested.