Localities more transparent with their public spending: report
Local governments have become more transparent with public spending and are showing better practice publicising documents related to State budget spending, according to a report published on Thursday.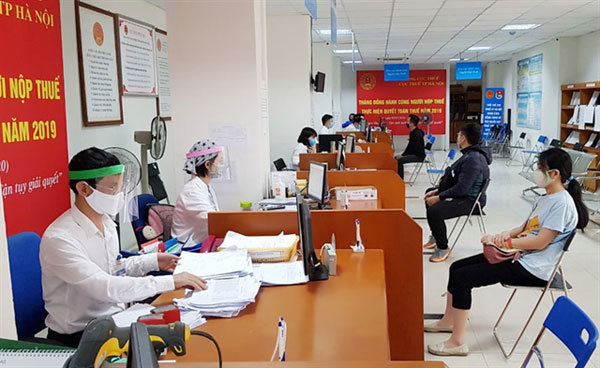 Tax officers meet with taxpayers at the Hanoi Taxation Department. — Photo hanoimoi.com
The 2020 Provincial Open Budget Index (POBI) report released by Budget Transparency, Accountability and Participation (BTAP) showed the average transparency score out of 100 for provinces and cities increased from 65.55 in 2019 to 69.09 in 2020.
The increase is seen as modest compared to previous years as the average scores in 2018 and 2017 were 51 and 30.5 respectively.
In 2020, 27 localities publicised all required information about local budgets, three more than a year prior.
Twenty-nine other localities publicised almost all the required budget documents while seven provinces rarely publicised the budget documents.
Researchers surveyed 63 cities and provinces regarding two main pillars - budget transparency and civil participation - to evaluate localities' efforts to fully disclose all relevant fiscal information in a timely and systematic manner.
The index is built on six main criteria of completeness, timeliness, availability, convenience, reliability and continuity in providing seven documents the 2015 Law on State budget mandates be disclosed and four other documents that need to be published under international best practices.
As a national initiative implemented independently by non-profit research institutes since 2017, POBI has become a tool to enhance openness, democracy, and transparency and also helps Vietnam demonstrate its international commitment to promoting open government.
The research group including experts from the Vietnam Institute for Economic and Policy Research (VEPR) and the Centre for Development and Integration (CDI) recognised the Mekong Delta province of Vinh Long as having the most transparent administration in terms of its budget, with 93.68 points.
It is followed by Da Nang City with 92.26 points, Ba Ria-Vung Tau Province with 90.45 points.
Dak Lak Province and Binh Phuoc Province placed last with 23.41 points and 3.84 points, respectively.
Quang Nam Province, which led the 2019 POBI, dropped to 17th position with 81.83 points.
Lang Son Province which was at the bottom of the 2019 POBI jumped to 16th position last year with 82.3 points.
Hanoi and HCM City ranked 10th and 32nd with 83.78 points and 69.87 points respectively.
Last year, all localities across the nation publicised information about their budget online.
Last year was also the first time the survey revealed data on the continuity of document publication.
The results found that 49 provinces publicised budget estimates that were submitted to provincial People's Council for three straight years, 52 provinces publicised budget estimates that were approved by the provincial People's Council for three straight years and 51 provinces publicised budget spending that was approved by the provincial People's Council for three straight years.
Dozens of provinces also publicised their five-year financial plans for 2021-2015 or their three-year financial plans for 2021-2023 despite the publication of such documents not being required.
However, only 16 localities publicised their budget spending reports and two provinces publicised State Audit inclusions on their public spending.
Associate Professor and Dr Vu The Cuong, public finance expert and a member of the research group, said only 26 localities publicised their drafts of spending estimates and 28 localities publicised their spending estimates, while both documents were necessary for experts and people to contribute to the provinces' spending plans.
Regarding reliability, the budget estimates of localities were far from their real spending.
Only nine provinces had a gap between spending estimates and real spending of less than 5 per cent. Meanwhile, 35 localities had a gap that exceeded 15 per cent.
In terms of timeliness, 20 per cent of localities failed to publicise documents relating to the public budget on time as regulated in the Law of Public Spending.
Cuong said POBI 2020 also revealed that people had little chance to engage in the provinces/cities' public spending.
The national average score was 39.25 points out of 100 points, a slight increase compared with the average score in 2019 of 38.02 points.
Only 25 localities publicised regulations and process to provide information to people. Sixteen localities used Zalo or Facebook to reach people easier.
Nguyen Quang Thuong, the CDI's vice director, said that 46 localities contacted the research group to learn about the survey and 40 gave the group feedback over the survey's results.
"The contact and feedback from localities proved they are more serious about the survey and their responses to the survey are more reliable, exact and objective," he said.
Peter Grike, director of Konrad-Adenauer-Stiftung Vietnam which together with Oxfam in Vietnam sponsored the survey, said an efficient and transparent public budget would help local and central governments gain more trust from their partners and people. 
The full report can be found here.  
VNS

Vietnam's Government and Ministry of Finance has made efforts to realise its commitments on public budget accountability and gained increased confidence from people and development partners regarding budget management,

Local governments have become more transparent with how they spend public money, but more needs to be done, according to a report.