Lofty goals achievable through stable regulations
The Ministry of Planning and Investment aims to have 15 Vietnamese private companies with market capitalisation of over $1 billion each by 2025, with that target increasing to 20 by 2030.
Nguyen Thi Luyen, deputy director of the Department for Enterprise Reform and Development under the Central Institute for Economic Management, discusses the feasibility of realising these goals.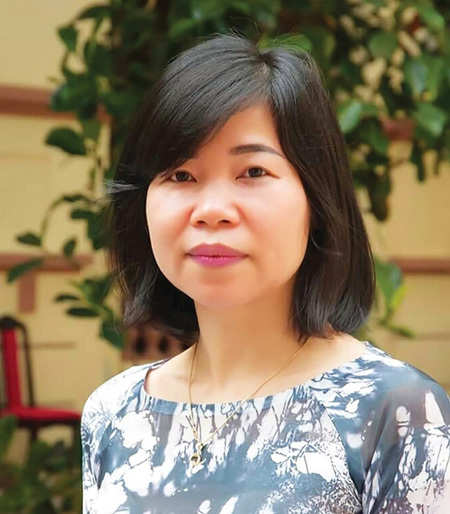 Nguyen Thi Luyen, deputy director of the Department for Enterprise Reform and Development under the Central Institute for Economic Management.
Do you believe that the set targets by the Ministry of Planning and Investment (MPI) can be achieved, and why?
This target is quite feasible for several reasons. Among the list of enterprises with a market capitalisation of more than $1 billion on stock exchanges, 13 are private companies. The biggest domestic conglomerates include Vingroup, Sun Group, T&T Group, Thaco, Vietjet, TH Group, and Masan. In addition, in the list of the largest enterprises in 2019, 49 of the top 100 are privately owned.
The development of the stock exchange market has created convenient conditions for private businesses to grow because it is an important channel for them to mobilise powers to develop both scale and quality. Furthermore, the private sector is now considered an important motivation for the economy. Thus, the government has many policies to encourage the development of private companies. 
What are the roles of billion-dollar private groups in promoting domestic small- and medium-sized enterprises (SMEs) and the country's socioeconomic development?
These huge companies will always be at the forefront of implementing the country's industrialisation and modernisation policies, and lead SMEs to join in manufacturing chains and value chains in both domestic and global markets. This is done under the role of intermediate partners as well as suppliers. Large-scale enterprises also play an important role in supporting capital, workforce, and infrastructure for SMEs. Several large enterprises also play leading roles in driving growth in their sectors or business clusters. In fact, large corporations often link with other businesses, either through a supply chain approach with enterprises in the same supply chain or by a clustering approach with related enterprises and business geographically located in the same region, and this drives the growth of a sector or a region. Thousands of smaller businesses have benefited from business links with such leading players.
Regarding the contribution to socioeconomic development, their contributions make up a large part to the state budget. The domestic private sector is flourishing with a significant role in the country's growth. As of 2019, the sector contributed 42 per cent of GDP and 30 per cent of the state budget revenue while employing 85 per cent of the workforce and accounting for over 43 per cent of total development investment. It is expected that the private sector will contribute 55 per cent of GDP in 2025 and 60-65 per cent in 2030.
Moreover, private companies also contribute to completing transport infrastructure across the country, including airports, seaports, tunnels, and expressways. Their development will help to improve Vietnam's position on the international stage over time. 
What are the barriers preventing the development of a large-scale private sector?
In recent times Vietnam has made effort in improving the investment environment to create favourable conditions for the private sector to develop. However, during the implementation process, the business environment has yet to be absolutely transparent, convenient, and safe for enterprises. Lack of stability in regulations also lowers trust for the private sector and limits operation expansion. Moreover, state-owned enterprises (SOEs) hold critical roles in key industries like electricity, water, and chemicals, and economic sectors such as cement, garments and textiles, among others. The state still holds a majority stake in large-scale groups and the state-owned divestment ratio is low.
According to accumulated statistics from 2016 to July this year, 177 SOEs were approved in the government's equitisation plan. However, only 28 per cent of the plan has been completed. By the end of this year, 91 enterprises must complete equitisation but many have yet to complete the land use plan including VNPT, MobiFone, Agribank, Vinachem, Vinacomin, and Vinafood 1. Accordingly, the Ministry of Industry and Trade and the Ministry of Construction will have to divest from eight of 11 corporations.
In addition, another large barrier comes from the existing capacities of the domestic private sector. Notably, almost all domestic private enterprises are micro- or small-sized, lack financial potential, and have weak competitive capacity. In addition, they also have other disadvantages in low labour productivity, weak management capacity, and underdeveloped technology. These disadvantages create difficulties in trying to attain breakthrough growth. 
What is the direction of policies to prolong the list of billion-dollar private companies?
In order to have billion-dollar groups, along with supporting large-scale companies we should pay attention to SMEs to create opportunities for them to grow. The MPI has acted as counsellor for the government to issue numerous policies to support enterprises, including the Law on Support for Small- and Medium-sized Enterprises and other decrees and resolutions. In addition, the MPI has followed and reviewed the implementation of policies and their impact. Thanks to reform in policy, the number of startups and newly-registered enterprises has soared in recent years. However, it is necessary to encourage establishment of multi-owned private groups and encourage private enterprises to join state-owned groups to help them get the capacity to participate in global value chains.
The Enterprise Development Agency under the MPI is drafting a report about the competitive capacity of medium-sized and large-scale enterprises. I hope that more specific policies to support large-scale private groups will be proposed. VIR
Oanh Nguyen

Which enterprises - state-owned (SOE), state-invested, foreign-invested (FIE) or privately run - operate more effectively?

Business resilience is highly correlated with level of digitisation, the Business Pandemic Resilience Diagnostic conducted by Grant Thornton...