Long Thanh Airport to be equipped with modern technologies

Long Thanh International Airport, one of Vietnam's key projects, will make use of the most advanced technologies to reach the service quality and flying safety standards of the world's leading airports.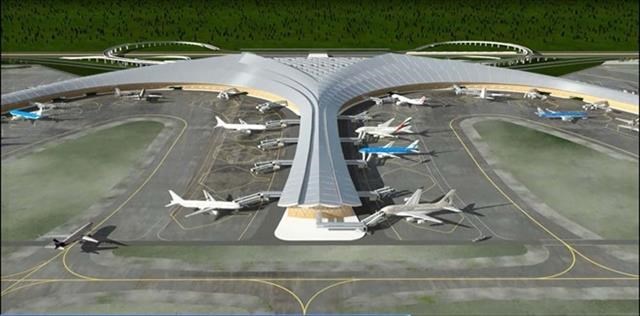 An image of proposed Long Thanh International Airport in the southern province of Dong Nai. (Photo courtesy of ACV)
The modern technologies are the most prominent highlights in the Ministry of Transport's feasibility study report of the Long Thanh International Airport in the first phase, which was recently sent to Prime Minister Nguyen Xuan Phuc and the State Appraisal Council for approval.
The report was conducted by the Airports Corporation of Vietnam (ACV) with consulting participation of the joint venture JFV (Japan, France and Vietnam) headed by Japan Airport Consultants and ADP Ingenierie, in which the ACV and JFV proposed to apply a series of 4.0 technologies to the management and exploitation of the Long Thanh Airport.
Artificial intelligence (AI) will be applied to passenger and immigration procedures to support identification of passengers through biometric data such as face and fingerprints.
Along with national data, AI helps identify people on the flight prohibition list, collates and gives timely warnings to security forces. In addition, AI will help operators analyse data on flights, weather and security monitoring and then set up programmes for security control, risk management, coordination and operation division.
According to Deputy Minister of Transport Le Dinh Tho, all systems will be part of IoT (internet of things), linking with software, sensors and network connections so they are capable of collecting, transmitting and exchanging information and data. IoT helps these technical devices identify and control remotely based on wireless technology infrastructure platforms and the internet.
"One of the most prominent IoT applications is the radio frequency identification technology, which is a connection technology that automatically identifies and tracks identity cards attached to objects like luggage, equipment and passengers," Tho said.
The airport is designed with automation technology, which is currently used at new and major airports around the world such as Incheon T2 of the Republic of Korea and Changi T4 of Singapore, including Self Check-in Kiosk, Self Baggage Drop, Automatic Gate Access Control, Automated Immigration, and E-gate.
In order to ensure aviation security, the consulting unit proposed to use the automatic Body Scanner, which will be equipped inside the passenger terminal, instead of security checks to save time and improve the comfort of passengers.
The consulting unit said the technical work force and flight management group for the Long Thanh Airport would be selected from the key force of Tan Son Nhat International Airport. They would attend advanced training courses at international training centres.
In the first phase, the airport would need about 5,000-6,000 officials and employees.
The Long Thanh Airport is located in six communes of Long Thanh district in the southern province of Dong Nai. It has a total investment of 336.63 trillion VND (14.5 billion USD) with construction divided into three phases.
In the first phase, a runway and one passenger terminal along with other supporting works would be built to serve 25 million passengers and 1.2 million tonnes of cargo each year. The first phase was expected to be completed by 2025.
In the second phase, one more runway and another passenger terminal would be built to serve 50 million passengers and 1.5 million tonnes of cargo a year. After the third phase, the airport would be able to serve 100 million passengers and five million tonnes of cargo a year.
ACV proposed as investor for Long Thanh airport project
consulting consortium comprising Japanese, French and Vietnamese firms has proposed choosing Airports Corporation of Vietnam (ACV) as the investor for the first phase of the Long Thanh International Airport project in Dong Nai Province, according to its draft plan.
The consortium explained that ACV has strong financial capacity and experience in developing airports, such as Phu Quoc International Airport, and in expanding and upgrading large airports, such as Tan Son Nhat and Noi Bai International Airports, according to Phap Luat newspaper.
According to the feasibility study, the project requires nearly VND112 trillion, or US$4.8 billion, in funding and will be executed in the 2020-2025 period.
If ACV becomes the investor for the project, the country's public debt will not increase, as official development assistance loans will not be needed. However, ACV will have to mobilize capital from the international capital market for two decades at an interest rate of roughly 6% per year.
ACV Chairman Lai Xuan Thanh told Tuoi Tre Online newspaper that the corporation is confident of providing 40%-45% of the total investment for the first phase of the project.
ACV will have to borrow the remaining 60%, which is deemed safe as the investors of most build-operate-transfer traffic projects in the country have to borrow 80%-90% of the investment needed for their projects.
As for airport operations, ACV has experience in operating 21 airports nationwide.
According to Deputy Minister of Transport Le Dinh Tho, Long Thanh International Airport is an important project, which requires fast and careful preparations so that the project can kick off in 2021 and be completed in 2025. Therefore, the ministry proposed the National Assembly issue a resolution to approve the feasibility report for the project.
For the first phase of the Long Thanh International Airport project, the investor will develop a four-kilometer-long, 45-meter-wide runway, as well as a passenger terminal and auxiliary facilities, serving some 25 million passengers per year.
The passenger terminal's design was inspired by the lotus flower. It will feature an artificial waterfall in a garden landscape with light boxes on the roof.
The cargo terminal, which will cover some 150,000 square meters of land, is expected to have an annual capacity of 1.2 million tons of cargo. The terminal will be adjacent to the aircraft parking area.
In addition, an express cargo terminal with an annual capacity of 100,000 tons of cargo will be built. A car park in front of the cargo terminal to facilitate the transport of cargo to and from the airport was also planned.
In the first phase, the project will build an air traffic control tower 123 meters high, as well as water and electricity supply systems and a wastewater treatment plant.
According to the consulting consortium, after the first phase is completed, 200,000 jobs will be created.
The airport will be connected with National Highway 51 and the HCMC-Long Thanh-Dau Giay and Dau Giay-Phan Thiet expressways. Further, the North-South express railway is planned to pass through the airport and a light railway between Thu Thiem New Urban Area in HCMC's District 2 and Long Thanh International Airport has been proposed.