Most that is except for a small group of families who for more than 10 days would have no doubt struggled to rest.
Instead, they have all been anxiously waiting to hear if the bodies of those poor souls who died in horrific conditions as they were trafficked into the United Kingdom, were indeed their missing relatives.
When the news came, it wasn't what they wanted to hear.
Police in the United Kingdom confirmed they now believe the nationalities of all 39 victims were Vietnamese.
Although formal identifications of most are still to be made, many in the provinces of Nghệ An and Hà Tĩnh have little doubt it is their loved ones who have perished.
Their journeys to seek out a better life started many months ago.
The final leg of that trip began last month, ending 10 days later in a cold, dark refrigerated container, parked in an industrial estate in the southern English town of Grays, Essex.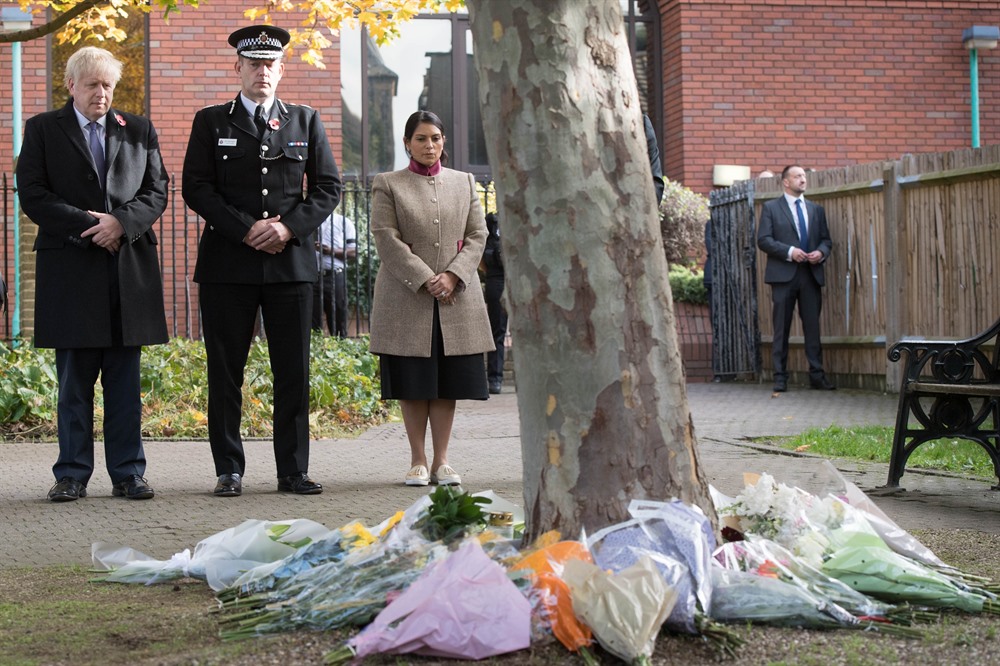 Brisith Prime Minister Boris Johnson stands with the chief constable of Essex police, Ben-Julian Harrington, and home secretary Priti Patel, after laying flowers during during a visit to Thurrock Council Offices in Grays, Britain on October 28. — AFP/VNA Photo
The Assistant Chief Constable for the police in the region said on Friday evening their officers now believed all the victims were Vietnamese.
"At this time, we believe the victims are Vietnamese nationals, and we are in contact with the Vietnamese Government," said ACC Tim Smith.
"We are in direct contact with a number of families in Việt Nam and the UK, and we believe we have identified families for some of the victims whose journey ended in tragedy on our shores."
On Saturday morning, Vietnamese Foreign Minister Phạm Bình Minh tweeted: "There were Vietnamese believed to be among 39 migrants who were found dead in a lorry in Essex.
"With deepest sorrows, I would like to extend deep sympathy with & sincere condolences to families of the victims.
"Việt Nam will continue working closely with the UK's competent authorities in the case."
Spokesperson of the Ministry of Foreign Affairs of Việt Nam Lê Thị Thu Hằng said in a statement issued Saturday morning: "This is a serious humanitarian tragedy.
"We are deeply saddened by the incident and wish to extend our heartfelt condolences to the victims' families. We wish they may soon overcome those tremendous pain and losses.
"From the very first days, the Vietnamese Ministry of Foreign Affairs instructed its Consular Department and the Vietnamese Embassy in the United Kingdom to work in close coordination with the relevant Vietnamese and British central and local authorities, provide all relevant information, open hotlines and promptly undertake citizen protection measures as necessary should there be any Vietnamese nationals involved in the case.
"The Embassy also forwarded the British Police's identification documents to the Vietnamese authorities for cross-check.
"The Vietnamese Ministry of Public Security and the British Police have been closely collaborating to verify the identity of the victims suspected of being Vietnamese nationals and will publish the findings as soon as possible.
"Việt Nam strongly condemns human trafficking and considers it a serious crime subject to strict penalties. Việt Nam calls upon countries in the region and around the world to step up cooperation in combating human trafficking in order to prevent the recurrence of such tragedy.
"We are grateful that the British government and other relevant authorities have actively conducted the investigation, timely provided identification information to and worked in close coordination with the Vietnamese competent authorities.
"We hope that the British side would soon complete the investigation to bring those responsible for this tragedy to justice."
So far just one man, Maurice 'Mo' Robinson, of Craigavon, Northern Ireland, has been charged with the manslaughter of the 39.
A number of other people connected to the haulage company the victims were being transported by have been questioned by police.
Two brothers, Ronan and Christopher Hughes, also from Northern Ireland, are being hunted by detectives.
Police in Việt Nam have also arrested two suspects in connection with people trafficking.
In a video message made public later on Saturday, British Ambassador to Việt Nam Gareth Ward said:
"As a father, brother, husband and son, I cannot imagine what it must be to lose your loved ones in this way so far away from home.
"While UK authorities cannot announce the identity of any of the victims at this time, Essex Police will continue to cooperate closely with the Vietnamese government and others, to identify the victims and offer support to all those affected by this tragedy," he said in Vietnamese.
"These are crimes that go in the shadows and we don't normally hear about them. That's why we are shocked when we see the details on our television screen.
"As we mourn for the victims, we should also think about those people who might be exploited by the traffickers next so that we can prevent another tragedy. This is a wake-up call for us all. As the investigation continues, I commit to putting in all the efforts of my team for the dignity of the victims." — VNS
TIMELINE
Wednesday 23 October
1:40am - Essex police receive reports of 39 people discovered inside a lorry container at the Waterglade Industrial Park in Grays.
Authorities arrest driver of the truck, a 25-year-old man from Northern Ireland named Maurice 'Mo' Robinson, on suspicion of murder.
Thursday 24 October
Essex police release statement saying they believe 39 bodies found were Chinese.
Friday 25 October
11am - Tweet from Viet Nam-based co-founder of NGO Hoa Nghiem  reveals dying text from Phạm Thị Trà My, allegedly from the lorry.
Hoa Nghiem also says multiple families in contact about missing relatives.
Saturday 26 October
Mo Robinson charged with 39 counts of manslaughter and conspiracy to traffic people.
More families come forward about missing relatives believed to have been onboard truck.
Sunday 27 October
Police in Việt Nam begin collecting DNA evidence from families of missing victims.
Monday 28 October
Mo Robinson appears in court.
British police send documents to Việt Nam for verification on four of the 39 victims
Tuesday 29 October
Việt Nam says it is working to accelerate identification of victims.
Wednesday 30 October
Việt Nam's Ministry of Public Security says it is ready to send teams to UK to help with identification process.
Friday 1 November
Two arrested in Hà Tĩnh Province in connection with incident.
Saturday 2 November
Essex police confirm that all 39 victims are believed to be Vietnamese.
VNS
Paul Kennedy, Ollie Arci, Vũ Thu Hà, Nguyễn Khánh Vân