Nguyễn Thị Hằng, 70, has been making the models for around three years, spending her free time on her hammock to work on her art.
To make a model, she cuts up lottery tickets and other colourful paper into countless smaller pieces, then folds them into triangle shapes with flaps and pockets.
The shapes are then joined together piece-by-piece, with flaps inserted into pockets, to gradually form colourful models such as teapots, vases and peacocks.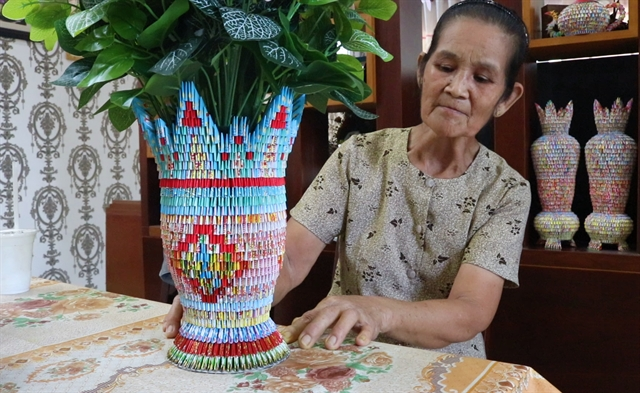 Nguyễn Thị Hằng (70) in Bình Dương Province spends her free time making 3D origami models with discarded lottery tickets. —VNS Photo Việt Dũng
A model can take her days or even weeks to make since she works on them after she finishes her household chores.
She told Việt Nam News that at first she only used calendar paper, but one day a friend offered to give her lottery tickets to work with.
Now she receives an abundance of used lottery tickets gathered by friends and acquaintances who are aware of her hobby, and in return, she makes them colourful models as gifts.
"When my family are out for work and I am all by myself and bored, I work on my art pieces waiting for them to come home. I like making these models for my granddaughters to look at," she said.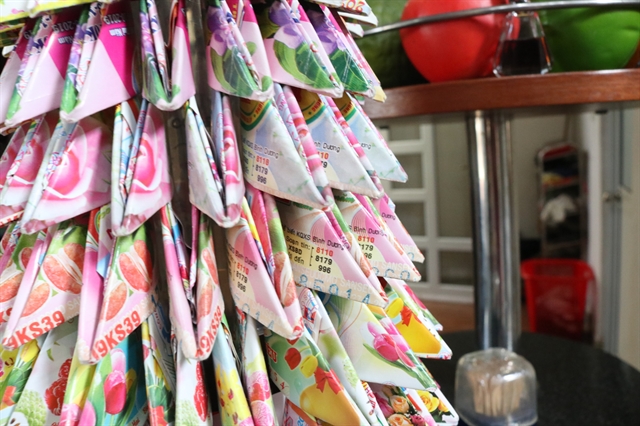 A close up look at an origami tree reveals hundreds of lottery tickets intricately joined together. —VNS Photo Việt Dũng
​The technique of folding paper into small triangles was taught to her when she used to work at a Taiwanese business in her 50s, and she taught herself how to design the origami models.
She observes objects around her, such as vases, flowerpots and teapots, and tries to make origami models based on them.
"I plan the colours in my head," she said, pointing at a colourful origami flower pot with distinctive red parts surrounding its neck.
"For example, I imagine which part of the design needs a red area, where should it be, so I can stack the pieces in the right order."
Hằng has to pick out the right colours to use for each design, so aside from lottery tickets, she also makes use of paper calendars and even leaflets from products her family buys.
She has made dozens of 3D origami models, which are prominently displayed around her house, making for a sight to behold for any visitor.
Lottery tickets are cut into small pieces, then folded into triangle shapes. They are then joined together, layer by layer, to form a structure. —VNS Photo Việt Dũng
​The lottery is a big part of Vietnamese culture, and lottery companies around Việt Nam circulate millions of tickets per day.
Buyers typically throw used tickets away, but some people have thought of using old tickets to make simple origami shapes such as hearts and stars.
While reusing old lottery tickets can be seen as a good way to reduce waste, Hằng mainly sees it as a way to make gifts for people she knows.
Many of her friends and acquaintances have received colourful and intricate origami flower pots or models to display in their homes.
They see Hằng's collection of origami displayed throughout her home and ask her to make them one, and she almost always does.
"I have no plans on selling them, I only make them as a hobby or for gifting. Being able to make art pieces with discarded materials, and seeing many people commending me and asking me to make them one, make me very happy." — VNS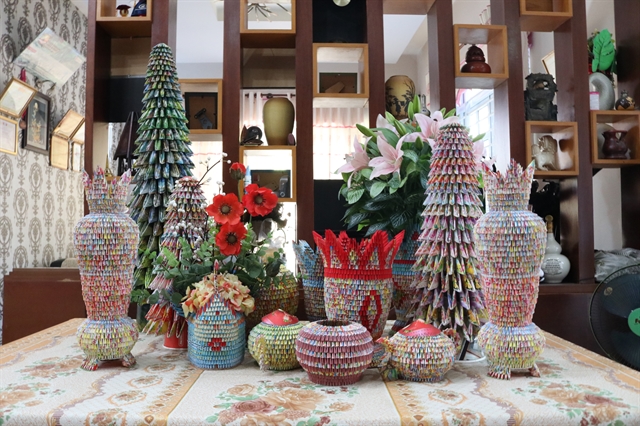 Hằng has made a wide variety of colourful models, including vases, flower pots, teapots and peacocks. —VNS Photo Việt Dũng
Source: VNS

Nguyen Quoc Su, a 79-year-old embroidery artisan who has practised the craft for over 60 years, still works on his embroidery frame every day, helping to preserve and promote the traditional craft of the nation.