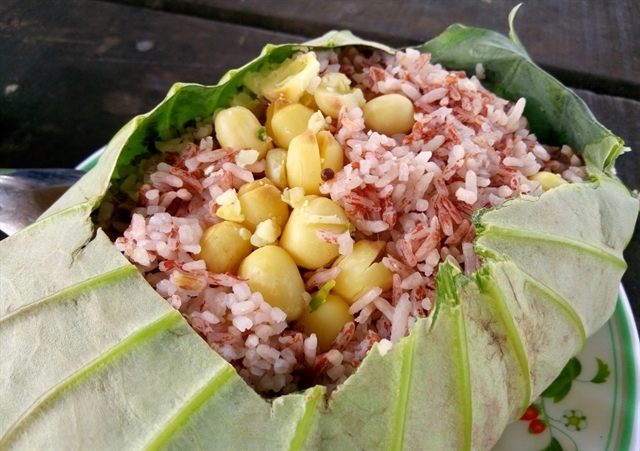 Within the provincial tourism development plan for 2015-20 and beyond is the message that "Dong Thap is pure like the lotus flower soul", and tourism has indeed been promoted as a driver of sustainable development.
But why did Dong Thap adopt the lotus flower as a symbol of its tourism sector?
It is, without question, famed for its vast fields of lotus. The flower's beauty with its sacred position in Buddhist precepts impresses many who come to visit these wild wetlands of Dong Thap, or The Plain of Reeds.
In Dong Thap, the lotus not only carries an image of beauty but also of high-value agriculture, making it the perfect symbol of the land and the people.
For many it's long held a reputation as the "Land of the Lotus".
Immense lotus fields span the province and are found in huge numbers at the foot of the Gò Tháp national relic site in Thap Muoi District, Hong Ngu Town in Hong Ngu District, and countless other lakes squeezed in between a patchwork of rice paddies.
The flower's role in inspiring tourism development is reflected in its appearance on many tourism products, from popular traditional handicrafts to facilities at luxurious hotels and resorts.
Eco-tourism sites around Dong Thap often feature the lotus as the centrepiece, encouraging weekend visitors to come out to the fields of communes in Thap Muoi District, particularly My Hoa and Tan Kieu. The community-based tourism model these sites have promoted is now being widely expanded.
Visitors say they find peace and serenity in the fields of pink and white lotus blossoms, with fatigue and stress seeming to float away.
The provincial tourism development plan has turned Cao Lanh City into the capital of pink lotus flowers and green architecture, while the fields of Thap Muoi and Go Thap have become tourism hotspots.
In downtown Dong Thap City, lotus flowers of differing types grow along major thoroughfares to welcome visitors to the Land of the Lotus.
Tran Thai Ngoc and Mai Thi Thoa, a couple from Hong Ngu District's Tan Hoi Commune, say their family's annual income has grown handily since they became engaged in developing a tourism model based on growing lotus plants.
On their 10,000sq.m plot of land, which previously only cultivated rice, they now plant lotus between rice crops and operate an eco-tourism business with the lotus fields as the major attraction.
Every season before the harvest, Ngọc and Thoa's home is one of many welcoming visitors on tours of lotus fields. They built bridges spanning the fields, to allow for better viewing, and provided bamboo rafts and boats for tourists to set out across the water into scenes of poetic beauty.
The couple say they welcome about a hundred tourists every day.
"They can wander around the fields, take some photos, and then enjoy some local food and handicrafts, some of which are made from the flowers, stems, and other parts of the lotus," Thoa says.
Growing lotus and rice in rotation, she explains, not only helps improve the soil and kill pathogens but also brings in two or three-times the income compared to rice .
Nguyen Ngoc Thuong, director of the Dong Thap Department of Culture, Sports and Tourism, says that in addition to its economic value, the lotus also holds symbolic meaning in terms of spiritual culture.
"It is a symbol of good character, purity and elegance," he says.
The flower has also been the foundation in crafting and adopting solutions for developing spiritual tourism value chains in many sites around the province.
Thap Muoi District, he says, has been targeted as the "Kingdom of Lotus", with a focus on developing spiritual culture and promoting meditation.
The locality intends to plan its lotus-planting areas and create a chain of tourism services relating to the flower, such as sightseeing, while offering a wider variety of lotus products.
Deputy Chairman of the People's Committee of Thap Muoi District, Nguyen Minh Tam, says the district has a total area of some 300ha for lotus, primarily in Tan Kieu and My Hoa Communes.
"The district is able to provide raw materials for developing lotus products, such as butter-dried lotus, wine, milk, bottled water, and tea flavoured with lotus flower, and lotus silk," Tam says.
In 2016, he went on, the district successfully built the brand name Sen Thap Muoi (Thap Muoi Lotus) for its specialty products. In 2019, six of these were voted by domestic and foreign customers as three and four-star quality products.
The Thap Muoi Lotus Resort, on an area of about 40ha, has become a popular attraction for many tourists seeking a break amid natural surroundings, especially lotus flowers.
Associate Professor Ngo Thi Phuong Lan, rector of the University of Social Sciences and Humanities at the HCM City National University, highlights the importance of integrating tourism chains with lotus growing in Dong Thap.
"The synergy between agricultural livelihoods, with the lotus as the centrepiece, and tourism services provide substantial benefits to the locality," she says.
"It helps create more jobs for local residents, who are also rice farmers and lotus growers, with unique tourism services emerging during the lotus season. This has gradually improved their capacity and skills in tourism services, encouraging them to actively learn and become involved in preserving the flower's traditional cultural values and helping attract tourists."
She adds that there have been many ideas put forward in Dong Thap about associating tourism with the lotus, such as streets lined with the flower or study tours concentrating on the biological characteristics and richness of the various types found locally.
The province has done well in introducing tours of lotus fields, where visitors can not only see the flower in its natural setting but also savour the local culinary delights based on lotus and other food and beverages. There are also tourism events featuring the lotus held from time to time.
Flanked by the Tien and Hau rivers and a network of canals bearing alluvium, Dong Thap's fields are also host to four-season fruit trees and vast rice fields.
The province also boasts a range of beautiful natural landscapes that are still largely untouched, featuring long-standing historical traditions, a number of cultural and revolutionary relic sites, and, particularly, lotus fields.
It also possesses abundant natural resources that serve tourism development, especially eco-tourism.
Visitors can have an interesting experience with boat trips through flooded forests, such as at the Gao Giong Ecotourism Area and Tram Chim National Park, or immerse themselves in the 'Kingdom of Flowers' at the Sa Dec ornamental flower village and many other sites besides.
The idyllic, colourful beauty of local resorts and landscapes have contributed greatly to the province's natural appeal.
VNS

Parts of the lotus, including the stamen and seeds, are used to create a number of unique Vietnamese dishes. Let's head to the northern province of Ninh Binh to discover the locality's lotus delicacies.