Low-income earners travel by air as aviation market competes on fares
VietNamNet Bridge - To gain market dominance, domestic airlines have to compete on fares but they also have to face extreme problem of profit margins.
VietNamNet Bridge - To gain market dominance, domestic airlines have to compete on fares but they also have to face extreme problem of profit margins.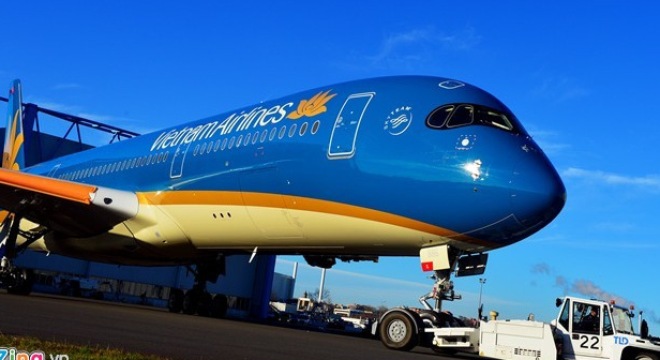 Vietnam Airlines spent nearly VND22,000 billion (nearly $1 billion) to renew the fleet in 2015, but its margins on sales reached only 0.45%.
Mr. Nguyen Ngoc Vinh, a Hanoi man has been a teacher in Dak Lak province since 2010.
Every year, Vinh often visited his home in May instead of the Lunar New Year as others to both take advantage of the long summer vacation of teachers and to save travel expenses.
Previously, this teacher often chose cars as the main means of transport, with travel time of approximately 2.5 days, and travel cost of about VND1.8 million (nearly $90).
However, in the past three years the teacher has visited home by air, with travel time of only three hours and the similar travel expenses.
Such stories are very popular today along with the rapid development of the aviation industry in recent years.
After reaching the landmark of 62.2 million passengers in 2015, the aviation industry is expected to maintain a growth rate of 20% for at least another year.
All groups of air routes are expected to grow, in which the domestic routes are forecast to attract a lot of money to low-cost carriers.
Experts said that thanks to the establishment of low-cost carriers with cheap tickets, even low-earning people and students can afford to travel by air.
Air transportation is getting more popular and attractive to passengers for its advantage of time savings while the travel expenses are not much higher than other forms of transport services.
However, air transport did not become more popular until 2011, when the first low-cost airline was formed. Previously, for the majority of Vietnamese people, travel by air was a luxury because the airfare for a domestic trip was very high, at least several million VND.
In terms of market share, Vietnam Airlines, the national air carrier, still dominates the domestic market, accounting for approximately 47%.
This figure is high compared to other carriers, but it has significantly reduced compared to previous years. In 2014, Vietnam Airlines held 56% of the market share, 61% in 2013 and 68% in 2012.
While the market share of Vietnam Airlines is gradually reducing, the remaining air carriers have better business results.
Vietjet Air currently holds 36.3% of the local market share, an increase of 9% over 2014, equal to the reduction of Vietnam Airlines.
Sometime this carrier reached the equivalent market shares with Vietnam Airlines (40-40), while Jetstar has 14.9%, an increase of almost 2% compared to 2014.
Still difficult to form bipolar status
Having to share part of the market to low-cost carriers, Vietnam Airlines has to set modest goals on the number of passengers in coming years.
In the next three years, Vietnam Airlines aims to grow by 16.1% per year, particularly maintaining the local market share at 40.8% in 2016 (not including the market shares of Jetstar Pacific and VASCO, in which Vietnam Airlines has capital).
Meanwhile, Vietjet Air aims to grow 50% in 2016, or reach over 42% of the local market.
However, Vietnam Airlines is trying to expand its fleet.
In 2015, the carrier invested $1 billion to renew its fleet, with nine super aircraft, including four Airbus A350 and five Boeing 787-9 planes.
Particularly, Vietjet Air increased its fleet to 29 planes, including the narrow-body, fuel saving aircraft A321 CEO Sharklet. Jetstar Pacific's fleet currently operates with eight aircraft, unchanged compared with 2014.
According to the Centre for Asia - Pacific Aviation (CAPA), the number of seats filled on Vietnam Airlines and Vietjet Air in January 2016 may be up to half a million seats per week, two times higher than January 2015.
An official of a local airline said that air carriers would be forced to reduce fares and accept the tradeoff of profit for market share if they want to maintain the current growth rate.
In fact, the fares of Vietnam Airlines currently are not that different compared with other airlines.
For local routes, the fares have almost leveled among the airlines.
The difference lies only in the main routes, when Vietnam Airlines has advantages in the segment of business, VIPs customers, and at the peak season and holidays.
Though Vietnam Airlines is a local airlines with the best profit its profit margin (including the activities of VASCO) in 2015 was modest.
Its revenues in 2015 reached VND57,100 billion, with a profit of VND260 billion, equivalent to the profit margin of 0.45%.
This means that for every one million VND of revenue, the firm earns only VND4,500 of profit.
US$1 = VND22,500
S. Tung