VietNamNet Bridge – Vietnam now has 10,543 professors and associate professors, publishes 1,000 scientific articles a year.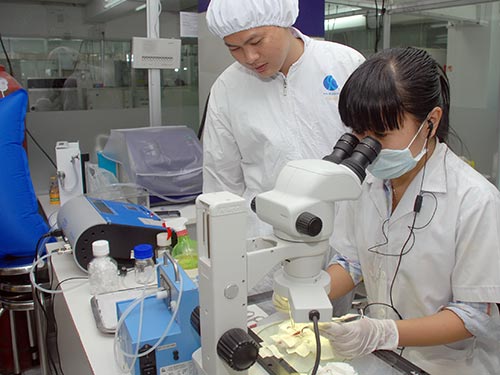 According to Associate Professor Pham Bich San, Deputy Secretary General of the Vietnam Union of Science and Technology Associations (VUSTA), Vietnam has the highest number of professors, associate professors and PhDs in South East Asia, but its number of internationally published scientific articles is just equal to a university in Thailand.
In 2012, Vietnamese scientists published 1,630 scientific articles on international journals, equal to 30 percent of Thailand, 22 percent of Malaysia and 17 percent of Singapore. The figure shows the modest scientific productivity of Vietnamese scientists, if noting that there had been 9,500 professors and associate professors and 24,000 PhDs by that time.
San believes that Vietnam has few internationally published scientific articles because the current policies don't require scientists to prove their productivity with concrete research works.
Professor Pham Duy Hien, former Deputy Head of the National Atomic Energy Institute, pointed out a lot of problems with the articles, including the low quality, the lack of the articles in the fields relating to the national welfare and people's livelihood. In the majority of the articles, Vietnamese authors did not play the key role.
Professor Vu Minh Giang, former President of the Hanoi National University, noted that a lot of scientific research works have been put on the shelves after they were made public, while they don't have any significance in reality.
This is explained by the fact that scientists just made the research works because they felt the topics were important, not because they thought the works would be applied in reality.
Also according to Giang, the working conditions are not good enough for Vietnamese scientists to have international scientific articles regularly. Singapore University has many international scientific articles because its working conditions are 200 times better than the Hanoi National University.
Giang believes that it is the complicated financial mechanism which discourages scientists to make research. "The state budget managers always fear that scientists waste the state's money. They don't care about the scientific research products, but about whether the scientists spend money as they tell them to do," Giang noted.
"Therefore, it is more difficult for scientists to collect all the financial invoices to prove the expenditure than fulfilling the scientific research duties," Giang added.
Dr. Tran Van Do, a researcher of the Vietnam Forestry Science Institute, who now works for a Japanese science institute, believes that the biggest problem that hinders the development of Vietnam's science is the "Ask-and-grant" mechanism. Vietnamese scientists have to "go through many doors", ask for a lot of permissions from different state management agencies to get budgets allocated.
Do said the unreasonable finance mechanism explains why a lot of Vietnamese scientists only had articles published on international journals when they lived in foreign countries, but have not had any articles since the day they returned to Vietnam.
A report released in 2011 showed that Vietnam ranked the 67th out of 238 countries in terms of the number of books and publications every year. "The science environment in developed countries is far different from Vietnam, which explains why scientists cannot work effectively," Do said.
NLD