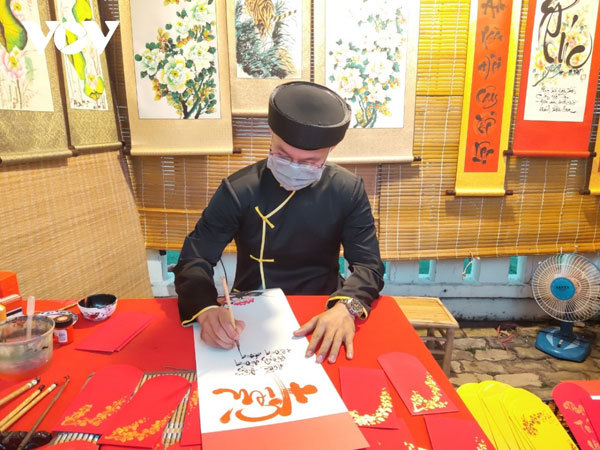 A space of Ong Do (scholar) street featuring the art of calligraphy during the Tet holiday in Vietnam.
The event is held annually by the local tourism sector to popularize Ho Chi Minh City as a young, colourful and vibrant locality with full of excitement among travelers in Southeast Asia and the rest of the world.
This year's festival, the third of its kind, is scheduled to last from now till January 30 (lunar New Year's Eve) to introduce and promote a variety of destinations in Ho Chi Minh City. Visitors will be provided with information about tourism stimulus programmes in 2022 and regional tourism routes, and have the opportunity to receive festive gifts.
As part of the festival, a Tet Shopping Fair on 2D and 3D online platforms is taking place with the participation of dozens of local businesses and those from more than 20 localities nationwide to introduce special Tet products.
At the Youth Culture House, visitors can learn about and sample many traditional Tet dishes such as mixed salad, Southern Tet cakes, grilled beef and five-coloured chicken.
Visitors can take photos in a space imbued with traditional Tet cultural identity that features yellow apricot flowers, red lanterns, Tet couplets, calligraphy along with the performing art of making To He (toy figurine) and a model of a floating market in the air.
A hot air balloon festival is scheduled to take place in Thu Duc City on January 22-23 that will include hot air balloon performances, a yacht parade and other aquatic sports, and art performances.
Ho Chi Minh City, the epicenter of the recent COVID-19 outbreak, has just become a green zone, meaning that is safe to travel and kick-start routine activities. The tempo of life in the country's largest locality has gradually returned to normal.
The festival is expected to contribute to preserving and promoting the traditional cultural values and meeting the entertainment, shopping and food needs of local residents and visitors alike.
Source: VOV

As the Covid-19 outbreak has been controlled in HCM City, local people are now preparing for the 2022 Lunar New Year (Tet).