Majority back to work after Tet in southern industrial hubs
The majority of workers of businesses and factories in Ho Chi Minh City, Binh Duong and Dong Nai provinces, three major industrial hubs in the south, have returned to work after a long Lunar New Year (Tet) holiday, local authorities said.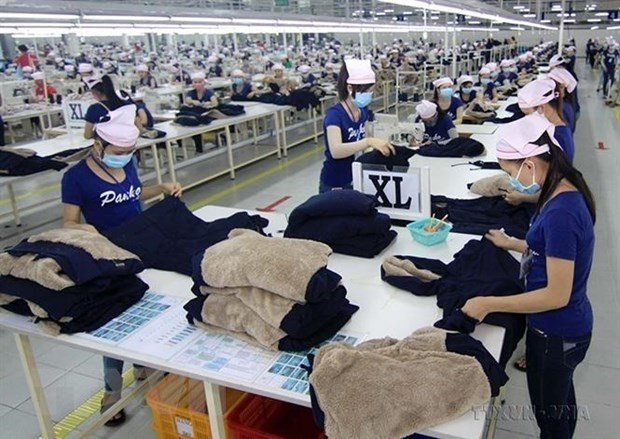 A garment factory in Binh Duong province (Photo: VNA)
The HCM City Department of Labour, Invalids and Social Affairs noted about 95% of employees in local agencies, factories, and businesses had been back to work as of January 30.
Among the over 1,300 companies surveyed by the department, more than 42% of those allowing their workers to return to their hometowns for Tet from January 18 - 19 (the 27th and 28th days of the last lunar month) have resumed operations.
Director of the department Le Van Thinh said despite many difficulties leading to lay-offs in late 2022, the situation has improved as many businesses and factories have received new orders. A number of companies have launched various incentives and better treatment policies to keep employees.
Resignations after Tet have declined as most workers want to have stable jobs, especially amid numerous difficulties facing the economy and daily lives, he noted.
As of the end of 2022, HCM City was home to more than 286,000 enterprises and 460,000 individual production and business establishments, employing over 4.7 million workers, most of whom are from other localities across Vietnam.
In nearby Binh Duong province, 86% of workers have returned after Tet, the provincial Department of Labour, Invalids and Social Affairs reported.
Some companies are scheduled to resume operations from February 1.
Pham Van Tuyen, Deputy Director of the department, said the number of workers returning to work as of January 30 is relatively high, enabling enterprises to meet production.
The personnel situation is forecast to stablise after February 5, he added.
Meanwhile, Dong Nai province also saw a high number of workers returning to their companies. The rate reached 99% at some enterprises, the provincial Federation of Labour said.
Nearly 1,600 businesses with trade unions in Dong Nai are employing more than 633,000 workers. As of January 30, over 1,300 companies had reopened, and nearly 520,000 employees had been back to work.
This is a positive sign and will help enterprises keep operations uninterrupted to deliver goods to partners as planned, the Labour Federation said. Over the past years, many businesses based in Dong Nai have continually improved salary, bonuses, allowances, and working environment to encourage workers to return on schedule after Tet./. VNA