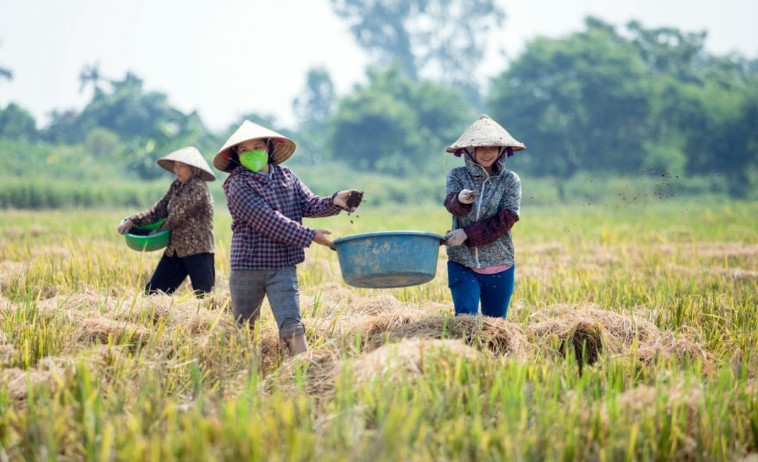 Organic JAS, the Organic Japanese Agricultural Standard, will act as a passport for Vietnamese farm produce to enter the Japanese and global markets. Though it is hard to get the passport, it's worth the effort.
Organic JAS includes organic food and farming standards for Japan. Once Vietnamese firms receive a JAS certificate, they can easily access the huge Japanese and global markets as JAS is more stringent than other standards set by the European Union and the United States and the GlobalGAP.
To expand its reach, Vietnam's farm produce can easily pass through the "gate" after farmers gain the VietGAP. It is well worth the detour to achieve success in farm produce export.
Ten years, three standards
At a rice festival held in Vinh Long Province in January, the Tan Dat Cooperative was named the first and only facility in the Mekong Delta region to meet the organic standards set by three choosy markets—the European Union, the United States and Japan.
The journey to achieve the standards began 10 years ago. In 2012, Doan Van Tai, alias Chin Vui, started to apply the organic farming method in his one-hectare growing area. Two years later, he completed the process. Within four years, he called on seven farmers to cooperate to grow clean rice on an area of six hectares.
When organic farming doubled the yield compared with normal farming methods, he established the Tan Dat Agricultural Service and Production Cooperative with 15 members operating on an area of over 11 hectares. In 2019, the cooperative had 65 members and an area of over 100 hectares of land for organic farming.
After that, Chin Vui founded the Vinh Long Rice Cooperative Union, which divided multiple areas for organic farming, covering a total area of 400 hectares, with various rice seeds.
With over 27 million hectares of farmland, Vietnam annually uses more than 10 million tons of fertilizers of all types, with chemical fertilizer accounting for the lion's share. For example, in 2020, the agriculture sector used 10.23 million tons of fertilizers, including 7.6 million tons of inorganic fertilizers and 2.63 million tons of organic ones, according to statistics from the Ministry of Agriculture and Rural Development.
The overuse of inorganic fertilizer has become a bad habit in farming in Vietnam for many decades. As such, the transition to organic farming is not easy.
"It is both easy and hard. It was tough initially, as we had no access to bioproducts and used inorganic fertilizers and traditional methods. At that time, we just thought that we had to turn out clean and eco-friendly products," Chin Vui told a recent seminar titled "Reaching Organic JAS, advantages in access to the Japanese market."
How to achieve JAS
JAS is a stringent standard set for farming, but it is not difficult to achieve. Tran Phong Lan, director of Seagull ADC clean agriculture company, said, "Our firm did not find it tough to reach the standard, as we started with the VietGAP and then GlobalGAP."
Lan started his journey to achieve the standards by taking down notes meticulously.
Initially, he just wanted to produce clean products without certification. He employed traditional farming methods and took notes of everything he learned from reaching the VietGAP and GlobalGAP. However, after some Japanese firms visited the local market to search for products and visited a Seagull farm in Tay Ninh Province, they were surprised by its farming method. "The Japanese side said that the farming method could meet JAS, so the Japanese investors helped us complete procedures to reach JAS," according to the director of Seagull.
Rough path for organic agriculture
The benefits of clean food produced under the organic farming method are significant, but organic farming is not easy. The output of organic products dipped by up to 30% against that of products grown with chemical fertilizers. "We must accept losses in the first three years of application, but most farmers get fed up and quit organic farming due to low productivity," Chin Vui said.
It is no longer Chin Vui's own business.
In the 2018-2019 period, with support from the Bread for the World and Action on Poverty, an international aid organization, the Consultative Institute for Socio-Economic Development of Rural and Mountainous Areas deployed the organic rice farming model for farmers in Nga Nam Town in Soc Trang Province. The output of ST24 and red rice planted on an area of 10 hectares under the organic model by 10 farming households was consumed by engineer Ho Quang Cua's household business and the Blue Ocean Company. Vo Long Vuong, a farmer joining the project, said, "The organic rice is highly qualified and sells for VND8,000 per kilogram, VND2,000 higher than rice grown under the inorganic method."
However, Vuong voiced concerns that some farmers would not follow the method, leading to failure.
Many countries must let their farmland rest for three years before farming, while Vietnam reduces this time of resting to two years. "However, Vietnamese farmers find it tough to have a farmland that has yet to be used for farming under the inorganic method," Lan said.
Seagull selected the three-year method of farming. During the three-year period, Seagull farmed its own standard that says no to chemicals rather than abandoning farmland. Seagull created a label that read "organically grown products." While awaiting the Japanese standard, the firm could follow the GlobalGAP to improve the quality of products.
Stepping stone to improvement
"Supermarkets in Japan have shelves of organic farm produce. The number of these shelves has doubled over the past 15 years," said Ino Mayu, director of Seed to Table.
Japan is importing multiple organic agricultural products from many countries, but most are processed ones. "Organic farming not only helps produce clean farm produce but also protects the environment," said the Japanese expert, who has lived and worked in Vietnam for nearly 20 years.
Reaching Organic JAS or other organic farming standards set by the European Union and the United States would give a chance to Vietnamese farm produce to tap selective markets and create a new face for local agriculture, economic expert Pham Chi Lan told a conference in 2021.
The procedures for applying for the GlobalGAP might increase up to three years, while the cost is estimated at VND200 million. This is a big hindrance for farming households and cooperatives that have met the VietGAP.
In 2020, the Business Association of High Quality Vietnamese Products teamed up with GlobalGAP to set the LocalGAP, which opened doors for Vietnamese agriculture to step higher in the global standards. Bureau Veritas and Eurofins awarded the certificate to the association.
"LocalGAP is a transition from VietGAP to GlobalGAP, considered a stepping stone to improvement for small farms and farming households that dominate the agriculture industry. They will have opportunities to access international markets and export their products," said Vu Kim Hanh, chairwoman of the association.
Source: Saigon Times