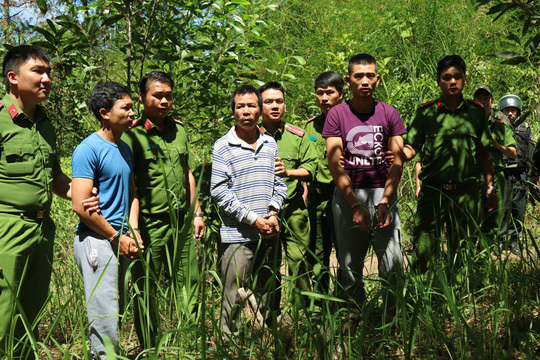 A group of men arrested over Lam Dong deforestation case
The police in Lam Dong Province announced on June 12 that they had arrested Nguyen Van Huy for poisoning over 10 hectares of pine trees. The 30-year-old man was arrested on June 8 while hiding in HCM City.
The authorities earlier arrested other accomplices including Bach Dinh Ke, Ngo Van Diem, Nguyen Van Loi, and Duong Van Hong.
37-year-old Bach Dinh Ke is the leader of the group. He hired Ngo Van Diem and several men to destroy the forest. Diem already has convictions for theft and stolen goods trading. After he was released from prison, he settled in Tan Thanh Commune, Lam Ha District.
Ke was arrested at Lien Khuong Airport while travelling from Hanoi to Da Lat. Ke said he was planning on going to the police to confess.
This is the biggest forest destruction case in Lam Dong yet. The pine trees belong to Tan Mai Paper JSC.
The case was discovered on April 26. A total 3,456 pine trees that were over 17 years old were destroyed. The tree trunks had been drilled into and then a liquid substance poured into them. The estimated damage is around VND800m (USD34,000).
The police started the prosecution against Bach Dinh Ke on May 31. Dtinews

Bach Dinh Ke, 37, alleged mastermind behind the pine forest poisoning in Tan Thanh Commune in the Central Highlands province of Lam Dong, has been arrested, Youth newspaper reported.

Police in the central highlands province of Lam Dong have arrested three men in the biggest forest destruction case recorded so far in the area.

Pine trees in Lam Ha District of the Central Highlands province of Lam Dong were discovered to be chopped down this week, Vietnam News Agency reported.