The Nghe An Province's environmental crimes division said this morning that it has detained a man for allegedly trafficking monkeys following a tip-off.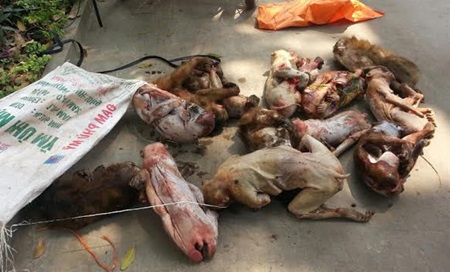 The detainee, Tang Van Duc, 45, is a native of the Dien Lam commune in the Dien Chau District of the province, and was caught trafficking monkeys, most of whom were already dead.
Nongnghiep.vn reported that the police had earlier received a tip-off from a member of the public and intercepted Duc while he was on his way to deliver the animals at a site in Dien Chau District in the province.
Duc was caught at 10am on Thursday on Highway 48 in the area of Xom 1, Diem Lam Commune, while reportedly driving a motorbike with the plate number of 37P9-5069, which carried a cart filled with the animals. (see photo).
The police stopped him and found a steel cage containing three live monkeys, who were injured and in a bad condition, along with two packs that contained 13 dead and frozen monkeys, weighing 69 kilograms in total.
Duc said he wanted to sell the animals to a man, who he had only spoken with on the phone and who went by the name of Son, a resident of the Yen Thanh District in the same province. Duc had struck a deal for VND160,000 (US$8) for frozen monkey meat and VN270,000 (US$13) for the live monkeys.
They had reportedly agreed to meet each other at a place on Highway 48 near the Dien Lam Commune.
Duc and the animal carcasses have been sent to the office of the Dien Chau Police for further investigation.
VNS