Man gets death penalty for drug trafficking

A man from Hanoi was sentenced to death for trafficking up to 3kg of heroin by the Thanh Hoa Court on Tuesday.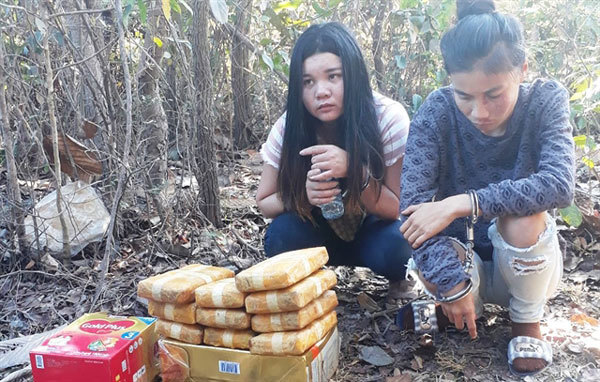 Two female Lao drug traffickers are caught while attempting to smuggle 60,000 methamphetamine pills into Vietnam on Tuesday. — VNA/VNS Photo
The court heard that La Van Ha, 32, ran into an old acquaintance – a Lao man named Tua in Que Phong District, Nghe An Province on August 21 last year.
Tua asked him to deliver eight packages of heroin from Quế Phong to Hanoi, promising a payment of VND120 million (US$5,100) for the courier job.
The two men then agreed to meet again the next night when Ha received the drugs and hid them in his car.
He started driving towards Hanoi the same night but was stopped by traffic police while passing Tinh Gia District in Thanh Hoa Province.
The police found the drugs while searching his car and arrested him.
Ha was found guilty of delivering drugs in a trial opened by the Thanh Hoa People's Court on Tuesday.
Lao drug gang arrested
Four Lao nationals have been arrested while attempting to smuggle 60,000 methamphetamine pills into Vietnam, Quang Binh Province border guard said on Wednesday.
In a joint operation of Vietnamese border guards and Lao security forces, three women and a man, all in their 20s, were discovered on Tuesday afternoon in the border mountainous area in Laos' Khammouan Province carrying boxes suspected of containing drugs.
The gang was said to have fought back against officers with weapons and fled into the forest to escape.
The police, however, managed to nab all four after an hour of intense searching in the area.
They also seized the 60,000 pills from the gang members.
Further investigation into the case is ongoing. — VNS

Two Taiwanese involved in a drug trafficking ring were arrested on December 20 while hiding in Ho Chi Minh City, police said on December 21.

Police in the northwestern border province of Dien Bien have successfully busted a transnational drug trafficking ring, seizing 220 bricks of heroin with total weight of 77kg.