Man recreates miniature model of historic Hue in HCM City
VietNamNet Bridge - With a desire to help his parents see Hue every day, Mr. Nguyen Thanh Tung has made a miniature Hue in bustling Saigon.
VietNamNet Bridge - With a desire to help his parents see Hue every day, Mr. Nguyen Thanh Tung has made a miniature Hue in bustling Saigon.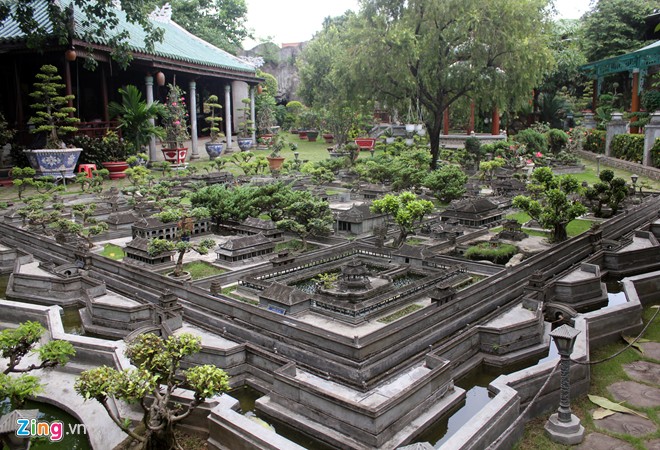 In the 1,000sq.m Ngu Lam Garden on Hoang Huu Nam road, in Long Binh Ward, District 9, Ho Chi Minh City, Mr. Nguyen Thanh Tung has created a miniature of the Hue ancient citadel, a World Heritage Site.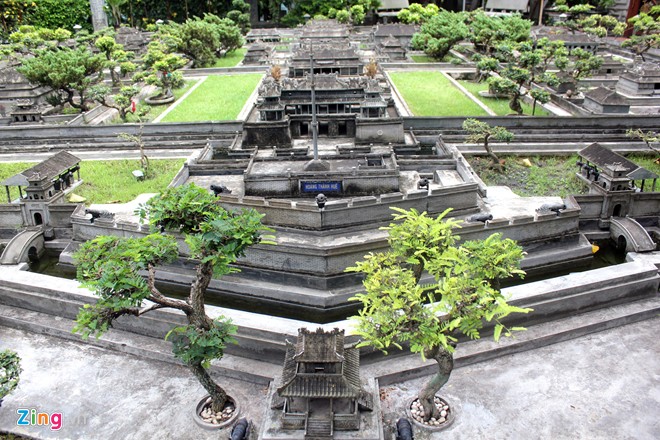 The work include 151 architectural models, which are symbols of Hue city, such as the Imperial Citadel of Hue, the tombs of Nguyen Kings, Thien Mu Pagoda, Truong Tien Bridge and the Huong River.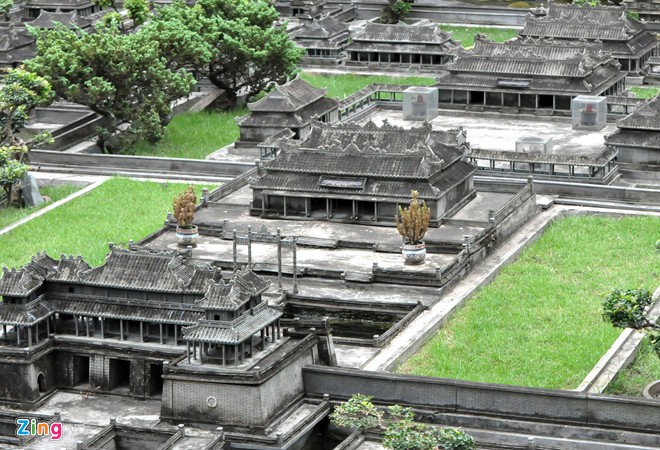 The Hue Royal Citadel surrounding the Forbidden City with the Ngo Mon gate, the palaces of Can Chanh, Thai Hoa, Truong Sanh, the Minister of Internal Affairs building, Co Ha royal garden, Duyet Thi Duong Theatre…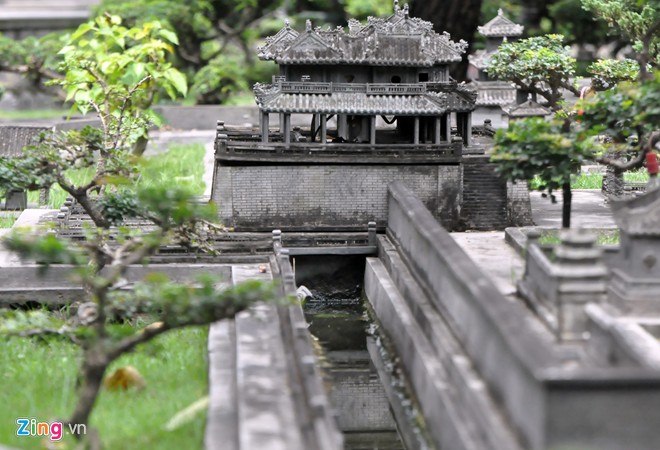 Tung said the idea to build a miniature model of the Hue royal citadel came to him when he was a high-school student.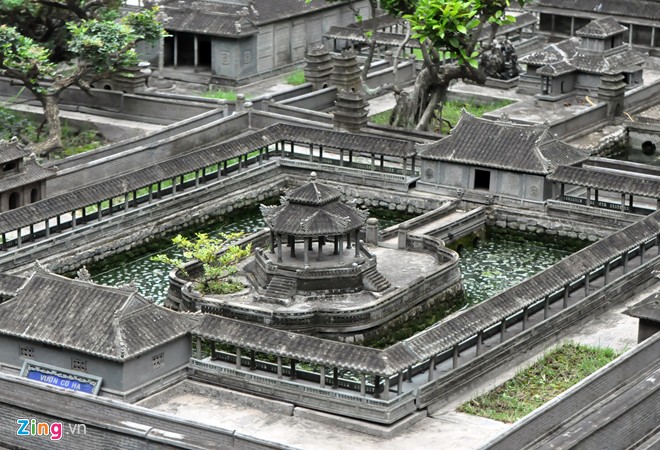 Tung has visited many countries but for him, Hue's beauty is extraordinary. He began to turn the idea into reality in 2000. He finalized the design of the miniature model in 2002 and began constructing it.
Firstly, he tried to build the work by wood and coated it with cement. However, the timber stretched in hot weather. Tung asked for help from senior carpenters in Hue and HCM City but they all failed to help him build a miniature model that could resist the weather and last for at least 100 years.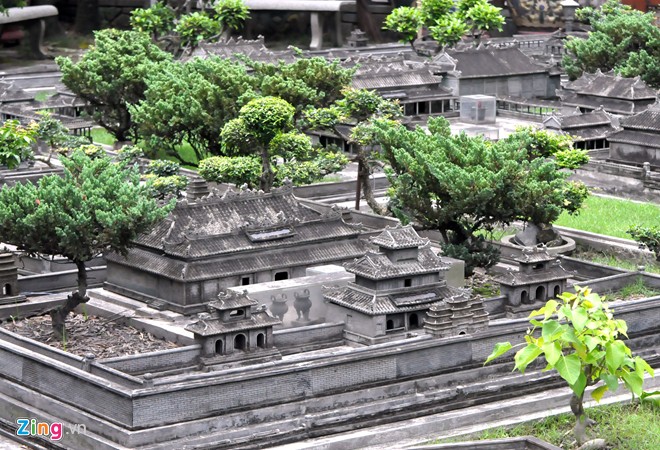 Tung also looked for descendants of workers who built the Hue royal citadel several hundred years ago but they could not help. Some suggested building a roof for the miniature model but Tung didn't agree because he was afraid that it would be unnatural.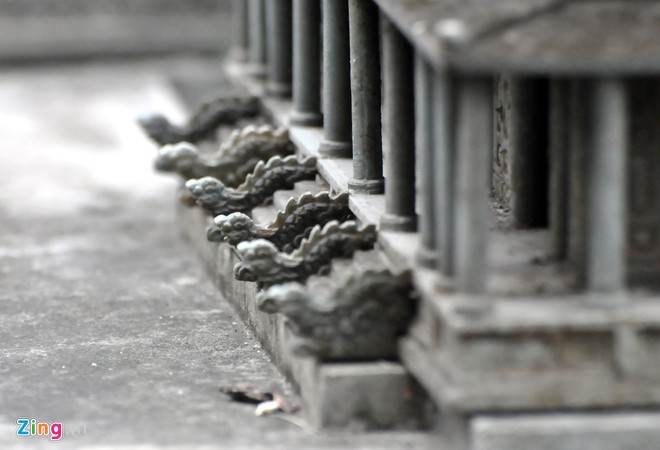 One day, he suddenly thought that the Hue royal citadel was built by stone so why he didn't build the miniature with ground stone and cement. Since then, Tung and nearly 20 artisans worked for five years to build the artwork Ngu Lam Vien.
He said he created this work for his parents and his family and to preserve their origin. The work was built within seven years.
In photo: The cannons are cast as real ones.
The Citadel is fully designed with the palaces of kings, queens, and concubines associated with lakes, gardens, walls, walkways, etc. Small bonsai trees that are grown in the area make the stones look more soft and beautiful. The works are recreated in a sophisticated manner.
In picture: The tomb of King Minh Mang.
Besides the imperial city, Tung built Thien Mu Pagoda, Hon Chen Temple and the tombs of Emperors Gia Long, Minh Mang, Tu Duc and Khai Dinh. The works are well designed and sculpted.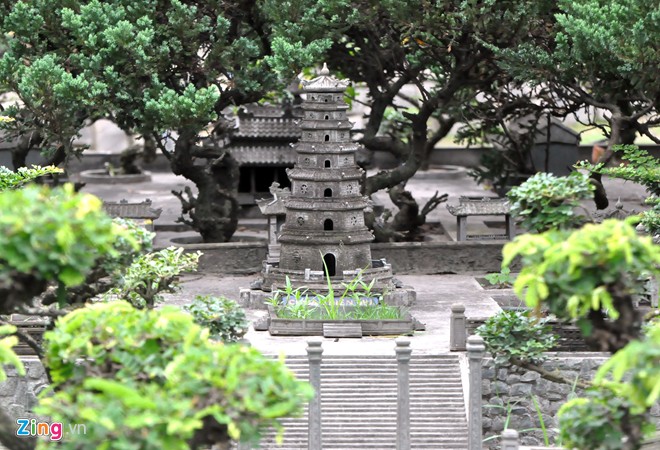 "A normal artist cannot build this work. This must be a person who has a profound understanding of the culture and history of Hue. But that was not enough, he must have a great love for Hue," Tung said.
Photo: Thien Mu Pagoda - a famous relic site on the bank of the Huong River.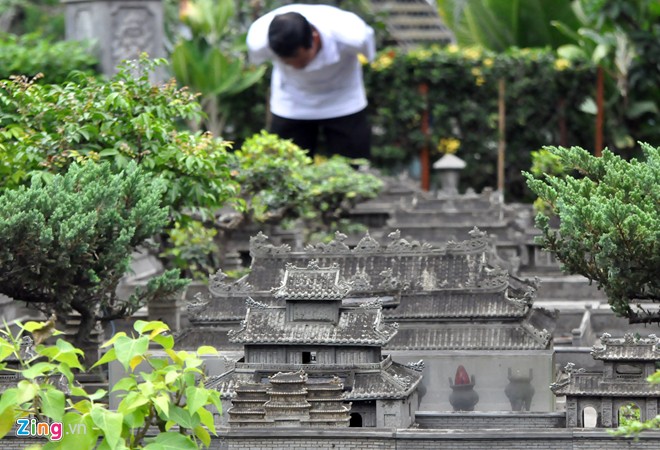 The miniature model of Hue ancient citadel reflects the true nature of the real Hue citadel.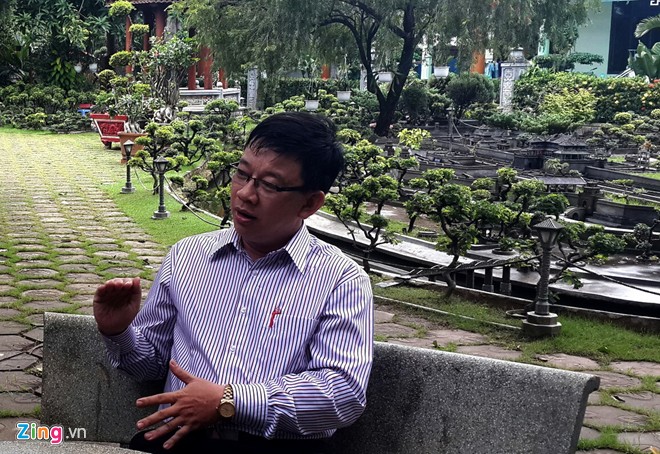 Tung was inspired by his love for his hometown – Hue City and for his parents. "Whenever they miss Hue, they can see it immediately," Tung said.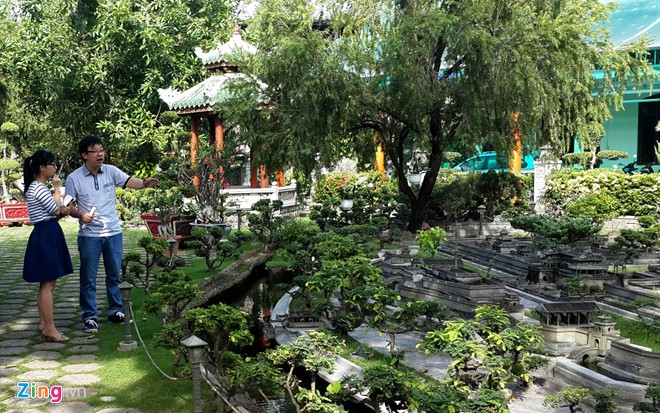 He also wishes that the miniature model of Hue can be a visual learning aid for students. Since 2007, Ngu Lam Garden has welcomed hundreds of thousands of visitors.
Many schools take their students to the garden to learn about the culture and history of Hue. The garden is open for free.
Zing/VNN