VietNamNet Bridge - Many films that made the public boo and are classified as "catastrophic" and "super bullshit" are eager to compete for the Gold Lotus award at the National Film Festival this October, in Ha Long City, Quang Ninh.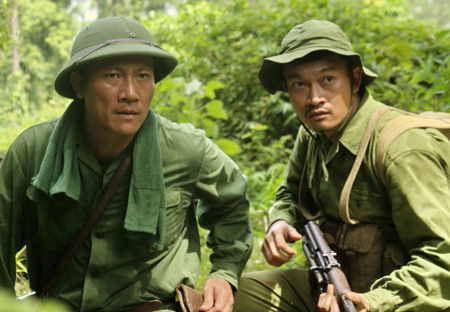 A scene from "Legend Makers".
The festival will take place on October 12–15, held by the Ministry of Culture, Sports and Tourism and Quang Ninh Province. Minister of Culture Hoang Tuan Anh is the head of the steering board and Cinematography Department Chief Ngo Phuong Lan is the Festival Organizing Board Chair.
According to chief organizer Ngo Phuong Lan, the four-day event will screen narrative films, digital videos, documentaries, scientific films, and animations.
Lan said that as of August 21, the organizing board has already received 48 submissions from 12 cinematography facilities seeking to attend the festival. The submissions include 11 narrative films, one video, 27 documentaries, 7 scientific films and 2 animations.
The 18th festival will have three seven member juries judging the various categories. The Gold Lotus, Silver Lotus and two special organizing board prizes will be awarded in each category.
Individual prizes span Best Director, Best Screenwriter, Best Filmmaker, Best Actress, Best Actor, Best Supporting Actor, Best Supporting Actress, Best Art Designer, Best Music Designer, and Best Sound Designer.
Festival audiences will also vote for their favorite films.
The festival is expected to attract about 1,000 entrants and invitees. Famous French and Korean filmmakers will join an associated seminar on transnational film production and distribution cooperation.
Hanoi, Da Nang, and Ho Chi Minh City have planned concurrent film weeks celebrating the 18th Vietnam Film Festival beginning on September 20.
The feature film is always the focus of the festival because this genre is like the "face," "soul" and "survival" of a country's cinema industry. However, in the list of 20 competing movies (both official and unofficial) registered to attend this year's event, the audience can see the names of the films that were booed and ranked as "disaster" or "super bullshit" such as: The House with Five Fairies, Cinderella & Prince, Passion, Hot Sand, Love Puzzle and In The Name of Love.
Talking about the films of poor quality competing at this national festival, Lan said, "If f I personally make a comment about the movies that is just the subjective comment. Just let these movies to add colors to the festival. Maybe, when sitting together watching a movie classified as "disaster," you will find other interesting things from them..."
T. Van