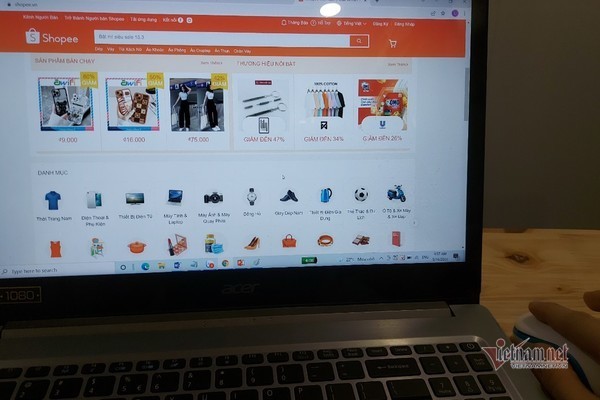 The Ministry of Finance (MOF) has released a report on the financial situation of foreign-invested enterprises in 2020, which showed that many foreign invested enterprises (FIEs) incurred big losses, including those in business fields which benefited from the pandemic.
Telecom, software
Telecom and software development are considered business fields which can benefit from the pandemic.
The revenue of the telecommunication and software sector in 2020 was VND43.985 trillion. Of this, Airpay and Shopee were the two projects with the highest revenue of VND4.555 trillion (10.35 percent) and VND2.329 trillion (5.29 percent), respectively.
Airpay and Shopee saw revenue increase sharply to VND2.964 trillion, which contributed 58 percent to the revenue growth of the entire sector.
Despite the high revenue and large investment scale (Shopee) and business expansion (Airpay), they still reported losses, while Shopee reported a loss of capital.
Tax payments to the State budget of the two enterprises were VND67.86 billion and VND48 billion, respectively, which accounted for 2.69 percent and 1.9 percent of the payment of the entire sector.
In the case of Shopee, MOF said stockholder equity became negative at (-) VND1.463 trillion with an accumulated loss continuing to increase by 31 percent over 2019.
Tourism sector
In 2020, the tourism, hotel, accommodation service and food sector was heavily affected by measures to prevent and control the pandemic (restriction of domestic and international flights, travel restriction and resort, eatery and entertainment complex closure).
As a result, revenue decreased by VND12.972 trillion (38.7 percent), while pre-tax profit was negative (-) VND2.573 trillion and the payment to the state budget decreased by VND1.956 trillion, or 46 percent, compared with 2019.
Of the total stockholder equity of VND32.094 trillion, the two enterprises with equity accounting for the largest proportion were Laguna Vietnam (VND5.376 trillion, 16.8 percent) and Silver Shores (VND2.896 trillion, 9 percent).
In the case of Laguna Vietnam, the developer of Laguna Lang Co tourism complex, its total assets in 2020 was VND3.627 trillion, down by VND140 billion (4 percent) compared with 2019, the accounts payable were VND648, up by VND72 billion (12 percent), including VND69 billion worth of short-term debts. The stockholder equity was VND2.980 trillion, a decrease of VND212 billion (7 percent) and accumulated loss increased by VND244 billion.
As for Silver Shores, the developer of an international tourism and entertainment complex in DaNang, the total assets were VND4.6 trillion in 2020, down by VND100 billion (2.11 percent) compared with 2019. Its accounts payable were VND305 billion, up by VND11 billion (3.8 percent), and the stockholder equity was VND4.365 trillion, down by VND112 billion (2.49 percent).
Despite large investments, the revenue of the two companies just accounted for a small proportion – 1.16 percent and 0.82 percent of the entire sector. The contributions to the state budget were modest, just 3.49 and 1.4 percent, respectively, of the entire sector.
The payments to the state budget of the two companies decreased by VND433 billion, or 10.13 percent lower than 2019.
FIEs' losses 
Of the total 25,171 FIEs, where foreign capital is dominant, 10,125 businesses reported profits, which accounted for 40.2 percent of reported businesses.
The number of businesses reporting losses in 2020 was 14,108, or 56 percent of reported businesses, with a total loss of VND151.064 billion.
As of the end of 2020, as many as 16,164 businesses had accumulated losses in their financial reports, which accounted for 64 percent of reported businesses, with total accumulated losses in financial reports of VND623.337 trillion, or 44 percent of owners' investment capital (an increase of 12 percent in the number of enterprises with accumulated losses, and 20 percent in value of accumulated losses compared with 2019).
The total assets of enterprises with accumulated losses in financial reports in 2020 was VND2,910,234 billion, an increase of 8.1 percent over 2019.
The number of enterprises incurring losses of capital in 2020 was 4,250, which accounted for 16.88 percent of total 25,171 reported businesses, increasing by 22.7 percent over 2019 with the total stockholder equity in financial reports minus (-) VND141.274 trillion.
According to MOF, though revenue and pre-tax profit has been increasing year after year, many enterprises still reported losses. This shows price transferring and tax evasion which affects state budget collections, the investment environment and healthy competition.
The State Budget Department under MOF reported that revenue from domestic sources, not including crude oil, from the FDI sector was VND206.088 trillion in 2020, a decrease of 6.111 billion compared with 2019.
Luong Bang

Most foreign invested enterprises have reopened their factories after lockdown and are optimistic about business performance for the last months of the year.

Foreign invested enterprises (FIEs) have suggested a strategy on controlling the pandemic in every area so as to safely restore production and business activities.