VietNamNet Bridge – Quite a few transport projects in Ha Noi's rural areas are not up to scratch due to lack of capital and difficulties in disbursing investments.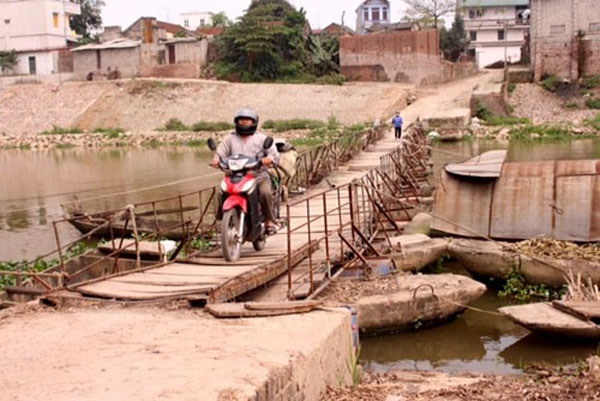 A temporary bridge across the Day River in My Duc District, Ha Noi. — Photo hanoimoi.com.vn
Nguyen Duc Toan, deputy head of the transport infrastructure management division under Ha Noi's Department of Transport, told the Vietnam News Agency (VNA) that the rural transportation system lacks water drainage systems, signs and technical infrastructure.
The system of roads across fields satisfies local economic development, but it needs continuous improvement. Many localities invest in rural areas' transport based on the current situation, not on planning.
Toan said transportation system investment in Ha Noi's rural areas lacks comprehensiveness, only focusing on road upgrades but not on building new roads and replacing weak and temporary bridges.
Vu Hoang, vice president of the Ha Noi Road and Bridge Association, told VNA that the rural transport system has yet to meet the requirements of agricultural production. The roads in some places are so narrow that trucks cannot enter the fields. This, in turn, increases production costs and product prices.
For many years, residents of My Duc, Ung Hoa, Soc Son, Chuong My, Thanh Oai districts have had to cross degraded bridges, resulting in a drownings at My Luong floating bridge in Chuong My District in July 2015 and at Seu Market floating bridge crossing Ung Hoa and My Duc districts in June 2016.
My Luong floating bridge spanning over 60m length and 2m width has its surface made of simple wood pieces, while the Seu Market bridge made from steel is heavily rusted.
Ha Noi currently has 14 floating bridges that need replacement, most of which cross the Day River through My Duc and Ung Hoa districts. These bridges are only for pedestrians, motorbikes, bicycles, serving 600 to 1,600 residents.
Le Nghiem Huan, deputy head of the urban management division of My Duc District, said that My Duc District has nine floating traffic bridges, most of which are in a bad state. The city's transport department has been constructing a bridge connecting My Duc and Ung Hoa districts, but there are not sufficient funds for repair.
Ngo Manh Tuan, deputy director of the Ha Noi's Department of Transport, said the department is aware of the bridges' potentials risks. However, due to local budget limitations, only essential repairs to ensure safety on weak and temporary bridges are carried out.
Mobilise investment
Among the criteria for new-style rural areas being promoted by the Government, transportation requires the biggest investment, especially in villages and roads across fields.
According to the municipal transport department, the total capital needed for rural transport system in the period of 2016-20 is VND9.3 trillion (US$405.3 million).
In addition to funds from the State budget, the city will continue to mobilise resources from the public and prioritise Official Development Assistance and local budgets to develop rural transportation in combination with industrialisation and modernisation of agriculture.
The city's transport department said that it would review and replace weak local bridges and add water drainage systems while applying science and technology to rural transport construction and maintenance.
The department will use new materials and alternative materials to replace traditional ones that cause pollution.
VNS