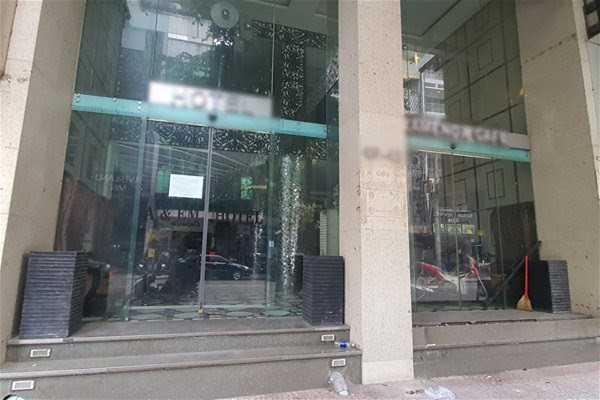 A hotel in HCM City has been shut down. – Photo: Dao Loan
Data of the Ministry of Culture, Sports and Tourism highlighted that 56% of hotels nationwide have been shut down. The figure in HCM City alone would be higher as the pandemic has led to a steep fall in international tourist arrivals, which the city's tourism market mainly relies on.
According to the HCM City Department of Tourism, the city is projected to receive more than 1.3 million international tourists this year, falling by 84.8% compared with the same period last year. Meanwhile, the number of domestic tourists would be 15 million, declining by 54.2% year-on-year. The sharp drop in tourist arrivals has forced many hotels, especially small ones, out of business.
"Premise owners have reduced rentals (for hotel operators) by over 50%, or even 70%. However, we are not able to maintain operations," the owner of three small hotels in districts 1 and 4 said, revealing that he shut one of the hotels three months ago, while another one would be closed at the end of this month and only one would be kept operational.
"Room rates have been reduced by 50% but there are hardly any customers. Each time the pandemic turns complicated, customers cancel their reservations and we face huge losses," he said.
Some businesses said rentals at accommodation premises are currently very low. Premise rentals for a 45-room hotel in District 1 have been reduced by more than half, from VND500 million per month to VND180-200 million per month. Some premise owners also offer other incentives such as a deeper cut in the rent for the first three months.
The situation would worsen in the coming time. Mauro Gasparotti, director of Savills Hotels Asia Pacific, said the market is undergoing a slow recovery. Even though local demand has delivered a strong rebound, it has not proven steady enough to support hotel and resort performances.
The average daily rates have slumped by 25% year-on-year. In HCM City, occupancy rates have hovered under 20% since the April lockdown, compared to 72% during the same period last year.
While expectations for 2021 are positive, they are mainly focused on the third and fourth quarters when it is anticipated that travel restrictions will be eased and corporate guests and independent travelers will be able to return, partially supporting the recovery of the hotel and resort market, he added.
Tran Thi Thanh Tam, director of Chez Mimosa Hotel Management and Consulting Company, said the current situation offers investors the opportunity to rent accommodation premises at very low rates.
A 45-room hotel in District 1 with a premise rental of only VND180-200 million per month for a five-year contract would be profitable once the market recovers.
The investor will need VND2 billion to upgrade facilities. By 2022, if the room rates reach VND800,000 per room per night and the occupancy rate reaches 70%, the investor will be able to receive a return on the investment. From 2023 onwards, the investor can earn nearly VND3 billion every year from the hotel, according to Tam.
"HCM City is the country's economic hub so international tourists will definitely return once the pandemic is contained. There have not been many investors looking into hotel premises in HCM City but speculation has been seen at other tourist attractions such as Da Lat and Vung Tau," she said.  SGT
Dao Loan

Hotels for sale is reaching a record number in a decade in Vietnam.

Over the past eight months, hotel room tariffs have plunged and hotel room occupancy rates have remained low, forcing several hoteliers to divest capital with many financially weak hotels in the local market being put up for sale.