Under Vietnamese-French master Nguyen Cong Tot, Việt vũ đạo has been developing in France and Europe for nearly half a century.
"In the 60s and 70s, there weren't many Vietnamese people in Marseille. I was beaten up several times. Then I couldn't bear it any more and fought back," Tot was quoted as saying by Vietnam Television (VTV).
"Then a Frenchman told me that I had a beautiful form of kung fu and wanted me to teach him. That was the start of Việt vũ đạo in France," said Tot.
According to Tot, "đạo" is a road and morals, "vũ" shows the philosophy of the sect towards the honest and humanity.
Việt vũ đạo has the typical characteristics of Vietnamese culture, tradition and humanity. It takes its morals from love.
The Vietnamese martial arts' outfit is a simple white shirt and black trousers. His belt is black on one side and white on the other to show he originated from farmers.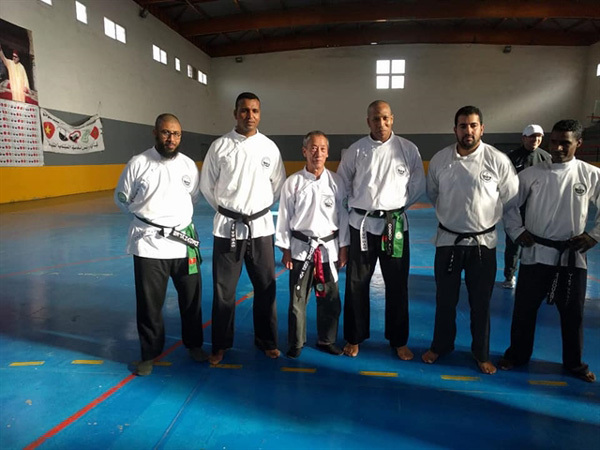 Master Nguyen Cong Tot (third left) and his followers. Photo Facebook of Nguyen Cong Tot

Martial arts profession
Tot was born in 1954 in Sai Gon (now Ho Chi Minh City). His family left Vietnam in 1960 to live in Marseille.
He started training in martial arts at the age of five with famous masters from Sai Gon at that time. After arriving in France, he continued to train in karate and judo.
Based on mastering various forms of martial arts, Tot established Việt vũ đạo in 1975. Together with developing his sect, he studied at a law school in France and became a lawyer.
"When I established the sect, no one knew what Việt vũ đạo was. So I had to prove the techniques used in Việt vũ đạo were transcendent and second to none. Moreover, it was difficult to ask authorities for permission to open a martial art club and find the money to keep it going," Tot said.
"Việt vũ đạo mainly teaches people how to defend themselves. Trainers must ensure their own safety and minimise the danger for the attacker," he said.
"Việt vũ đạo has both performance and combat disciplines. Learners can perform with sticks, clubs and swords. I ordered weapons and clothing from HCM City."
Over 50 years, Việt vũ đạo has become one of the five biggest Vietnamese martial arts sects in the world, with around 3,000 practitioners in Europe alone.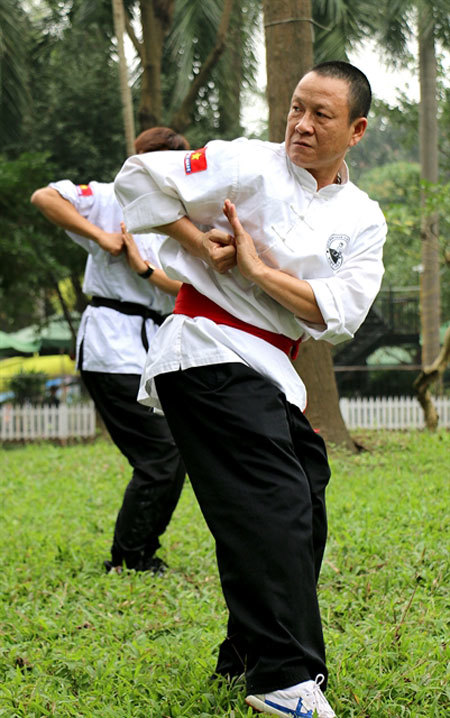 Maser Dao Van Minh performs Việt vũ đạo. VNS Photo Doan Tung

In France, Việt vũ đạo has 50 clubs and 1,500 students.
Nowadays, Việt vũ đạo can be found in around 20 countries around the world, including Germany, Armenia, Spain, Brazil, Portugal, India, and Australia.
Thanks to Tot's skills and contributions, he was named an International Grandmaster by the Vietnam Traditional Martial Arts Federation.
Master Jean Rene Cusano, a disciple of Việt vũ đạo in France, said that the sect made him change his attitude and vision of life. It not only trains him about fighting but also teaches him valuable lessons about life. Cusano said that Vietnam is a great historic treasure.
For Tot, his happiness does not stem purely from martial arts; it comes from spreading the cultural values of the Vietnamese nation to other countries.

Developing in Vietnam
Although Việt vũ đạo has been developed in Europe for nearly 50 years, it only started in Vietnam last year thanks to Master Dao Van Minh, a member of the Hanoi Martial Arts Association.
According to 55-year-old Minh, Master Tot tried to build this sect in HCM City many years ago, but for many reasons, it was unsuccessful.
Via Vietnamese martial arts festivals, Minh met Tot and the two masters decided to try and establish Việt vũ đạo in Hanoi.
"Tot and I spoke a lot. I spent time researching his sect and went to France to train," Minh told Việt Nam News.
Thanks to his efforts and Tot's enthusiasm, Việt vũ đạo was launched in Hanoi early last year.
Now there are nine clubs across the country: two in Hanoi, one in Hung Yen Province, three in Quang Binh Province and three in HCM City.
Master Dao Van Minh train followers of Việt Vũ Đạo. VNS Photo Doan Tung

"Now I'm focused on training coaches to develop Việt Vũ Đạo. I think that if a sect wants to exist and develop, it depends on its propagation and its trainers. The trainers are very important," said Minh.
Nguyen Duc Hoan is one of the key coaches.
Hoan, 31, from the Institute of Vietnamese Culture and Belief Research, now leads a 30-member club in Van Giang District, Hung Yen Province, although he lives in Hanoi.
"I am a lover of martial arts. I have trained in traditional martial arts and karate, and I've opened classes to teach them. However, after meeting Minh I decided to learn Việt vũ đạo," Hoan told Việt Nam News.
"I had the chance to meet Tot and realised that he is a wonderful master who always wants to develop Vietnamese martial arts in this country and around the world. I have given my heart to this sect, and promised myself to develop Việt vũ đạo." VNS
Thanh Nga

Vietnam won eight gold medals at the Vietnamese Traditional Martial Arts World Cup, which closed in the French city of Marseille on Sunday.

Traditional Vietnamese martial arts have a variety of schools. Nowadays, they are becoming more and more popular to foreign learners.