VietNamNet Bridge – Returning to the country in order to reunite with his family and realise his dreams after years living with a good job in Australia, Ngo Thanh Hoa (Harold Ngo), the champion of the 'Vietnam Master Chef' reality TV show's first season, has recently talked with the World and Vietnam Report magazine.
How do you feel when you win the show's cup in your homeland?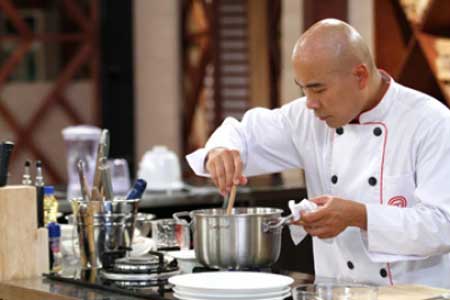 Ngo Thanh Hoa. (Photo: tgvn.com.vn)
Ngo Thanh Hoa: It is my pleasure as Vietnam is always my homeland wherever I am. After 18 years studying and living in Sydney, I decided to return to Ho Chi Minh City to live near my old parents and seek a new opportunity. My friends and customers in Sydney praise Vietnamese cuisine, people and landscapes, but they also talk much about services which lack professionalism in spite of people's hospitality.
Can you share some information about your life in Australia?
I came to Sydney as a student at 21. My parents told me to take care of myself as they just could support me at the very beginning. I met lots of difficulties in language, culture and daily activities. I studied and took different jobs in summer holidays to earn money for the next term's fee. Luckily, native friends helped me improve my English and overcome cultural hurdles. I bore in my mind that I must be fluent in the language to exist in the country.
You used to be a restaurant manager in Australia. What did the job interest you?
The restaurant was really close to me, where I met many friends and patrons during my time in Australia. Its menu is diversified, with a combination of Sri Lanka, India and South Africa. It is called Radio Cairo though it little relates to Egyptian cuisine. There were few Vietnamese customers at the beginning as they almost lived in West Sydney. Then more gradually changed their minds and move the North to try the restaurant. I felt glad and proud to introduce myself as a Vietnamese student. Their encouragement has helped me continue to pursue my dream.
With a passion for culinary art, do you have any comparison between Vietnamese and Australian cuisines?
I learned my first cooking lesson from my mother when I was seven and I could go to market with a little amount of money at twelve. I could help make some sweets, sweetened dried fruits and cakes during the New Year festival when I was in Phan Thiet. I got interested in the diversity of cuisine in Sydney when I arrived.
The native people know about Vietnam through 'pho' (Vietnamese noodle soup), 'goi cuon' (raw rolls) and bread-making. They like Vietnamese food because of its vegetarian ingredients and delicate flavour.
Young Vietnamese chefs have recently introduced Vietnamese culinary art to the native people in a combination between the traditional and the modern and between the Eastern and Western cooking styles. I myself cook Vietnamese dishes in a new style with some small variations to make them more modern.
What are dishes you have cooked in the show with your most enthusiasm?
They are the fried red tilapia fillet with sweet, sour and hot flavours, pumkin flowers stuffed with shrimp and 'rau muong' stir-fried with garlic and dill. I had to use many skills to cook perfect dishes. I want to serve the judges dishes with a combination of life flavours and special tastes of the three regions of Vietnam.
How about your future plan as the Vietnam Master Chef champion? How much will your write about Vietnamese food in your coming book?
I am Head of Sales and Marketing Department of the Unique Design, but I dream of opening a small restaurant where I can serve simple and healthy dishes and created drinks, especially Australia style coffee.
Though I have returned to my homeland, I still hope to help promote Vietnamese food in Australia. Vietnamese culinary art is drawing much attention in the oceanic country, so a delicate and harmonised combination between Vietnamese and Australian styles will elevate Vietnamese food to a new height. I will write about Vietnamese culinary art in half of my coming book.
Thank you very much!
Source: Nhan Dan/ TGVN