Mekong farmers prosper with organic farming

More and more farmers and entrepreneurs in the Mekong Delta are realising that new organic farming models help increase their income.
Ca Mau develops new agricultural models
Vietnam's organic farming expansion faster than world average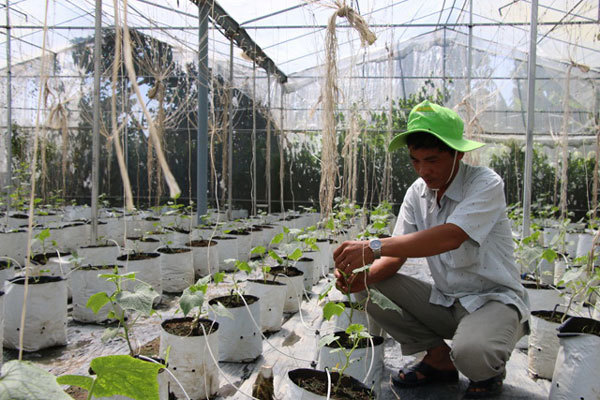 Truong Dinh Dut works on his organic farm in Dong Thap Province's Cao Lanh District. VNS File Photo
Since the 2017 –18 winter-spring crop, the My Dong Agricultural Coop No2 (in Dong Thap Province's Thap Muoi District) has been collaborating with Rynan Smart Fertilisers in Tra Vinh City to introduce the smart rice cultivation model on 7.6ha of land.
Farmers use smart fertilisers just once (for the crop), together with other harmless biological products. Rynan also used water level measuring equipment (using solar energy) to help farmers monitor the water level required for the rice plants at each stage of growth.
According to Nguyen Van Khi, a member of the co-operative, the new organic farming models require lower volumes of rice seeds of around eight kilogrammes per hectare.
In the first crop farmers could harvest some seven tonnes of undried paddy per hectare, but earned more as production costs were down to nearly half and they could sell their paddy to Rynan at 30-40 per cent higher than normal prices, he said.
After a few bumper harvests, members have expanded the area under the new farming models to over 50ha.
Recognising the effectiveness of the organic farming models, the Dong Thap Province People's Committee has made plans to expand the members' farming area to 170ha.
Besides, members of other agricultural co-operatives in Thap Muoi District have embraced the low-cost organic rice cultivation models.
Ngo Phuoc Dung, chairman of the My Dong Farming Service Coop No2, said the new models enable their produce to meet the demands of the market.
Organic vegetable cultivation
Besides rice, other crops are also grown using technologies by companies and farmers in the Mekong Delta.
Truong Dinh Dut quit teaching to become a vegetable grower and director of Kha Quynh Agricultural Production Company Ltd. in Gao Giong Commune in Dong Thap Province's Cao Lanh District.
He studied organic farming models around the delta and in early 2018 began to develop a farm to grow clean and organic vegetables and other safe produce.
No pesticide has ever been used in his farm and only organic fertilisers and other biological products are used.
Dut said he spent some VND2.5 billion (about US$110,000) on a greenhouse, an irrigation system and other facilities.
He never uses manufactured products on his farm, he said.
He grows tomato, cucumber, waxy pumpkin, China squash, bottle gourds, and loopah.
Kha Quynh Agricultural Production Company supplies clean vegetables to shops and agents around Dong Thap Province.
The farm, which produces over 300 tonnes of agricultural produce annually, earns revenues of VND3 billion.
VNS