Mel Gibson called his relationship with Hollywood "survival" as he prepared for the Venice film festival premiere of a war drama that marks his directorial comeback after a turbulent decade in his personal life.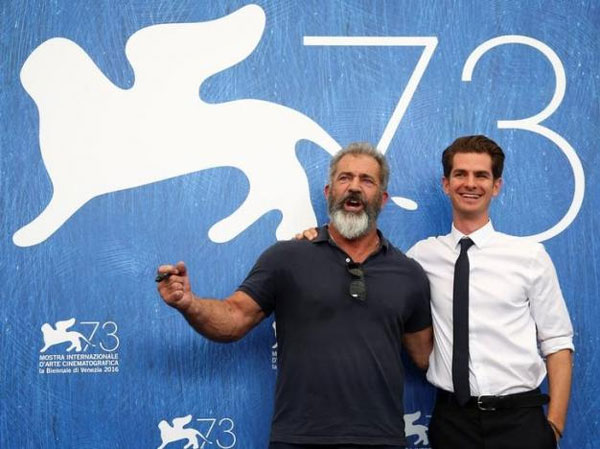 Director and actor Mel Gibson (L) and actor Andrew Garfield attend the photocall for the movie 'Hacksaw Ridge' at the 73rd Venice Film Festival in Venice, Italy September 4, 2016.
The Oscar winner's troubled years began in 2006, when he was arrested for drunk driving and responded with an anti-Semitic tirade. That led to headlines around the world, tarnished his reputation and set back a remarkable career that had made him one of Hollywood's highest paid actors, directors and producers.
But in Venice the 60-year-old is set to premiere "Hacksaw Ridge", a gripping war epic about a pacifist during World War II that cannot but move.
The film tells the true story of Desmond Doss, an army medic who refused to bear arms but later received the Medal of Honour for saving 75 of his comrades. The movie is screening in the out-of-competition section in Venice.
"It's a man in the worst situation possible, in the midst of hell on earth, and he goes into that struggle armed with nothing than faith and conviction, and he sticks by those things and does something extraordinary ... that inspired me," Gibson told a press conference.
The "Lethal Weapon" actor and maker of action thriller "Apocalypto" said he hoped the movie would result in more attention being paid to veterans returning from conflict.
"When they come back, they need some love, they need some understanding," he said.
The film starts with a love story set in Virginia's Blue Ridge Mountains and eventually moves to the Battle of Okinawa, where Doss, played by Andrew Garfield, must find his way amongst butchered corpses, scattered limbs and intestines to bring his comrades back to safety.
The 33-year-old actor said Doss was a difficult character to live up to. He was drawn to what the now-deceased Doss embodied, Garfield said, especially during today's times filled with violent uprisings and people defending ideologies.
"Desmond is a wonderful symbol of the idea of living and letting live no matter what your ideology is, no mater what your value system is," he said.
Known for playing Peter Parker in "The Amazing Spider-Man", Garfield said portraying a human hero inspired more than a fictional one and drew parallels between Doss and his own brother, also a doctor.
"He doesn't get to do press conferences, patted on the back, applauded ... he's raising three beautiful kids, he's taking care of his wife, he's serving patients and also staying three hours late after work. This is heroics," Garfield said.
Asked about working with Gibson, Garfield said he was "like a good dad on set or a good mom, with that kind of wonderful nurturing instinct where you feel like you can do no wrong even when you're already doing a lot of wrong".
The festival ends on Sept. 10.
Source: Reuters