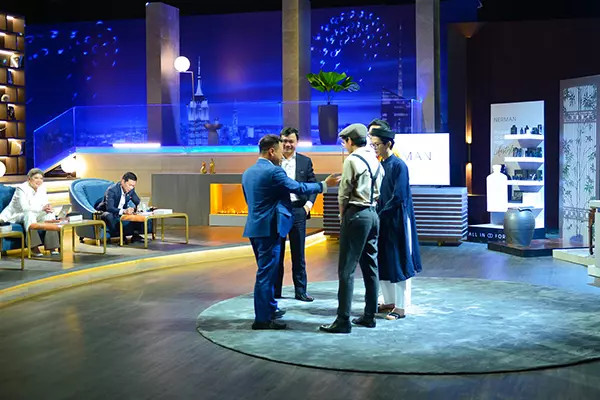 Three founders of Nerman came to Shark Tank, a famous TV show, to call for investment capital into the startup specializing in cosmetics for men.
The three founders include Dang Thanh Thinh, general director; Nguyen Van Nhat, managing director; and Ho Xuan Hai, operation director.
Nerman provides many cosmetic products, including bathing, skincare and makeup for men.
Nerman currently sells products under B2C (business to customer) and O2O (online to offline). It focuses on three large markets – Vietnam, Thailand and Indonesia.
The sales began in early 2021 and the startup had 150,000 clients and sold 330,000 products as of the end of the first quarter of 2022.
Because of Covid-19, the revenue of the startup in 2021 was $848,000 and the pre-tax profit of 10 percent. Meanwhile, sales in Q1 2022 reached $1.3 million. Nerman plans to obtain revenue of $10.2 million in 2022 and see a growth rate of 50-100 percent in following years.
According to Nhat, Nerman plans to enter the Thai market this year end. The startup has tried to sell products in the market and has gained satisfactory results with revenue of $30,000.
Asked about marketing methods, Dinh said Nerman is using influencers.
Nerman posts 300 videos a month in which KOLs review and unbox its products, with 10 million viewers a month.
"The ratio of conversion from views to order is 7 percent for all channels. The ratio is higher, about 11 percent on e-commerce platforms," Dinh said.
About the financial panorama of the startup, Nhat said the real capital of Nerman is VND2 billion. One investor contributed VND1 billion to the startup in June 2021.
Nerman now has assets of VND8 billion, including VND4 billion in cash, and VND4 billion in materials and inventories. The company has no debts.
According to Nhat, the production cost of the startup is 25 percent of revenue and the figure could be lowered to 20 percent once the company makes products in larger quantity.
Labor and office costs account for 11 percent, while operation and marketing are 15-16 percent. Meanwhile, sales costs account for 4-5 percent.
Regarding competition in the market, Dinh said many Chinese products are sold in Vietnam, but Vietnamese don't want to buy these Chinese products.
"Nerman's products are made in Vietnam with materials from Europe," Dinh said.
Sharks decided to invest $1 million in the startup for 27 percent of the startup's shares.
Trong Dat