Metro lines need improved local management to meet construction deadlines
The 3-train carriage metro line from Suoi Tien station to Binh Thai in Hanoi opened last year to the delight of many customers.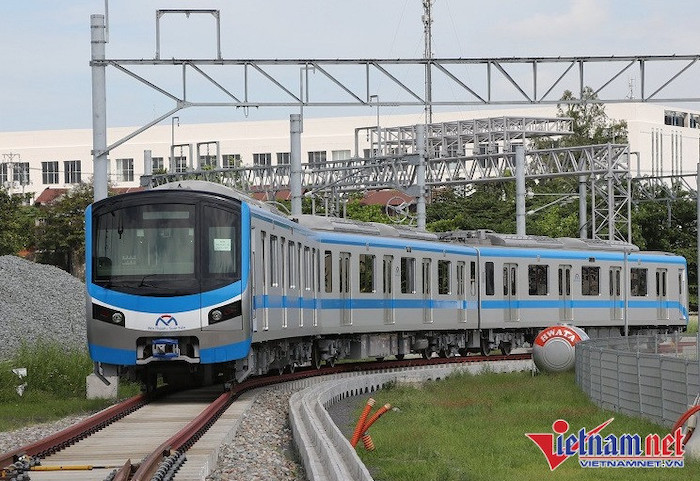 Ninety-three percent of the workload of the first metro line in HCM City now has been done. The metro line and others will not only be the key public means of transport to help settle traffic jams, but also act as momentum for the development of other business fields.
HCM City has been looking forward to the metro line for too long – 16 years with the execution interrupted many times. To date, only 7 percent of workload is left, but it will take about one year to finish if everything goes as planned.
The experience from many countries show that the preparation of employees to manage, run and maintain the metro and elevated railway play a very important role.
China decided to develop an elevated railway and metro in 2004 with cooperation from 4 Alstom, Siemens, Bombardier and Kawasaki Heavy Industries. It signed a contract on technology transfer with two train manufacturers of the country - China Southern Railway Corp and China Northern Railway Corp.
China prepared the workforce, which took over and managed the metro and then developed technology, including manufacturing of the Fuxing train with a maximum speed of 400 kilometers per hour.
Singapore carried out quick construction of the MRT (metropolitan rapid transit) system with the preparation of a contingent of consultants and experts who gave ideas and plans, organized the design, took initiative in technology, and targeted effective long-term solutions.
Vietnam also should think of localizing the metro and urban railway management, so that it can organize implementation later. It is necessary to build a high-quality workforce to inherit experience from the metro line No 1, and master the technology and run railways at a new level.
This approach will create favorable conditions for domestic investors and give strength to capable enterprises in the global competition. Investors also need to feel confident about their capital.
The state should carry out site clearance and state capital arrangement.
Execution
The slow execution is a concerning issue.
Most transport projects go slowly and investment capital ends up much higher than initial estimates. Hanoi planned nine urban railways routes throughout the years and only one route has been completed (2A Cat Linh – Ha Dong).
HCM City planned 11 urban railways routes over 20 years, and only one route is under execution (metro line No1. Metro Line No 2 is expected to kick off in 2025).
With such speed, it will take Hanoi and HCM City many years to complete the construction of metro and railway networks.
The costs will increase, the technologies will be outdated, the capital use inefficient and socio-economic development targets unattainable. And a debt burden will be put on the next generations.
Several years ago, the Ministry of Planning and Investment (MPI) released a report on the management of the use of ODA (official development assistance) and preferential loans for five urban railway projects which had investment capital VND132 trillion higher than initial estimates ($5.7 billion).
Metro No 1 had an initial estimate of VND17.4 trillion and the capital was later raised to VND47.3 trillion. Metro No2 from VND26.1 trillion to VND47.6 trillion. Cat Linh – Ha Dong from VND8.8 trillion to VND47.3 trillion. Nhon – Hanoi Station from VND20.7 trillion to VND51.7 trillion. As such, the total capital increased from VND225.12 trillion to VND132.5 trillion (143 percent).
Loans and burden on next generations
The disbursement of ODA capital and foreign preferential loans in January-September 2022 was 15.48 percent of plan. Many ministries, branches and localities returned back the allocated capital. The price Vietnam has to pay for the tardiness in project implementation is heavy.
It is necessary to check the implementation pace of every project, the packages using foreign loans, so as to timely remove legal obstacles to speed up the disbursement as planned.
The disbursement should be reported periodically at least once every two weeks or every month and the information need to be made public on the governments or the Ministry of Planning and Investment's website for appropriate agencies' supervision.
Tran Van Tuong