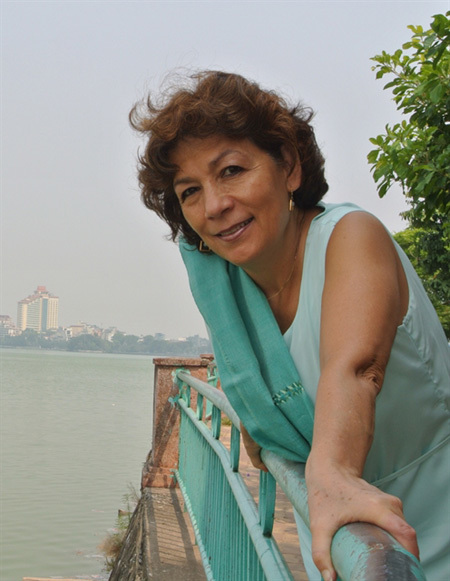 HOME FROM HOME: Mexican photographer Eunice Chao has travelled to many countries, but has always felt at home in Vietnam. — Photo courtesy of Eunice Chao
After leaving Vietnam 22 years ago, she has returned to display her photos of the country at a joint exhibition of Vietnamese and Mexican photographers entitled 'At the Crossroads of Vision'.
Chao studied at the National Autonomous University of Mexico and Paris Nanterre University. She has given numerous photography, film and documentary seminars in Mexico City and Paris.
Chao has mainly developed her photographic career through the field of culture. She was co-ordinator of cultural activities for 11 years at the Casa de Mexico in Paris where she was a professor of the black-and-white photography workshop.
She came to Vietnam for the first time in 1996, as part of a project of the Alliance of Francophone. She took photos of French dancers, musicians and artists.
"I was curious about the culture and society in this country," said Chao.
"At that time, I knew very little about Vietnam. I knew about the war to liberate the nation," she said.
"When I told my family and friends about the trip, they asked me questions like 'what's in Vietnam' and 'is it worth travelling so far?'
"Luckily, I didn't hesitate about the journey to Vietnam," said Chao.
Chao lived in Vietnam until 1997. During the time, she noticed many similarities between Vietnam and Mexico.
"Looking at the vendors and the girls walking together hand in hand, I was reminded of my childhood when I visited a market in Mexico together with my grandmother."
"Though I only spent seven months living in Vietnam, I felt closer to Mexico than during my two and a half years living in Paris."
"Vietnam is visually a wonderful place and I decided to take photos of daily life – something I didn't use to do, but I would have regretted it if I had not done so," she said.
Chao usually asked permission to take people's photos. But when she captured life in Vietnam, she took photos without her subjects noticing.
"I'm not sure if it's right or wrong but I know that if I didn't take the photos, I would miss the precious moment," she said.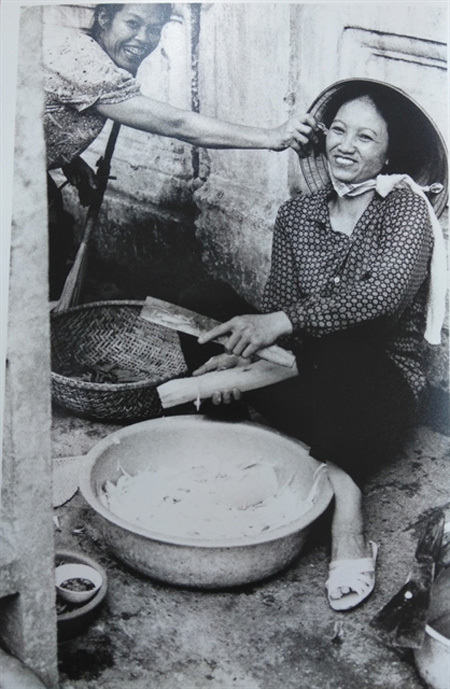 MOMENT OF JOY: A memorable photo of street vendors in 1990. — Photo courtesy of Eunice Chao

One of her favourite photos taken in Vietnam is one of a vegetable vendor. When Chao prepared to take the photo, the vendor was wearing a conical hat. Unexpectedly, another woman saw Chao and took the vendor's hat off. They all smiled and Chao managed to capture a wonderful, candid moment.
"It's an amazing and unexpected moment that I can't forget," she said.
Chao has visited Hanoi, Hue, HCM City and Sa Pa. Each place is different from the others. Among them, Sa Pa is most like her hometown Chiapas.
"Sa Pa is a colourful town with beautiful mountainous landscape. The photos of the landscape and ethnic minority people are my favourite of photos taken in Vietnam."
With a desire to understand more about the country, its rich culture and gastronomy, she tried to learn Vietnamese but it was too difficult, she said.
"Actually, I was able to adapt to local life after a month, even though I know little Vietnamese," she said.
"My friends helped me write some common words, so I didn't face many obstacles in communicating. I could even go to the market and buy food. Just show them the papers and use body language."
Changes after 22 years
Receiving the invitation from the Mexican Embassy in Vietnam, she returned to take part in an exhibition featuring three Vietnamese and three Mexican photographers. They displayed photos taken in both countries.
It's a good chance for her to return to the beloved country and visit old friends. She brought many photos of her friends taken 22 years ago but hadn't given them out.
"I know many Vietnamese artists such as Khuc Thanh Binh from the Vietnam Fine Arts University, writers Do Huan and Nguyen Huy Thiep, and photographer Nguyen Huu Bao who helped me with printing photos," she said.
"I couldn't see all of them during this trip, but each appointment with an old friend is always emotional."
"This time I just went to Hanoi and HCM City. Everything has changed so I couldn't recognise any of the buildings."
Once, Chao was looking for the European Union (EU) Office in Hanoi. She searched online and incorrect directions brought her to 42 Yet Kieu Street – the location of the Vietnam Fine Arts University. With poor Vietnamese and English, she asked for directions to the EU office. She was then introduced to contemporary artist Tran Duc Quy because he's fluent in French.
The unexpected meeting led to new friendship. Quy kindly brought her to the EU, L'Espace, as well as museums and exhibitions in Hanoi.
"We became friends, I will take some photos of him before leaving Vietnam, adding to the photo collection of Vietnamese artists," said Chao.
Ambassador of Mexico, Sara Valdes, appreciated Chao as an internationally-acknowledged artist.
"She is probably the only Mexican photographer who visited Vietnam for reportage photography in the 1990s. She reflects everyday life of the people in both our countries as it was 23 years ago."
The exhibition held at the Vietnam Museum of Ethnology is very important in cultural exchanges of the two countries.
Ambassador Valdes remarked that along with their beauty, her works encompass those of the other Vietnamese and Mexican photographers partaking in the exhibition, while providing a wider historical perspective to the show.
"Mexico and Vietnam appear in the camera's eye, materialising the eye and gaze of the photographer, not as spaces and cultures left to the viewer's indifference but rather worlds both distinct and joined, as is suggested by Chao, who proposes photographs from both countries in the manner of an unveiling of their convergences," she said.
The exhibition which runs through October 25, has received a great number of visitors.
"The museum is one of the best of its kind worldwide. It receives many visitors including foreigners. We are glad that the month-long exhibition will be accessible to more visitors." VNS
Do Huu