Mexican sun flowers bloom in Da Lat
In early November, the weather in Da Lat is gradually warmer, taking place in the rainy season in October. This is the time when Da Lat is dyed golden by Mexican sun flowers.
Minh Sang, a young man who lives and works in Da Lat, says the Mexican sun flowers season this year is much more charming than that in other years. "Because of the Covid-19 pandemic, there are not many visitors in Da Lat. As a result, Mexican sun flowers are not damaged on any parts and the atmosphere around the city is also tranquil," said Minh Sang.
In Da Lat, roads that are called "Mexican sun flowers road" are favorite coordinates for travelers to check-in. Trai Mat – Cau Dat – D'ran Town is considered the most stunning path to observe Mexican sun flowers. After crossing D'ran Pass, visitors will reach Don Duong Town and Da Nhim Dam where they can truly immerse themselves in the magnificence of this wild flora.
The 25-kilometer-long Cam Ly Airport – Van Thanh Flower Village – Ta Nung Pass – Voi Waterfall – Langbiang Mountain Road is a suitable option for travelers who want to enjoy the beauty of scenery along the path in Mexican sun flowers season. Visitors also love the "golden wall" Mexican sun flowers in Ta Nung Pass and Langbiang Mountain.
For those travelers who want to take beautiful photographs as well as go sightseeing, they can choose the Cau Dat – Don Duong – Chau Son Pine Forest – Phi Nom – Tu Tra Road. This road is 140 kilometers long and there are groves of Mexican sun flowers next to rice paddies in Tu Tra Commune, Don Duong.
From 8am to 10am, it is suitable for taking pictures and observing Mexican sun flowers. 5pm is also an ideal time to take pleasure in gazing at the flowers at sunset.
A young photographer named Dong Ngo suggested that his guests to take pictures near Da Lat Hasfarm Factory. This is an uncommon site to look at Mexican sun flowers patches.
Ms. Cao An Thuyen (born in 2002, currently studying in Van Lang University) once helped her younger sister make an album in Mexican sun flowers season in the vacant lot in front of their house in Lien Khuong Waterfall, Lien Nghia Town, Duc Trong County.
Due to the effect of the Covid-19 pandemic, visitors from Hanoi or Sai Gon cannot visit Da Lat in this wonderful season.
The "golden carpet" in the outskirts of Da Lat.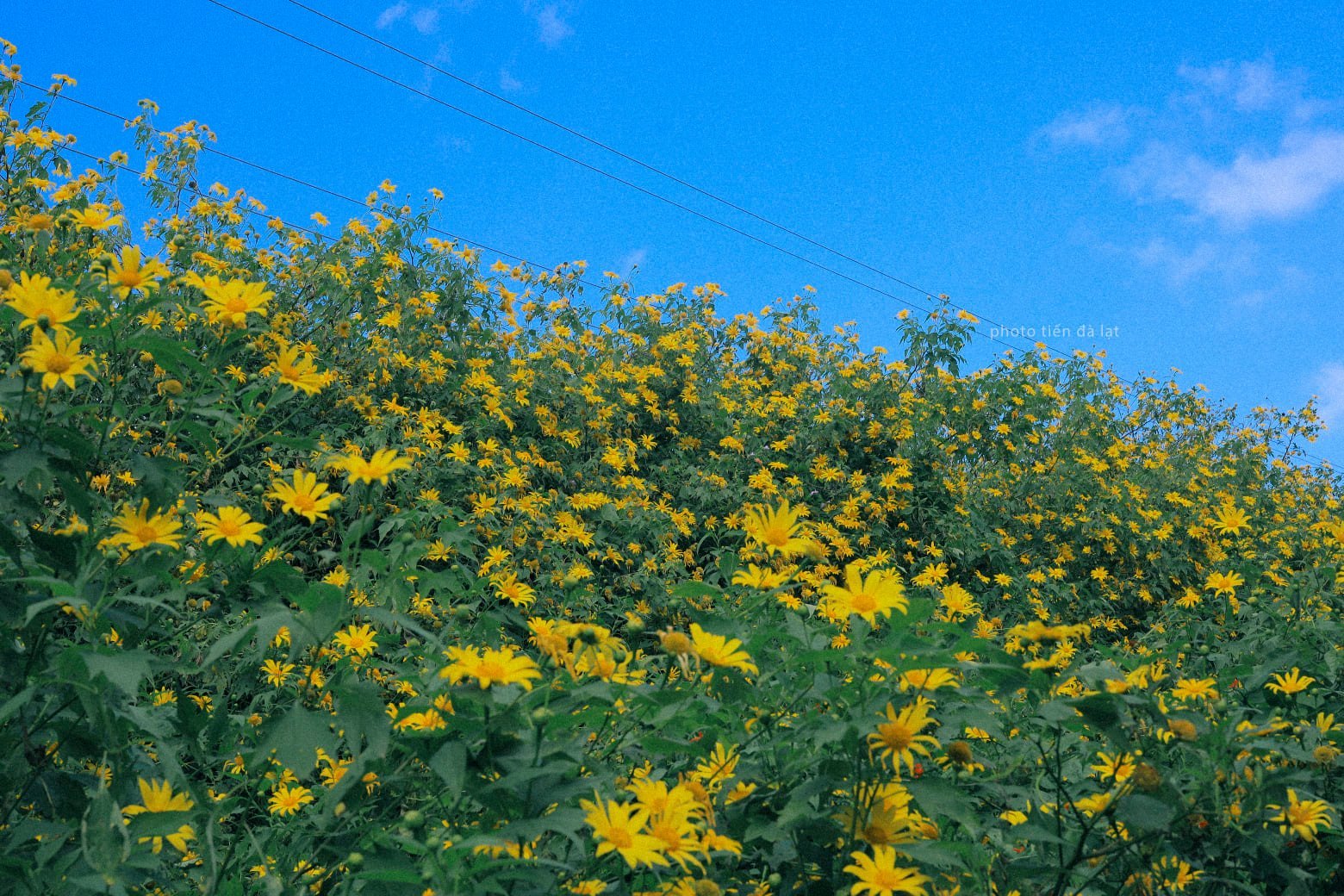 The golden color of Mexican sun flowers soothes the foggy city.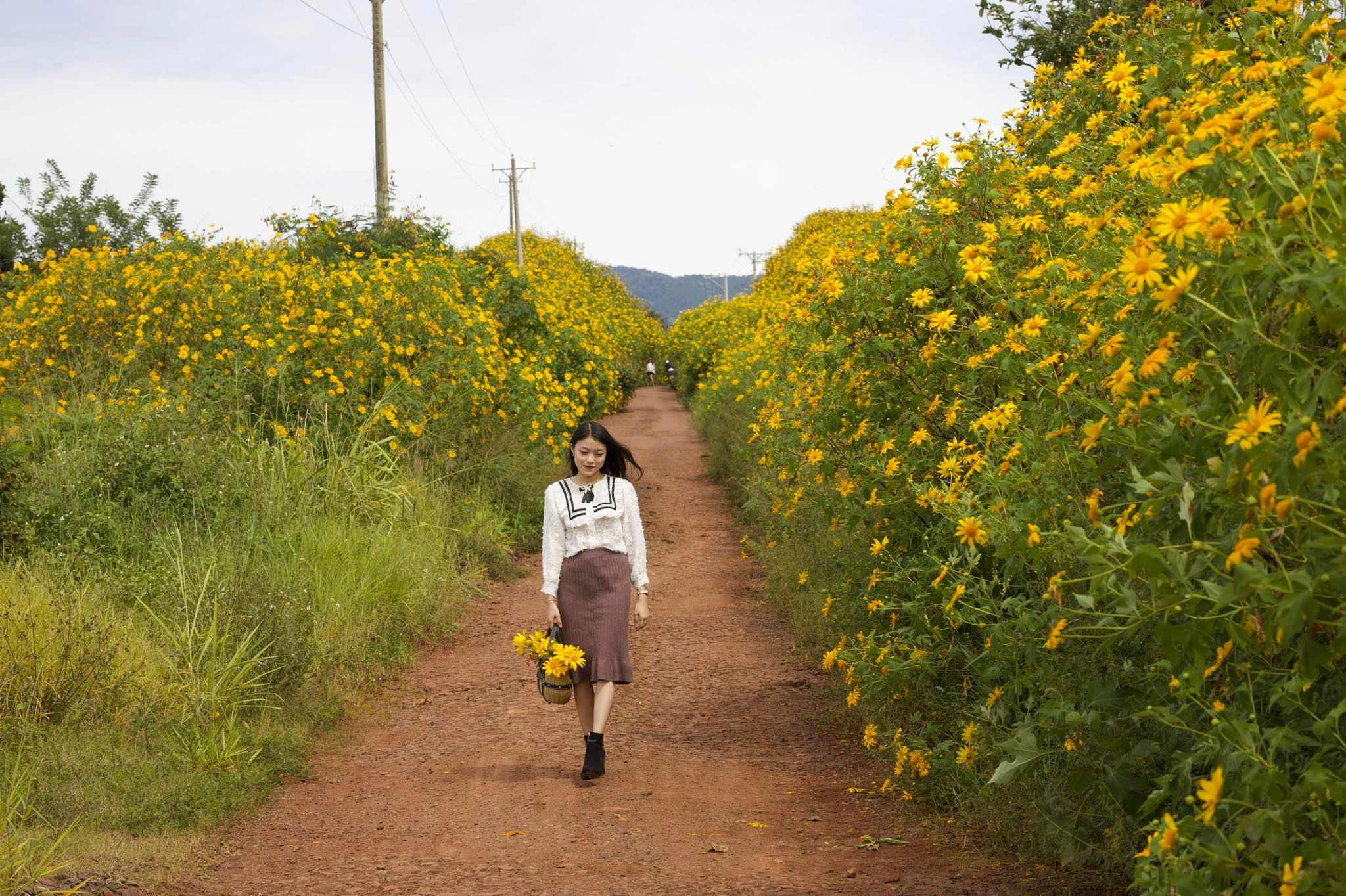 The splendor of Mexican sun flowers spreads across Da Lat, from hillsides, valleys, pine forests, dirt paths to shores of lakes, beside fences or vacant lots. Photo: Dong Ngo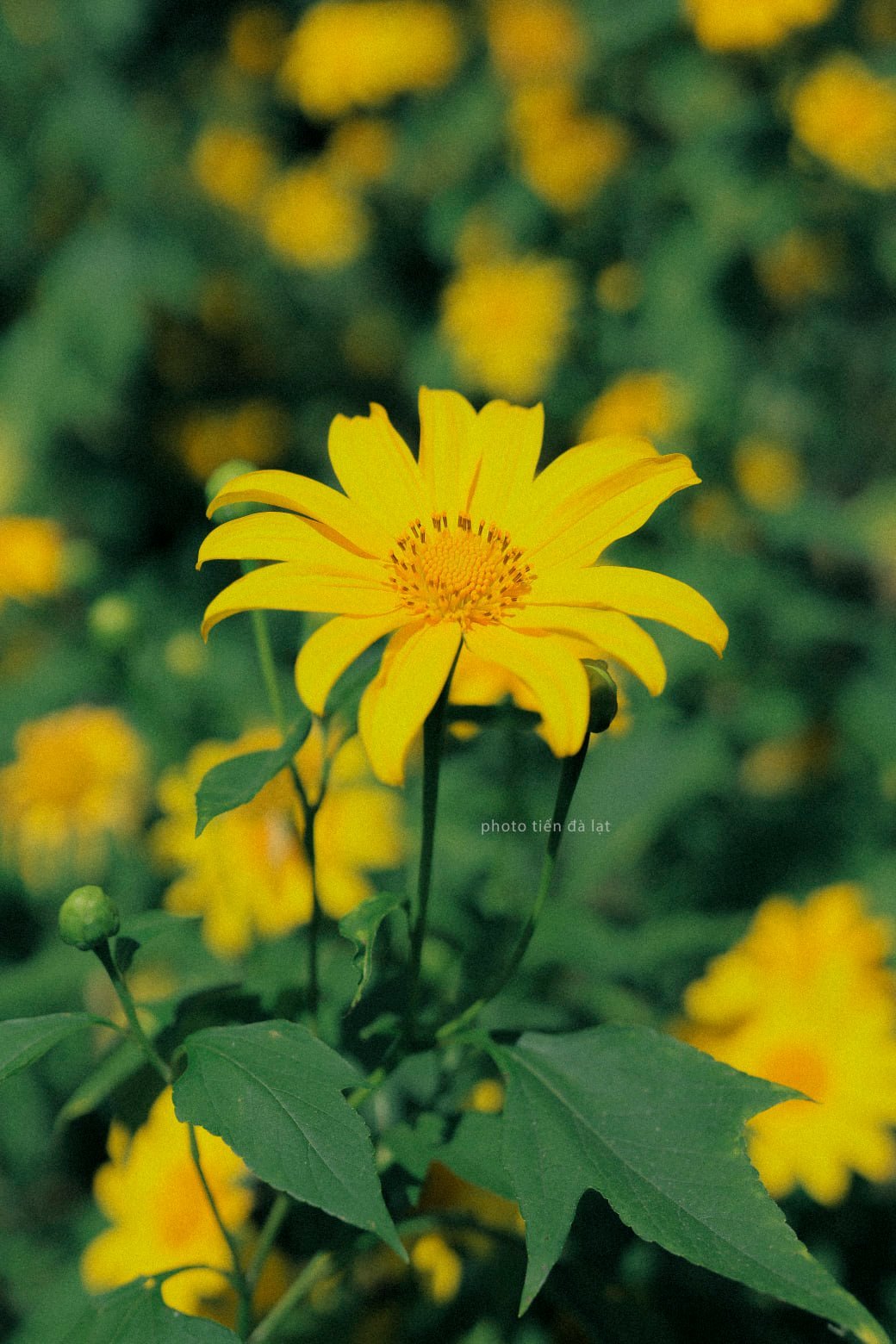 Mexican sun flowers is a species of flowering plants which blooms mostly in Tay Nguyen and other provinces in mountainous Northern region.
The time when Mexican sun flowers are the most beautiful lasts for three weeks from late October to early November. Photo: Minh Sang
A photograph of the golden carpet is captured by Minh Sang in Hiep An Commune, Duc Trong County – 30 kilometers away from Da Lat City to the South.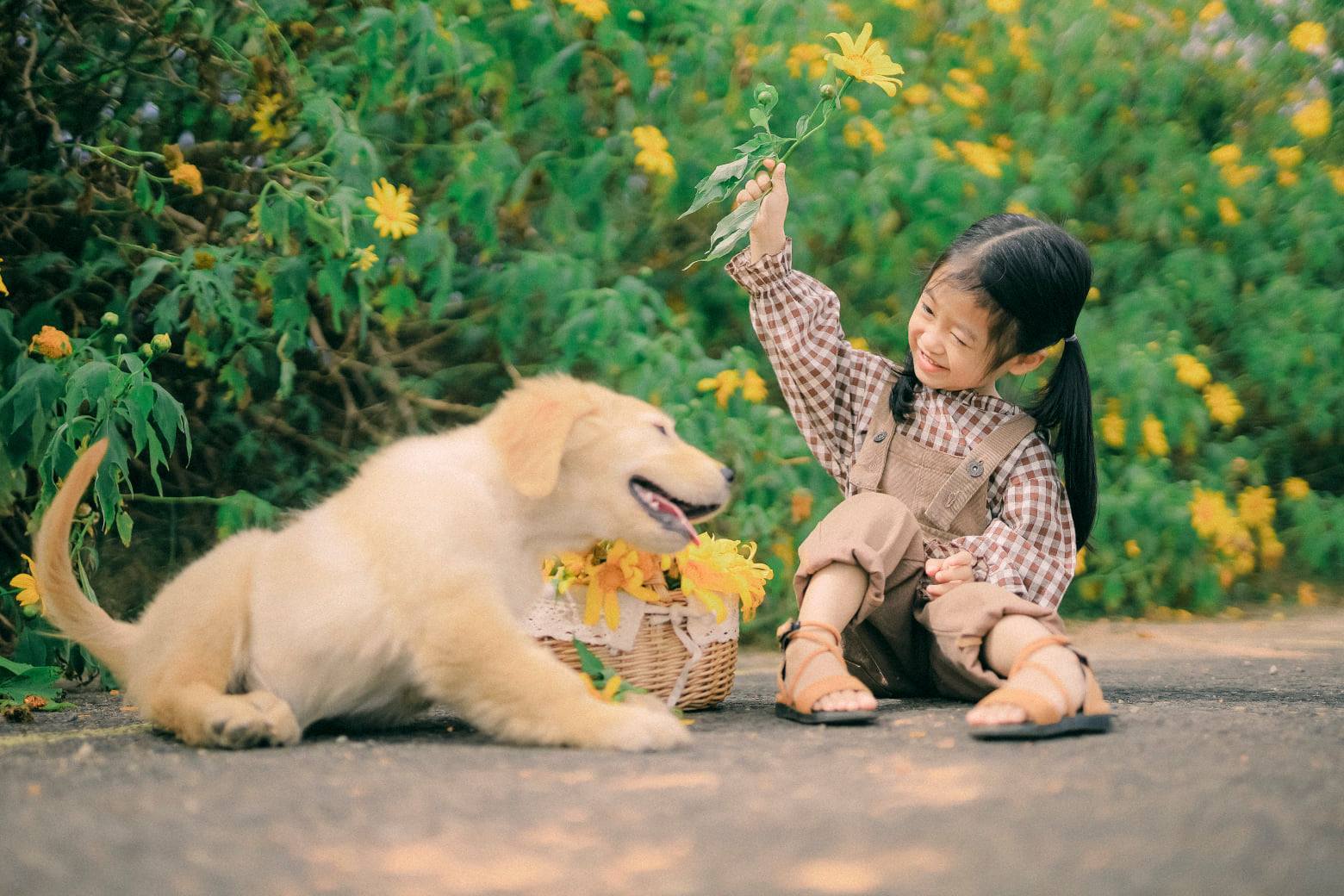 A girl takes a picture with her best friend next to a Mexican sun flowers bed in Cam Ly Airport. Photo: Tien Da Lat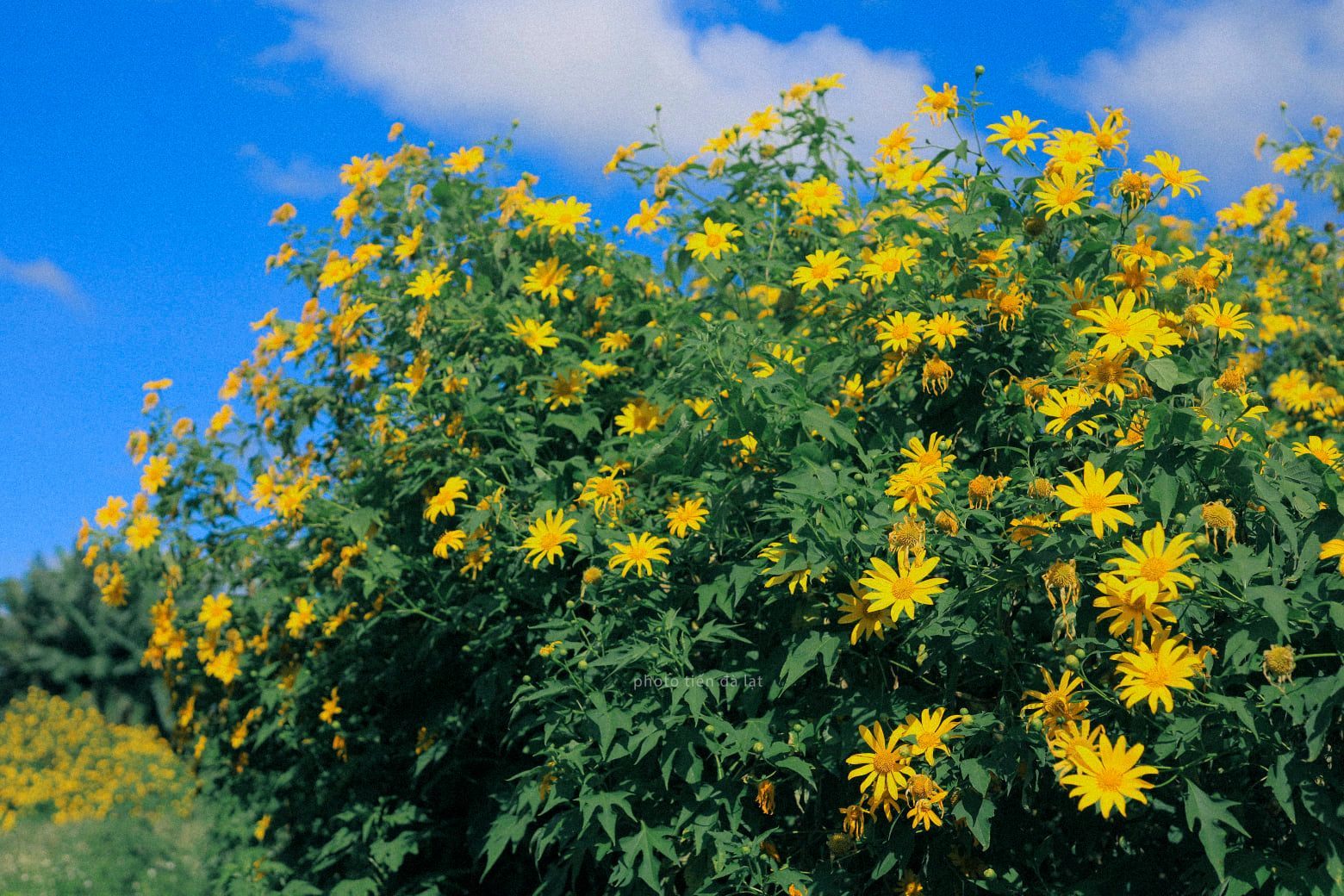 Photo: Tien Da Lat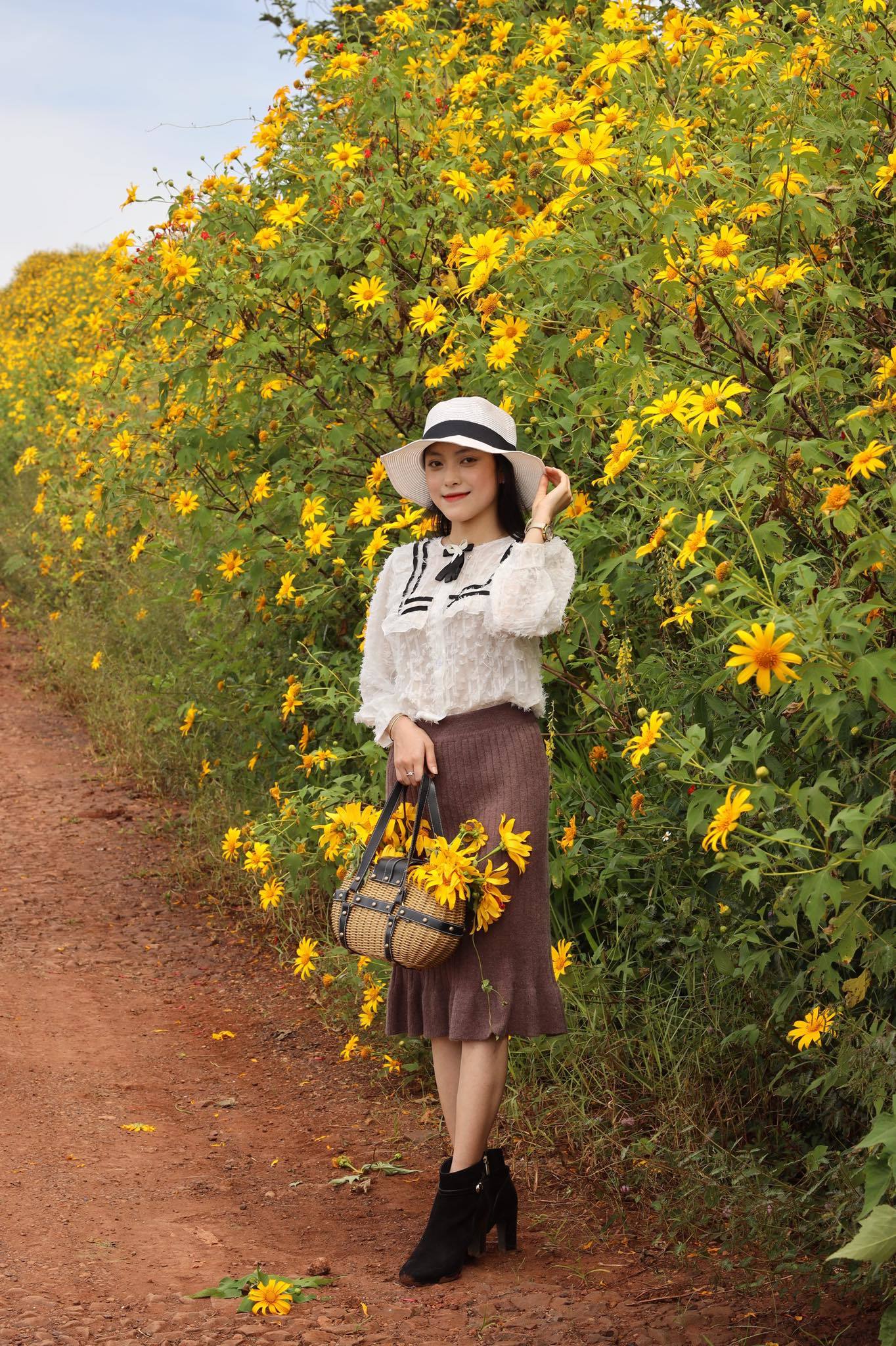 A beautiful young woman beside a grove of Mexican sun flowers. Photo: Dong Ngo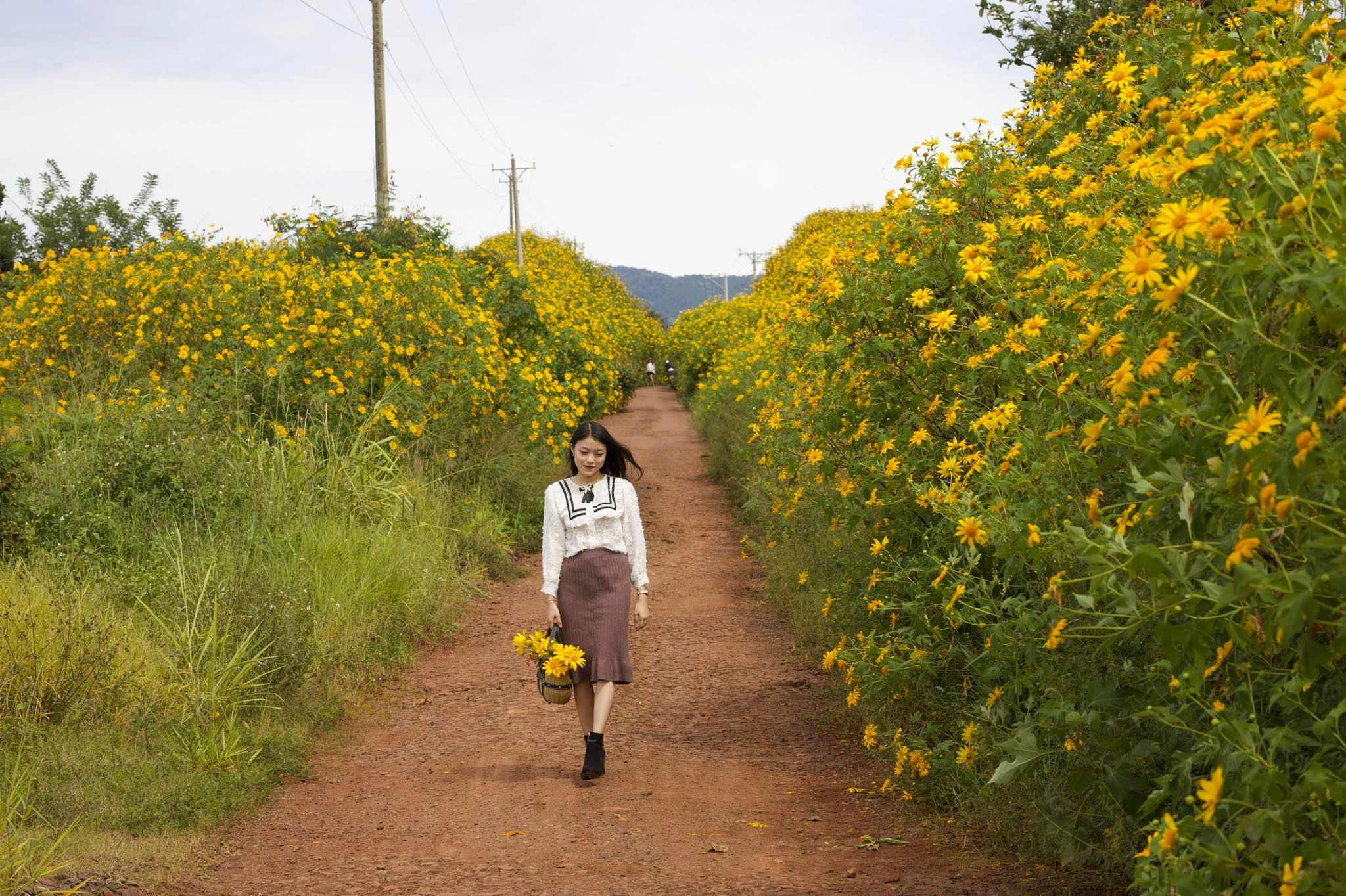 An appealing road with Mexican sun flowers on both sides. Photo: Dong Ngo
A stunning album of Cao An Thuyen and her sister in a Mexican sun flowers garden near their house. Photo: Cao An Thuyen.
Photo: Cao An Thuyen.
Photo: Cao An Thuyen.
Many people are looking forward to visiting Da Lat. Photo: Tien Da Lat.
(Photo: Minh Sang)
Linh Trang

Dak Doa in Gia Lai Province is dubbed the "second Da Lat" in the north of the Central Highlands as it is home to beautiful and poetic pine forests. When winter comes, this place will "turn" into a vast pink grass hill.

If you make a trip to Da Lat city, you are advised to try the following dishes.