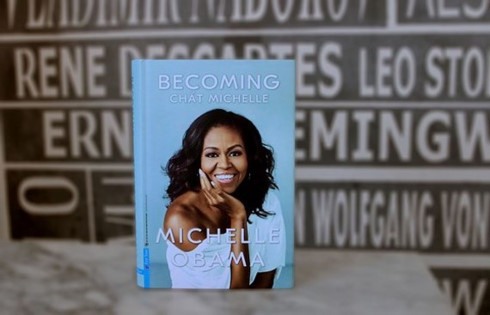 Ảnh:
The memoir has sold more than two million copies in 15 days, topping all other books published in the US in 2018; and 10 million copies in just four months after the release in last November.
The book has been published in translation in 45 other languages, such as Canada, Denmark, the UK, Finland, Germany, Norway, Portugal, Singapore. It became the best selling memoir in France, the Republic of Korea, Japan, Spain, Italia, Poland and other countries.
Obama and her husband, former President Barack Obama, last year reached a joint agreement with Penguin Random House for their memoirs. The deal is believed to be worth over US$65 million.
The memoir presents to readers stories of the first black First Lady from her childhood on the South Side of Chicago to her years in the White House
.
"Writing Becoming has been a deeply personal experience," the former first lady said in a statement. "It has allowed me, for the very first time, the space to honestly reflect on the unexpected trajectory of my life.
In this book, I talk about my roots and how a little girl from the South Side of Chicago found her voice and developed the strength to use it to empower others.
I hope my journey inspires readers to find the courage to become whoever they aspire to be. I can't wait to share my story."
Michelle Obama's 'Becoming' has a large impact on young people and is an inspiration to young girls, women everywhere. SGGP