VietNamNet Bridge – The Cha stream, a main source of water for domestic use and irrigation in Luong Noi and Ha Trung Communes in Thanh Hoa Province, has turned cloudy and red due to discharge from a local mine.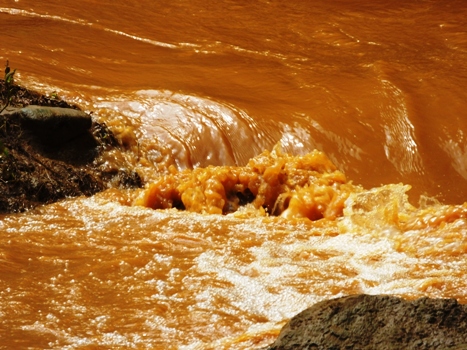 At dawn, workers at Kim Phat Company, which exploits ore at an iron mine in Luong Noi Commune in Ba Thuoc District, begin their shift by discharging waste water into the Cha stream.
Locals said the water of the stream, originating from a mountain creek, was once very pure and fresh. The stream in the past, they said, was always clean and full. Local people have been using the water from the stream for many years.
But one day it turned red, and was no longer safe to use for daily life or for irrigation of rice fields, they said.
The residents discovered that waste water discharged from the iron ore mine of Kim Phat Company was the cause.
Quach Van Chuong, head of Dam Hamlet, said there are 84 households with 312 members in the hamlet living on agricultural production.
There are 11.7 hectares of land for growing rice. However, 3.7 hectares have been left uncultivated since the last crop because of a lack of water.
Meanwhile, 20 of 89 hectares of sugarcane development were irrigated with polluted water from the stream, and the plants cannot grow.
Chuong said Luong Noi's residents had been more fortunate than Ha Trung's. Dam Hamlet is the only locality in Luong Noi which suffers from polluted water, while the problem has affected the entire Ha Trung commune.
Truong Van Thom, head of the Mon Hamlet in Ha Trung Commune, said: "In the past, we went to Cha stream to have a bath, catch fish and shrimp and take water. But now, as the stream is polluted, no fish and shrimp can live there."
No one now bathes or washes clothes with water from Cha stream. The stream's water is still used for irrigation, but it cannot produce a high yield of crops because of the pollution.
Since 2013, locals have regularly lodged complaints about the pollution to communes' authorities, but they have received no reply.
Several days ago, they visited the commune People's Committee's head office, saying that if local authorities ignored the petition, they would ask for district authorities' intervention.
Hoang Van Su, chair of the Ha Trung Commune People's Committee, confirmed that it was the iron ore mine that discharged waste water into the Cha stream.
However, Cao Minh Chuc, chair of Luong Noi Commune People's Committee, denied that the Cha stream was polluted, saying that inspectors did not find any problems with the stream at a recent inspection tour.
Le Anh