VietNamNet Bridge – Hundreds of households in An Khanh Commune in Thai Nguyen province's Dai Tu District have had no running water to use for several years because of a coal mine, the provincial Department of Natural Resources and the Environment has said.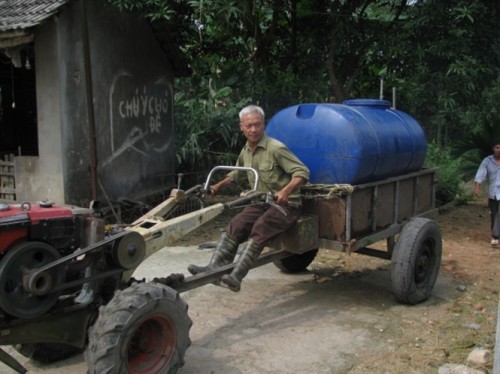 After the Khanh Hoa Coal Company caused water shortages in the area in September 2011, a watchdog agency requested the company to stop exploitation and apply necessary measures to stop the shortages and compensate local residents.
However, the coal company ignored the request, still continuing the exploitation. As a result, in April 2012, locals discovered signs of soil depression which are now even more serious.
In June 2012, the Khanh Hoa Coal Company agreed to build a water supply system to 300 households. However, locals said the water was just enough for two to three months of use, and that the water supply has since stopped.
As the water source is blocked, about 260 households in An Khanh commune lack water. The one-time fertile Ngo Hamlet's rice fields have dried up.
Locals have to buy tap water at high prices. A 700-800 liter well-water barrel sells for VND80,000. It is estimated that a family of four have to spend nearly VND100,000 for water a day.
Tran Van Chu, a local man in Ngo Hamlet, where 190 households need water, said as the water is too expensive, he can only buy water for washing and cooking, while he cannot use washing machines or breed pigs.
Mai Tien Linh, also of Ngo Hamlet, said he could not giving up farming as it is his major means of subsistence.
He dug a water well in neighboring Dam Hamlet, from which water is pumped to his farm. Though Linh does not have to travel a long distance every day to Dam Hamlet to get water, he has to pay VND600,000 for the electricity used to pump the water.
Deadlock
Truong Van Dung, chair of An Khanh Commune People's Committee, said local authorities had many working sessions with the coal miner to discuss solutions to the electricity outage.
"Twenty-four hectares of rice fields in Ngo and Dong Buc Hamlets are now dried up because of no water," he said. "If the miner expands its production, people will continue to suffer."
Nong Nghiep