Ministry of Transport warns about localities' airport boom
The development of the airport network depends on socio-economic conditions, not just on localities' proposals.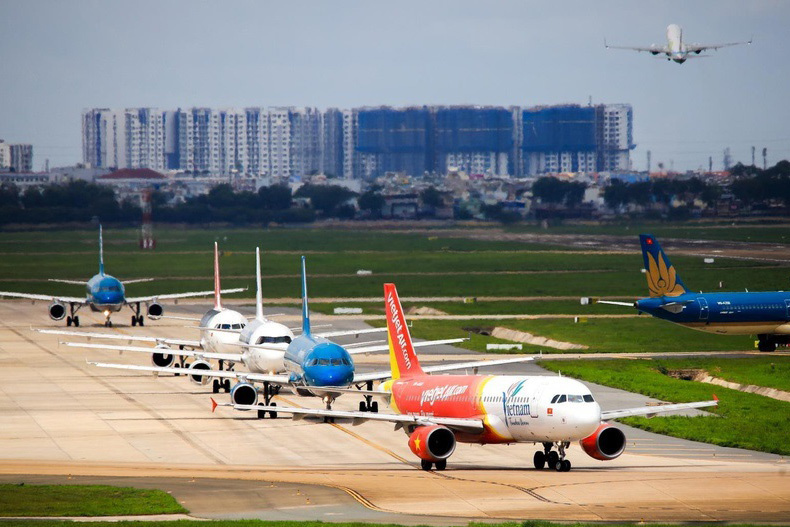 Airport development is a desire of many provinces.
The Ministry of Transport has received many recommendations from localities on the draft Master Plan on Nationwide Airport System Development for the 2021-2030 period with a vision to 2050. Many of them are related to local airport development.
Most recently, Binh Phuoc province proposed adding Binh Phuoc Airport to the Master Plan. According to the proposal, there are four military airports on the area of 400 hectares. Binh Phuoc has become one of national industrial centers with industrial zones, namely Industrial parks 1, 2, 3, Minh Hung 3, Minh Hung-South Korea, Minh Hung-Sikico, Overseas Vietnamese, Tan Khai, etc.
Binh Phuoc shares 260km land border with Cambodia. Consequently, it is of important significance for the province to plan and develop a dual-function airport to boost socio-economic development and protect national security.
In case the Binh Phuoc airport is not considered, it is requested that the Ministry includes Technic Hon Quan airport into the Master Plan. The airport was built during the time of the war of resistance against French and is under management of the army.
Before Binh Phuoc, Bac Giang province also recommended transforming Kep Airport into a dual-function airport for military and civil purposes. It is a military airport located in Huong Lac commune, Lang Giang district. As stated by Bac Giang Transport Department, the local people have huge demand for traveling, business and leisure. A dual purpose Kep airport is able to assist in increased commercial transactions, tourism, and investment attraction, and thus enhance the economic development of the region and Bac Giang in particular.
Last January, Chairman of Ninh Binh Province - Mr. Pham Quang Ngoc - sent a document to the Ministry to request a local airport added into the Master Plan. Ninh Binh suggested the Ministry to take account of an airport in Kim Son or Yen Khanh district. If it is approved, Ninh Binh Transport Department and other related agencies will be assigned to work with consultants to identify the specific airport location. Ninh Binh is situated close to Hanoi and Thanh Hoa, which both have airports. Travel on land from Ninh Binh to those airports is already convenient.
In October 2020, Ninh Thuan asked to convert Thanh Son military airport into a civil one. This airport is located in Phan Rang City. If its proposal is accepted, Ninh Thuan will upgrade the airport under the criteria of International Civil Aviation Organization (ICAO) to receive ATR72 and Airbus 321 airplanes and develop commercial airline routes to Tan Son Nhat, Noi Bai and Da Nang airports.
Last September, Ha Tinh province proposed a Ha Tinh international airport with an area of 300 – 450 hectares. It is planned to be in Thach Ha and Cam Xuyen districts, and have routes to Hanoi, Ho Chi Minh City, Buon Ma Thuot, Pleiku, Phu Quoc, Taiwan, and South Korea. The passenger capacity is estimated to reach 500,000 each year by 2030 and 2 million each year by 2050.
In addition, a Northern mountainous province, Cao Bang, has asked for the inclusion of Cao Bang airport into the Master Plan. It is used as a civil – military domestic airport, 13km away from Cao Bang City to the South East, to facilitate transportation and tourism and to protect national security in the Northern border region.
Hanoi proposed a second airport in Ung Hoa district which is planned to develop after 2030 along with the extension of Noi Bai International Airport to meet the capacity of 100 million passengers each year.
The Ministry of Transport also received a number of requests to convert current domestic airports into international ones, namely Lien Khuong (Da Lat), Buon Ma Thuot (Dak Lak), Phu Cat (Binh Dinh), and Tuy Hoa (Phu Yen).
The Master Plan is not only reliant on local demand
Mr. Tran Quang Chau, Chairman of Vietnam Aviation Science and Technology Association, said in airport planning, requirements for travel, tourism, export and import activities, and other socio-economic factors, not only proposals from provinces, are taken into account.
The Head of the Civil Aviation Administration of Vietnam (CAAV) - Mr. Dinh Viet Thang - said that the Ministry would respond to the localities about proposed airports after receiving adequate recommendations from localities. Thang stressed that the Master Plan aims to ensure the standardization of the national airport network and analyzed to meet each specific phase and transport demand.
A representative of the Ministry of Transport told VietNamNet that the Ministry would consider local proposals, but accepting them must be in accordance with the plan. The Ministry shall consult with other ministries and agencies before submitting the plan to the Government for approval.
Under the Master Plan on Airport Development to 2020 with a vision to 2030 approved by the Prime Minister in 2018, there are 23 and 28 airports by 2020 and 2030, respectively. Apart from current airports, others will be built, namely Long Thanh (Dong Nai), Na San (Son La), Lai Chau, Sapa (Lao Cai), Quang Tri, and Phan Thiet.
Under the Draft Plan to 2030 with a vision to 2050, the CAAV proposed reducing the number of airports to 26. In this period, four out of six airports in the previous plan will be built. The construction of Na San and Lai Chau airports will be delayed after 2030. There will be 30 airports by 2050. By then, Na San and Lai Chau airports will be built, and so will Cao Bang and the second airport for the capital.
Vu Diep

Vietnam's is considered as one of the fastest growing aviation markets in Asia.

Authorities in Hon Quan District in the southern province of Binh Phuoc are warning buyers to be careful about land transactions, saying the proposed airport in the district, which has not been approved, has caused a "price bubble".