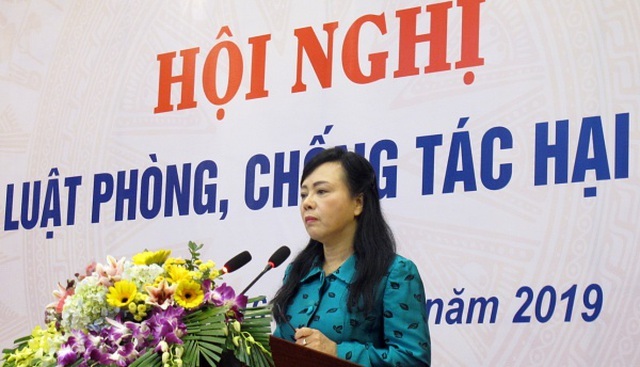 Minister of Health Nguyen Thi Kim Tien speaks at the conference
The conference was held in Hanoi on October 16. The minister said they had spent seven years to prepare the law due to low public awareness about the harm of alcoholic drinks and drink-driving as the cause of many traffic accidents.
She went on to say that alcohol posed criminal and social disorder issues but moreover, it also led to cancer and heart diseases.
Tien admitted that they had had many difficulties because of the conflicts of interests. The National Assembly has passed the law in June and it would take effect starting on January 1, 2020.
However, Tien said how to implement the law is another problem.
Tran Thi Trang, deputy head of the Legal Department of the Ministry of Health, said the alcohol consumption rate in Vietnam is very high.
An average Vietnamese man drinks some 27.4 litres of alcohol annually, ranking second in Southeast Asia and 29th in the world.
44% of the men are using alcohol at a harmful level and the number of minors using alcohol is also rising.
Trang said the most difficult problem would be how to change public habits. Profits generated by the local alcoholic beverage sector were VND50trn (USD2.1bn) per year but the losses also accounted for 1% of the GDP.
Trang named education and the media as the solutions to the problem.
The availability of alcohol in the market for adolescents and pregnant women needed to be tightened.
"It's difficult to change habits that were formed hundreds of years ago. We'll focus on the youth and find ways to prevent adolescents from accessing alcoholic drinks," Trang said.
Local authorities must manage home alcohol-making and transportation firms will face more responsibilities if they let drivers drink alcohol.
In the future, companies will be asked to provide alcohol breathalyzer testing. Dtinews

More than 100,000 people die each year from cancer in Vietnam, and medical experts believe the fatality rate will rise because more and more young people are starting to smoke.

Authorities in An Giang Province have asked a local state company to report about their organising of an alcohol drinking competition.