Modeling contest seeks to lure Russian tourists
The 2nd Model and Talent contest will be held in southern coastal city Nha Trang with participants from Commonwealth of Independent States with a view to popularise Vietnamese destinations among Russian tourists.
The three-day event will include a fashion show and talent performances featuring models from Russia, Kazakhstan, Moldova and Ukraine.
Contest judges include Grigori Gladkov, head of the jurors' panel at the European Television Singing Contest for Children and second runner-up at Mrs World 2009, Hoang Thi Yen.
Vietnamese play wins award of excellence at theatre festival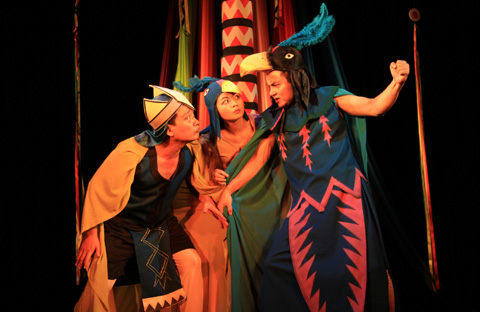 The play "Chuyen chang dung si" (The story of a courageous man) performed by the Vietnam National Drama Theatre was granted an award of excellence at the second ASEAN-China Theatre and Drama Festival in China earlier this month.
The theatre said on October 29 that the organising board also presented individual awards to Le Ngoc, Ta Tuan, Tung Lam, and Mai Huong, who played key roles in the play.
The piece, directed by famous artist Anh Tu, is made for children and adapted from the "Dam San" epic told by the Ede ethnic people in Vietnam's Central Highlands. It was staged in Vietnam for the first time at the beginning of October 2014.
Last year, "Cai lao hoan dong" (Rejuvenation), another play by the Vietnam National Drama Theatre, was voted most popular play at the festival.
"Geronimo Stilton" children's book series translated into Vietnamese
The Vietnamese version of "Geronimo Stilton"-a best-selling children's book series published by Edizioni Piemme of Milan, Italy since 2000 has been launched.
The first five books have been published. The books are intended for readers in the 6–12-year-old age range.
In the series, the title character is a talking mouse who lives in New Mouse City on Mouse Island. A best-selling author, Geronimo Stilton works as a journalist and editor for the fictional newspaper The Rodent's Gazette.
He has a younger sister named Thea Stilton, a cousin named Trap Stilton, and a favourite little nephew, nine-year-old Benjamin Stilton.
Geronimo is a nervous, mild-mannered mouse who would like nothing better than to live a quiet life, but he keeps getting involved in far-away adventures with Thea, Trap, and Benjamin, and sometimes Aunt Sweetfur.
The books are written as though they are autobiographical adventure stories.
The series originated in Italy and has become the most popular children's book series in that country. The books have been translated into 40 languages.
There are also other media versions of the Geronimo Stilton books, including animated series, musical theatre and comics/graphic novels.
Quang Nam seeks to preserve Bai Choi singing
International and domestic r esearchers and artists of folk music presented suggestions about how to preserve and promote Bai choi singing at a workshop on October 29 in central Quang Nam province.
The workshop was co-held by the provincial Department of Culture, Sports and Tourism and the Vietnam National Academic of Music (VNAM) with the aim of studying the folk songs peculiar to Quang Nam towards the goal of applying for UNESCO recognition as part of the world intangible cultural heritage.
Addressing the workshop, VNAM Head Nguyen Binh Dinh highlighted Bai choi singing as a combination of poetry, music, singing, performance and improvisation.
The Vietnam National Academy of Music and 11 provinces and cities in the central region, ranging from Quang Binh to Binh Thuan, have been tasked with the preparation of the application dossier, which is to be submitted prior to March 31, 2015.
Unique to the coastal central region, bai choi singing is often seen at local spring festivals and resembles a game, using playing cards and village huts.
The stage for bai choi performances encompasses nine cottages, each containing five or six 'players'. One of the cottages, the central house, contains a troupe of musicians and instruments. A deck of playing cards is split in half, with one stack distributed amongst the players, and the other placed in the central house. The cards are stuck onto bamboo poles and erected outside the cottages.
The game singer delivers a flag to each cottage, all the while singing bai choi, and then draws a card from the central house. Whoever holds the card closest in value to the game singer's card wins.
The bai choi songs are about festivals, daily life and work, and are accompanied by musical instruments.
The game and songs were developed by Mandarin Dao Duy Tu (1572-1634) to help locals protect their crops, according to Hoang Chuong, Director of the Centre for Preservation and Promotion of National Culture.
Vietnam is currently home to eight cultural practices in the UNESCO intangible heritage list, namely Hue's royal court music, the space of Gong culture in the Central Highlands, Quan ho (love duet) singing, the Giong festival, Ca Tru ceremonial singing, Xoan singing, Worshipping the Hung Kings, and Don ca tai tu (amateur singing).
Ha Long Bay souvenir designs awarded prizes
Stone paintings by artisans Do Van Bi and Nguyen Tung Lam were awarded second prizes by Ha Long Bay Management Board in a souvenir design contest.
No first prizes were awarded in the contest held to mark the 20th anniversary of the natural wonder's recognition as a World Heritage Site by UNESCO.
The works by Bi and Lam not only portray the typical beauty of Ha Long Bay but also highlight the development and tourism potential of the northern coastal province of Quang Ninh.
Two works by Le Quang Cuong and Nghiem Vinh won third prizes in the contest.
Organisers received about 40 entries from 17 individuals and firms. The award-winning products will be used to make and market souvenirs to tourists.
Vietnamese feature enters Taipei film festival
"Dap Canh Giua Khong Trung" (Flapping in the Middle of Nowhere), the first feature film produced and directed by Nguyen Hoang Diep, will be screened at the Taipei Golden Horse Film Festival 2014.
The film will compete in the festival's Asia Window and Network for the Promotion of Asian Cinema (NETPAC). The NETPAC award was instituted in 2007.
Director Diep and supporting actress Pham Tran Thanh Duy will be in Taipei on November 18 for the NETPAC award ceremony.
'Flapping in the Middle of Nowhere' tells a story of a young woman desperately trying to find money for an abortion. Eventually, a man offers to help, but she is reluctant to take his money because he is in love with her.
The film won the Venice Film Festival's Critics' Week Prize.
Electronic musician plays at CAMA ATK
AMA ATK is continuing their Thursday night electronica tonight with French-Cambodian musician Lafidki, who is renowned for combining electronics, noise and sequenced multi-layered rhythms onstage.
The musician has performed around the world in cities such as St. Petersburg, Seoul and Bangkok. His performance at CAMA ATK, 73A Mai Hac De St., starts at 8pm.
TPD screens popular horror movies
During this Halloween week, the Centre for Assistance and Development of Movie Talents (TPD) will screen two famous horror movies: The Sixth Sense (1999) and The Exorcist (1973).
A supernatural thriller written and directed by M. Night Shyamalan, The Sixth Sense tells the story of Cole Sear, played by Haley Joel Osment, a troubled and lonely boy who can see and talk with dead people, and an equally troubled child psychologist, played by Bruce Willis, who tries to help Sear.
The Exorcist is a supernatural horror film directed by William Friedkin and adapted by William Peter Blatty from his 1971 novel of the same name.
The Sixth Sense will be shown tomorrow while The Exorcist will be screened on Saturday, in original language with English subtitles. Both screenings will start at 7:30pm. Tickets are priced at VND20,000 each and proceeds will be donated to TPD's fund for movie talents.
Chefs promote Thai food in Ha Noi
Hilton Hanoi Opera will hold its Thai Food Promotion from October 31 to November 8, with the participation of guest chefs Thapakorn Somjit and Sarawut Phukhrongthung.
The chefs will take connoisseurs on a gastronomic journey through the culture of Thai cuisine, with a menu featuring traditional and signature Thai dishes. The feast will be perfected with live Thai musical and dance performances.
The event will also feature a Thai cooking class on November 2. For more information, please call (04) 39330500 ext. 1605 or email thuhien.pham@hilton.com.
Cyclists invited to scary Halloween ride
Everyone is welcome to join the monthly Dap Cho Suong or Positive Mass, a bicycle ride inspired by Critical Mass that has reached 300 cities worldwide.
The ride, which continues tomorrow, October 31, at 8pm, will start at St. Joseph's Cathedral on Nha Tho Street. From there, the cyclists will pedal through the streets of the city. With the ride taking place on Halloween, this month is the chance for cyclists to dress in scary and striking costumes.
Festival highlights arts and music
The Saigon Outcast will hold its Melting Pot event, with the theme "Celebration of Culture", on November 8 and 9.
The event includes exhibitions of paintings, ceramics, graffiti, photographs and handmade accessories by expatriates and local artists and organisations.
It will also feature music and dance performances by local and expatriate bands and dancers as well as games for children. All proceeds from the festival will go to charity. Half of the funds will be donated to Saigon Children's Charity, and the remaining will be used to upgrade public schools and facilities for children in District 2.
The festival will be held from 12pm to 11pm each day at 188/1 Nguyen Van Huong Street in District 2.
Meet the walking dead at beer club party
Rapper Andree Right Hand will be featured at a Halloween party this Saturday (Nov 1) at MOB Beer Club, together with sexy zombies wandering around the dance floor.
The customer with the fanciest costume will receive VND1 million (US$48) in cash.
The party will start at 8.30pm at the MOB Beer Club, 152 Nam Ky Khoi Nghia Street, District 1.
The Love Below at DeciBel
The four-piece soul and hip hop band The Love Below will perform at DeciBel at 79/2/5 Phan Ke Binh Street, District 1, from 9pm to 2am on Saturday.
The band's music is a blend of hip hop, funk and soul, with a squirt of jazz and reggae. With fresh, original tunes and special guests, this international conglomerate hopes to infect your mind with some quality music.
Kazakhstan volleyballer to join cultural show
Sabina Altynbekova, a well-known volleyballer from Kazakhstan, will come to Vietnam to attend the second cultural exchange program "Models and Talent" in Nha Trang City, Khanh Hoa Province from October 30 to November 1.
Organizers said the Kazakhstan beauty will join fashion and music performances and meet Vietnamese audiences. The event will be also attended by Miss Ethnic Vietnam 2011 Trieu Thi Ha, Miss Sea 2012 Ninh Hoang Ngan, Miss World Sports 2014 Pham Huong, supermodels Vu Hoang Diep and Duong Hieu Ngoc.
Many local singers, including Minh Huyen, Quang Linh, Tieu Chau Nhu Quynh and Nguyen Chien Thang will entertain the audiences of the program.
Talent and fashion contests will be organized for Vietnamese and Kazakhstan contestants as part of the event.
Rare documents, photos of Vietnam's education exhibited
An photography exhibition of " Education of Vietnam from 1802 to 1945" was displayed in Van Mieu – Quoc Tu Giam (the country's first university) yesterday.
The one-day exhibition exhibits 120 documents and photos from Nguyen Dynasty to provide viewers' a look of the country's education system in the 1802-1945 period with the two different educational system - Confucianism and western education under French domination - live side by side.
Documents and photos showed Confucianism education under Nguyen Dynasty including test regulation, school management and ceremony for winners of examinations to return home to pay thanks to ancestors after achieving academic honors.
The photos also revealed western education system in the French domination period.
VNS/VNA/VNN/VOV