Modern university libraries serve students' learning demand

Well-equipped and modern academic libraries to meet students' demand of learning and relaxing are becoming an ideal destinations of students after class, break time and even weekends.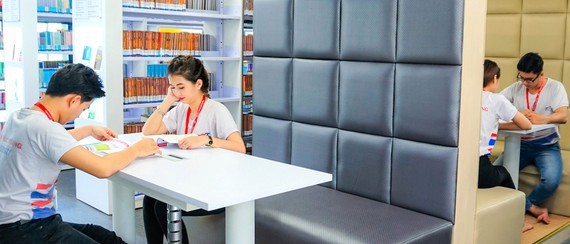 Students are studying in the library of Ton Duc Thang University

To achieve this, university managers are determined to pour money into libraries to convert them into a quiet but well-equipped place in an academic setting that allows students to keep their mind centered on homework.
Third-year student Dinh Ngoc Thuy of Ton Duc Thang University came to the school's university on Sunday to meet her study group to learn English together or practice speaking. Thuy said the library is an academically centered environment and will keep her brain focused on her studies.
Hundreds of students crowd into the library of the Ho Chi Minh City Industry University even weekends. Students surf internet to find learning materials, borrow books and photocopy documents.
The state-of-the-art library of the Vietnam National University HCMC not only serves students of the school but students from other nearby schools in districts 9 and Thu Duc.
To satisfy increasing demand of students, the Vietnam National University has opened additional library in students' dorm to serve 10,000 students.
The two libraries with all good equipment and books to keep pace with students' demand for learning and making research; accordingly, they are crowded with students seven days of a week.
Student Tran Hai Luan who were borrowing books said that students find it convenient to go library in the dorm.
Ton Duc Thang University's Inspire Library is the most modern facility in the country. The library is designed like 500-top libraries in the world and connected with 9,000 biggest libraries in the globe.
Located in the area of 8,678 square meter, the VND129 billion (US$ 5.5 million) facility comprises of seven floors.
President Le Vinh Danh said that a library is a heart of the university where inspires students to learning and researching passion as well as exploit students' potential.
According to the Ministry of Education and Training's latest assessment, many academic libraries such as libraries of Ton Duc Thang University, of the Vietnam National University in Hanoi and in Ho Chi Minh City, of Hanoi University of Science and Technology, and of Nguyen Tat Thanh University have been invested in terms of quantity and quality to achieve international standards.
In its assessment result of 23 self-financing schools in 2015-2017, the Ministry said that most of them take heed of investment in libraries. Of 23 schools, 160 libraries have been built in the area of over 100,000 square meter.
Not only public schools but privately-run schools also pour a lot of money into library construction to serve learners.
For instance, the VND50 billion library of Nguyen Tat Thanh University was built on the area of 16,000 square meter to serve over 1,700 students while Technology University also invested tens of billion of Vietnam dong in the library construction. SGGP
Dan Thuy
A library for kids, located at the Hanoi Children's Palace, has been inaugurated on the occasion of the 30th anniversary of the UN Convention on the Rights of the Child.

There are many youngsters who have joined hands to spread a love for reading with some creative ideas. D Free Book library is an example.