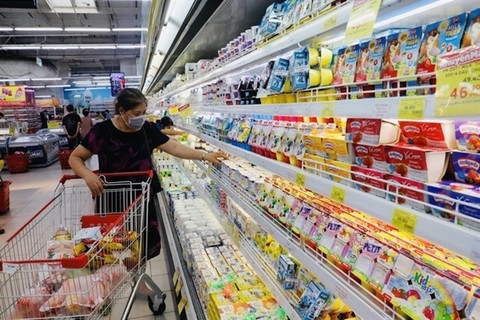 A shopper browses products at a supermarket in HCM City. — VNA/VNS Photo
The Ministry of Finance has recently put forward a proposal to the government to bring down value-added tax (VAT) from 10 per cent to 8 per cent for a number of goods and services to boost the economy.
According to the ministry's tax department, the government is to consider two options regarding VAT reduction.
The first one is slashing 2 per cent off the current 10 per cent VAT on a number of goods and services.
The second one is also slashing 2 per cent off the current 10 per cent VAT but excludes goods and services that were already under the effect of a previous VAT reduction as part of a government's policy to boost economic recovery after COVID-19.
Businesses have been long asking for additional support from the government to help speed up economic recovery and to cope with recent difficulties.
The HCM City Food and Foodstuff Association (FFA) said businesses have been struggling since the end of last year with rising interest rates, poor liquidity, increased risk in the bond and stock markets and higher input and logistics prices.
In addition, orders for export have been on the decrease. According to the FFA, VAT reduction was among one of the most effective policies in supporting businesses and urged the government to extend the policy.
Similarly, the Vietnam Beverage Association (VBA) asked the government to extend the policy at least until the end of this year, saying while there has been some improvement in recent months it will take a long time for the beverage industry to fully recover after the pandemic.
The European Chamber of Commerce (EuroCham) said VAT reduction has played a key part in speeding up economic recovery, and has been a boon to businesses and consumers alike.
The chamber said it has helped with the government's efforts in keeping inflation in check, boosting consumption and encouraging businesses to invest in expanding their operations. Consumers have also benefited from the lower VAT, which is in line with the government's policy to aid the population post-pandemic. — VNS