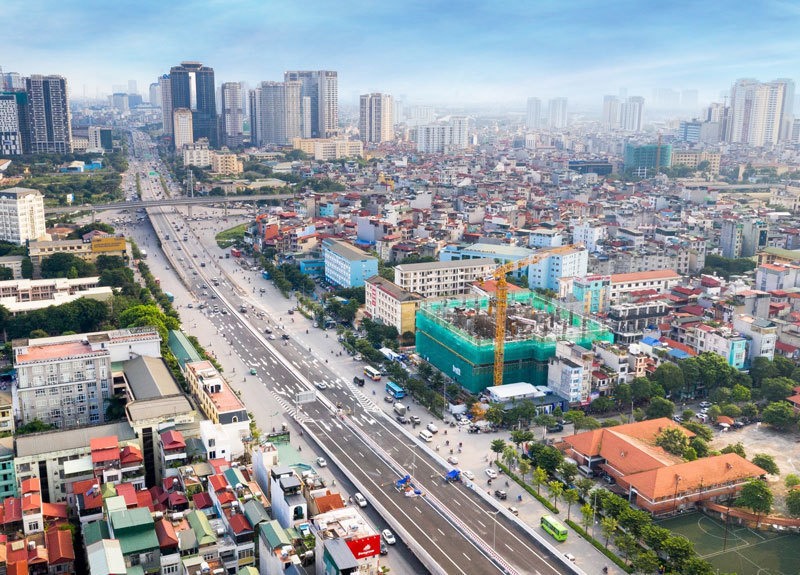 Nguyen Manh Thang, director of an investment company in Hanoi, is well known for his education projects. However, he has now injected money into real estate.
Thang said as schools have been hit hard by Covid-19, he has had to shift to another business. Thang and a group of investors are developing a housing project in Thai Nguyen.
"Real estate is the most profitable sector and the risk is low," he said.
A report released at a seminar held in late 2020 in Thanh Hoa showed that among the country's more than 12,000 millionaires, 90 percent of them had invested in realty, and among the 100 richest people in the country with fortunes of more than $30 million each, investment in the real estate sector had reached 99.1 percent.
Analysts said investors fear that the inflation rate will escalate as countries pump more money to recover the economies in the post-Covid-19 period. In this condition, it would be wise to invest in real estate, which helps preserve capital and serves as shelter for the time being.
Do Tien Dung company has been making big profits from car sale, but he still decided to invest in real estate. In 2020, his business in HCM City invested in a seafront real estate project which now brings profit of 10 percent.
Dung will expand investment in the real estate sector because land has become cheaper because of Covid. He is busy surveying the land prices in some provinces to prepare for the next projects.
"You can only get rich if you invest in real estate" is the popular saying of investors. The recovery period of the real estate market in 2014-2019 was considered the golden time for investors to make money. The profit that surfing investors could earn was up to 150 percent.
The General Statistics Office (GSO) reported that in the first four months of 2021, the number of newly established businesses increased by 17.5 percent compared with the same period last year. Real estate was the sector with the highest number, with 2,727 businesses registered, an increase of 56.5 percent.
This year the shareholder meeting season witnessed a series of businesses announcing plans to jump into the real estate sector.
Thanh Cong Textile and Garment (TCM) is cooperating with a Vietnamese partner to speed up legal procedure compliance for the TC Tower project in Tan Phu District, HCMC.
A manager at TCM said the company expects to have revenue and profits from the real estate investment in 2-3 years.
Gilimex, a textile company, has also developed industrial real estate with IZ projects in Quang Ngai and Thua Thien-Hue. It wants to develop a land bank to develop a chain of hotels serving industrial zones (IZs) in key economic areas of Binh Duong, Dong Nai, Bac Ninh, Hai Phong and HCM City.
Most recently, Gelex, an electric equipment manufacturer, has made public its new strategy under which the company would divest from the logistics sector and head for industrial property.

Analysts said investors fear that the inflation rate will escalate as countries pump more money to recover the economies in the post-Covid-19 period. In this condition, it would be wise to invest in real estate, which helps preserve capital and serves as shelter for the time being.
Prior to that, Gelex announced a plan to develop hotels, commercial services and offices for lease in Hoan Kiem District, Hanoi.
Shareholders of Cholimex, which has advantages in import and export, have approved a plan to invest in industrial real estate. The company now has three projects in Vinh Loc IZ.
High risks
In principle, high profits are associated with high risks and stiff competition. A lot of investors have actually got 'bogged down' in the real estate market.
Mai Linh Group is an example. After conquering the taxi market, Mai Linh shifted to real estate, building a workshops and offices to serve transportation activities. But the projects failed. The group had to sell some projects to get money for debt payments.
President of Son Ha Group Le Vinh Son told the press that after he divested from real estate projects he had a 'terrible' lesson from the real estate investment.
After overcoming the dark period of his time, Son said: "I promised to shareholders that I won't make investment in real estate for five years. The five-year period is going to end, but I believe that after five years, I will still decide not to invest in real estate."
Thuan Thao, a well known transport firm in the south, is another failure.
In 2009-2013, Thuan Thao had the highest number of large real estate projects in Phu Yen, including the 5-star Cendeluxe, an entertainment and ecological center, Thuan Thao Land conference and exhibition center, Resort & Spa Golden Beach, and Sao Mai Theatre with the total investment capital of trillions of dong.
But the projects are burdening the company. In mid-2019, Cendeluxe Hotel and Thuan Thao Conference and Exhibition Center were put into auction by Viet Tin Company at the starting price of VND500 billion, but the auction failed.
In Hanoi, the gold inlaid Habico Tower has become the bitter end of Hai Binh JSC, which was established as a petroleum equipment trading company and then jumped into the real estate sector. The tower is now a deserted 9-story concrete block.
Sohovietnam's President Phan Xuan Can said real estate is no longer a super-profitable business field, so investors need to be cautious when pouring money into it.
The competition in the market is getting fierce and in order to compete with other developers, businesses need to have long-term vision and strong financial capability, while their products need to have good living space and reasonable costs to satisfy customers' requirements. 
Tu Giang

Depositing money at banks is currently the safest and most profitable investment channel, as Covid-19 developments remain complicated and the stock market is "hot" and, thus, risky.  

Prime Minister Pham Minh Chinh has emphasized that the national housing strategy needs to include reasonable social housing development, and the tax regime on land speculators should be adjusted.