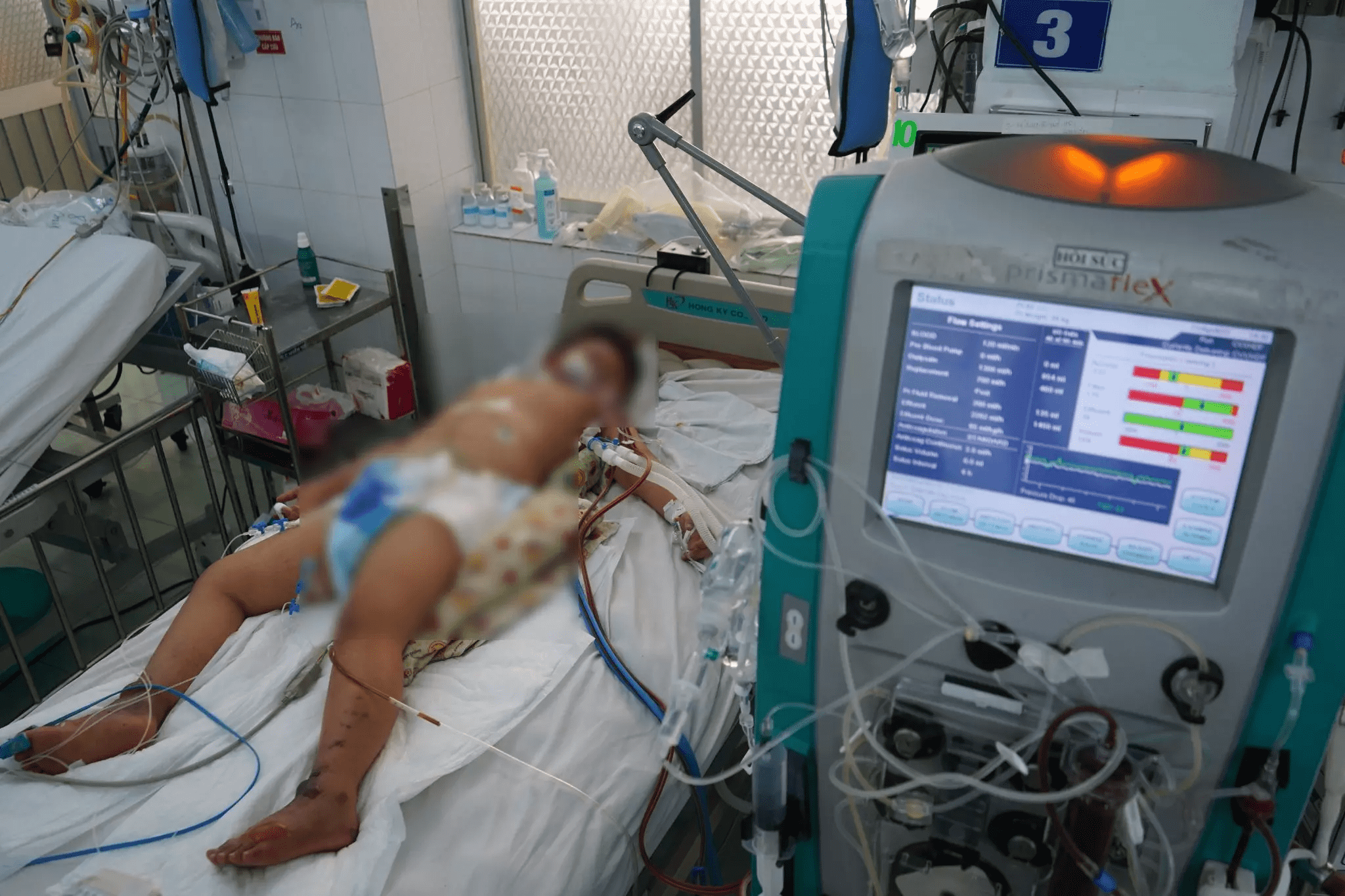 According to CDC HCM City, in the first four months of the year, 8,481 dengue cases were recorded, an increase of 28 percent over the same period last year. From May 13 to May 19, HCM City had 943 infections, a 50 percent increase over the week before, and one death.
There have been seven deaths so far. The number of infections of HFMD (hand, foot and mouth disease) is also on the rise.
After one year of struggling with Covid-19, people now have to struggle with common diseases. Tran Thi Ty, 32, is worried as the dengue epidemic has returned. She has two children in preschool and receives messages from teachers, reminding her about washing hands and killing mosquitos to prevent dengue.
"I am worried about dengue, because there is still no vaccine," she said.
Dr Nguyen Minh Tuan from the HCM City Children's Hospital No1 said many countries and the US FDA allow use of a vaccine to prevent dengue for children aged 9 or more. However, one of the requirements is that they have had dengue before.
Tuan said the vaccine is effective in preventing dengue fever, but a was effectiveness is modest. Vietnam has not used the vaccine for its vaccination program. The goal is to have a vaccine that will help minimize the number of serious cases and hospitalizations.
The vaccine mentioned by Tuan is Dengvaxia developed by Sanofi Pasteur. This is the first vaccine in the world used to prevent hemorrhagic fever for all four serotypes. It was approved for use by the FDA on May 1, 2019. Prior to that, dozens of countries had granted licenses to the vaccine.
According to HCM City Pasteur Institute, the vaccine has gone through two phase-3 studies (CYD14 in five Asian countries, including Vietnam, and CYD 15 in five Latin American countries) with 35,000 attendants aged 2-16. Based on the results of the phase 3- research CYD 14, the vaccine is not prescribed for children aged below 9.
In 2011, a research team at the HCM City Pasteur Institute was assigned to carry out research on 2,336 children aged 2-14 in Long Xuyen City in An Giang province (1,402) and My Tho City in Tien Giang province (934). The research ended in 2017.
The results of the studies in Southeast Asia and Latin America showed that the Dengvaxia vaccine is highly effective in preventing dengue fever in individuals 9 to 16 years old with pre-existing dengue infections.
Luong Chan Quang of HCM City Pasteur Institute said the Dengvaxia vaccine has been approved by WHO and is circulated in many countries. Meanwhile, another vaccine developed by Takeda is waiting for permission to launch.
The company affirmed that its Dengue vaccine TAK-003 has the ability to protect people against dengue and during treatment at hospitals. There have been no considerable risks reported over three years of the trial vaccination.
Quang said Vietnam still has not licensed a dengue vaccine.
Meanwhile, the Wolbachia method, i.e., releasing mosquitoes with wolbachia in specific areas to prevent dengue, needs at least five months to be effective.
In the immediate time, the best method to prevent dengue is controlling vectors – preventing larvae and mosquitoes from breeding.
"Each family just needs 10 minutes a day to clear up things that cause water stagnation. If we can do this small thing, we will be able to prevent a dengue epidemic in the community," Quang said.
Epidemiological experts say that 2022 could be the time when dengue fever breaks out now that Covid-19 is temporarily under control. Travel and trade have returned to normal and the rainy season has also come.
The last dengue epidemic broke out in 2019, with 300,000 cases, including 65,000 in HCM City.
Linh Giao